Windows Phone Summary of the Week: November 14-20, 2011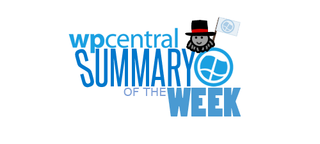 Welcome to a belated weekly summary, apologies for the absence of one last week. Kicking us off is episode 129 and episode 130 (with video) of the WPCentral podcast and our weekly developer interview where we're joined by Long Zheng. We're going through some radical changes (as well as the entire Mobile Nations network), which will bring some outage and site issues, but will be worth the trouble with more features and functionality.
Moving onto this weeks highlights, we have a report from Appcelerator, which pins Windows Phone as the third most interesting platform for developers. Brandon Watson, the chosen one in the eyes of developers, has written up an insightful article on his personal blog covering lessons learned by the team with how the platform has evolved in the past year. For Australians, they will be able to enjoy unlimited access to music and more with the Zune Pass now available in the region.
After the ChevronWP7 Labs was opened to the public, the team had to quickly iron out some issues that arose. Now the service is back online and Windows Phone owners are able to unlock their handsets for a minute fee. Nokia is continuing marketing efforts with more Lumia 800s being given away on Facebook for free, nice! Steve Ballmer took the stage to talk about Windows 8, Windows Phone and other Microsoft products and how visual integration is key.
The platform has not only been nominated for the TechFlash Flashie award, but the Nokia Lumia 800 has been awarded the title "phone of the year" at the What Mobile Awards 2011 at London's Whisky Mist. A friendly reminder for those who are eligible for the prepaid app card program that you'll want to purchase a Windows Phone now if you haven't done so already to receive a $50 card, which can be spent on the Marketplace. Lastly, it would appear as though AT&T has not learned lessons from previous reports and complaints about how the carrier retail stores downplay Windows Phone.
Kicking us off for the games section of this summary is this week's Xbox Live Deal of the Week, which is Enigmo. OSR: Unhinged is a new indie Xbox Live game to be hitting the Marketplace soon. According to the CEO of Unity Technologies, the company will not be bringing their game engine to the platform and will be "skipping" it due to the closed ecosystem. The popular puzzle arcade game, ilomilo, has received a Mango update, but unfortunately doesn't bring any new content or features.
Three Xbox Live titles have been put on sale including: Full House Poker, Somic the Hedgehog, and Assassin's Creed. Halo Waypoint has been Mango updated in time for the anniversary and falls nothing short of being the slickest looking app available. Our Paul Acevedo walks us through the integration that's available with Fusion: Sentient and Fusions: Genesis. Survivalcraft, a Minecraft clone (drumroll), has entered the Marketplace and is proving to be extremely popular. A horror game that's scheduled to arrive later this month, Ghostscape, has been attacked by the camera and we can witness some action in screenshots.
There have been a few updates this week, software wise. We'll kick off with myAT&T being bumped to version 2.0, and is now an actual app (which is more than what can be said for the Three UK app) that doesn't rely on IE! Tango version 1.1 has been released which now ensures the service works on the Samsung Omnia 7 and Focus. The Official Twitter app gets minor update but is now Mango ready with little else being added. We want live tiles!
Nokia Music, the OEM app that was leaked for all to use, is now at 1.6 with both performance and functionality being improved. Good news for those who are able to use the service, WiMP is now available for Windows Phone, with a 30 day free trial available for new accounts. Microsoft is delivering updates to Samsung Focus 1.4 owners and details the mysterious 7740 OS patch. 4th & Mayor is now Mango optimised with being updated to version 3.0.
There's word on the street that Nokia Drive, the free OEM GPS turn-by-turn navigation app, will be receiving an update for offline navigation/route updates - handy for those on tight data plans or are abroad. If you remember the days of ICQ then you'll rejoice as a client is on its way to Windows Phone. IM+ is the last update of this summary with adding numerous improvements and features in version 1.9.
The news has followed the Nokia Lumia 800 everywhere, and now it's headed to Orange France. The 800 will be joining its brother, the 710, in December when Nokia will be launching the handsets in India (and Hong Kong) to hit the Eastern market. SFR appears to be stocking a white label ZTE Windows Phone, which resembles the ZTE Tania. Back onto Nokia news, the long-awaited 800 has been successfully launched in the UK (as well as a few other European countries) and is taking the lines of people by storm.
Once the Finnish manufacturer has finished (pun intended) with Europe and India, we will be seeing a strong attack on the U.S. market to combat the iPhone and Android. If this wasn't enough, Virgin will also be stocking the 800. A number of handsets have been receiving updates, some enabling Internet sharing and others not, what have you received? Also, in Canada the Samsung Focus 1.3 is receiving updates. Dell has confirmed that there will be no compass support for the poor Venue Pro.
If you're a massive Star Wars fan then you'll love to deploy some minimalistic wallpapers to your lock screen. Nokia has teamed up with Deadmau5 for a public 4D promotion on November 28th, should be a bash. Closing us off, should you enjoy the Nokia marketing campaign then you'll love an opportunity to waste some time and play a classic game (or two) of Snake.
Highlights
Gaming
Software
Hardware
Fun
Windows Central Newsletter
Get the best of Windows Central in your inbox, every day!
Rich Edmonds was formerly a Senior Editor of PC hardware at Windows Central, covering everything related to PC components and NAS. He's been involved in technology for more than a decade and knows a thing or two about the magic inside a PC chassis. You can follow him on Twitter at @RichEdmonds.
Aw, no mention for my WP7 wallpaper site wpwallpaper.com
-Bei