Windows Phone Weekly Digest: July 12, 2015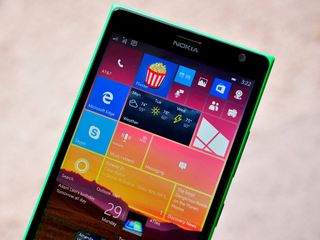 There's a lot going on in the world of Windows Phone. So much, in fact, that it is sometimes tough to catch every important story. Device rumors come and go. New apps join the Windows Phone Store, and your favorite app can get a big update with a new look or new features.
Therefore, every week we will compile a list of the Windows Phone news that you just shouldn't miss. Welcome to the "Windows Phone Weekly Digest."
Windows Phone
This week, Windows Insiders in the Slow ring got to enjoy Windows 10 Mobile build 10149
Internet goers got a peak at leaked screenshots of Windows 10 Mobile build 10162.
However, that wasn't much of a big deal, considering build 10166 was pushed out to Fast ring members. The most interesting of the changes came to the Store. Of course, we gave you a firsthand look.
Firstly, the 'old' Store is gone in favor of the new. Secondly, once you download and install an app, you can now open it up right from the within the Store. And best of all, you can now see a list of in-app purchases on an app's Store listing.
The Microsoft Phone Companion app for Windows 10 was updated as well. It now works with more Windows phones.
And a Bloomberg report revealed that Microsoft 'expects to make its own phones for at least the next two years'. However, in light of recent restructuring and job cuts within the company, Bloomberg also said that Microsoft may release as few as six smartphones per year going forward.
Other notable items:
Why did you switch from iPhone to Lumia?
Apps
In App news, some well-known names got updates this week. Flipkart introduced image searches in their latest release.
Cyber Dust for Windows Phone got updated with many improvements and fixes.
And Fitbit released v1.8 for Windows Phone. In this version, you'll find newly-added sleep goals, Badge sharing, and improved Challenges.
Some new apps hit the Store as well. Receipt Tracker helps you keep track of your expenses.
Cityglance, the popular social networking app for commuters, finally arrived in the US.
Video 360 is a new universal Windows app that gives you a whole new perspective on YouTube videos.
Lastly, we say goodbye to some Microsoft apps. It appears that they will be retiring their Photosynth panoramic app on both iOS and Windows Phone. Microsoft also sent out an email to inform users that they plan to discontinue their MSN Food & Drink, Health & Fitness, and Travel apps. MSN Food & Drink and MSN Travel will be first, on September 28, 2015. Shortly after, on November 1, 2015, will be MSN Health & Fitness.
Other notable items:
Uber for Windows Phone updated to improve 'app stability'
Fhotoroom picks up an update to add new filter, HDR mask tool and more
6tag now supports 1080x1080 image uploads
Games
On the gaming front, as Minecon 2015 wound down, game maker Mojang excited players with news that Minecraft: Pocket Edition will be getting some big changes to bring it on par with the new Windows 10 edition.
The ever-popular QuizUp was updated to support Google+ logins support, along with some other improvements. Cricket fans rejoiced, as Stick Cricket finally made its way to Windows Phone.
Candy Crush Saga got 15 more levels added on with the Tasty Treasure Trove update.
Android and iOS users got to revel in all things Halo, as the Halo Channel app dropped for them. Much to Windows Phone lovers' chagrin, they will have to wait for the Windows 10 Mobile launch.
At least Game Troopers showed Windows Phone some love. Not only did their new game Tiny Troopers 2 launch on Windows Phone as an Xbox title, but they also air-dropped some exclusive content that won't be seen on iOS and Android.
Other notable items:
Be sure to weigh in on this week's news in the comments section. See you next week!
Windows Central app is not opening in the latest build of Windows 10 on my Lumia 930. I only use Edge browser to read articles here and writing this comment. When I tap the UCPB of windows central, it just says loading... forever.

Open for mine, but then again I have the 1520.

It works well on my 920 but sometimes stuck on loading screen

Mine opens, but the live tile doesn't work anymore. Its been stuck for days.

It does seem to apear functioning normally on my Lumia 930 running Windows 10 Mobile TP 10166.

Things are broken in the preview.

Works on my Lumia 525. Posted via the Windows Central App for Android

Mine works perfectly in my 520, it just takes more time to load

I mean Icon not UCPB. Microsoft Edge don't let me edit it. The edit button I not working.

Hey guys i wanna ask if actionable notifications work for whatsapp or not ??

Im using the latest build of wp10 and have updated the app too but its not working for whatsapp.

Ask in the forums. Much better than off topic posts on random articles. You'll find better responses.

Thank God! MS will retire Photosynth ' 'cz it is totally a dump

I haven't installed window 10 on Lumia 720 yet. But I am registered to insider program. Now I want to install W10 OS. Will I get straight latest W10 Build or I have to download Builds one by one ?

Straight to latest build!

I have a horrible feeling that w10m will be DOA damn Nutella is going to kill it. I don't trust this guy at all. He is like Obama, can't be trusted. I hope I'm wrong. I don't want WP dead, I have been with windows since windows mobile 5

He wont. Microsoft knows mobile is the future. Its not like the Zune, this is not a war they can give up. Apple and Google might have one a couple of major battles over the years but this war is far from over ;-)

I am committed to our first-party devices including phones. However, we need to focus our phone efforts in the near term while driving reinvention. We are moving from a strategy to grow a standalone phone business to a strategy to grow and create a vibrant Windows ecosystem that includes our first-party device family. In the near term, we will run a more effective phone portfolio, with better products and speed to market given the recently formed Windows and Devices Group. We plan to narrow our focus to three customer segments where we can make unique contributions and where we can differentiate through the combination of our hardware and software. We'll bring business customers the best management, security and productivity experiences they need; value phone buyers the communications services they want; and Windows fans the flagship devices they'll love. In the longer term, Microsoft devices will spark innovation, create new categories and generate opportunity for the Windows ecosystem more broadly. Our reinvention will be centered on creating mobility of experiences across the entire device family including phones.

I have a feeling it's not gonna work this time too..Not enough to lure people from the top two mobile OSes... Posted via the Windows Phone Central App for Android

New store takes hell lot of time to open in the latest build ( 10166 ) Anyone else facing the same problem?

10166 is running a lot better on my 1020 than 10149. Still some stuttering every so often but so much fluid and better.

I've been trying to update my Lumia 1020 however, it keeps saying error 8018830f. Any ideas? I'm still using windows 8.1 denim and any updates doesn't install.

My 830 stuck in a boot loop trying to update to 10 mobile using the recovery tool crossed fingers use the 930 in the mean time

Check that the phone is not overheating when it is updating because my 1520 is horrible with trying to update to new builds without overheating and automatically shutting down, hence the "boot loop." Try to keep your phone on a cool surface or even the fridge, and avoid placing it on a cushioned or fabric surface that holds heat like a couch or bed.

Running 10166 on my 930 and It's looking great with lots of new features but there are still many bugs, the loading...... screen for a start, tiles disappearing when scrolling, live tiles stop working, resizing and moving tiles very slow, battery drain, phone gets hot very quickly and a few others but these will be easily fixed and probably already have been as I'm sure we don't get the latest builds available. Will be very happy when all polished out and at least this build can be used on your daily phone now (just).

I installed build 10149 when It came out on my Lumia 930 but downgraded the next day to 8.1 because my Lumia was too hot every time I hold It ...did they solve this issue

My Lumia 1520 is running much cooler on 10166 than it did on 10149. As for some of the quirks, I found that doing a hard reset without restoring from backup really helped smooth things out in 10166. In the meantime, Microsoft Band compatibility has improved. Third party app notifications are finally coming through. The only thing still not working on the Band for me is Cortana, but that's not a deal breaker for me.

It only gets hot when doing demanding things but it just seems to get hot quicker, normal use it's fine. I've noticed that more apps stay open now in the background and you have to manually shut them down. Battery has gone from 75% to 55% over night with no use. Not a problem for me though as wireless charger is next to me.

Is it having options like laze swipe app in windows 10? If not pls work on it.

Anyone knows how it works on a lumia 640???? Posted via the Windows Central App for Android

And what kind of third party apps work on the new build? I want to install it on my lumia 640 Via the Windows Central

the problem this latest build 10166 is when you zoom the photos its laggy

Can't download custom ringtones with latest update! #windows10insider

Hey, im having treble installing build10166 I'm still on the previous build, the problem is after downloading the file it install up to Some percent & at a point it stops the update, says update is paused due to battery saver note that battery is about 100%, then all the icon on notification continuously blink & can't stop them without a restart..i tried the update several times..... so please help or suggest where could I get help...thank you

When we r going to get complete windows 10 to our mobiles

No specific date, but should be around end of this year.

as windows 10 lockscreen has been changed.. what about the Live Lock Screen Beta? i reaaly love that application..

Internal Memory is using almost 6gb for system kindly lower the memory nd increase the internal memory nd in navigation bar replace search icon with cortana icon

I am unable to install the update on my lumia 720 ,I am on build 10149. Update finishes the downloading and then shows some error telling try restarting the phone and try again. Suggest me some solution .

I would very happy if Microsoft finally start making Windows 10 build to non Lumia devices! I mean Samsung Ativ S and HTC 8x and other devices!
Windows Central Newsletter
Get the best of Windows Central in in your inbox, every day!
Thank you for signing up to Windows Central. You will receive a verification email shortly.
There was a problem. Please refresh the page and try again.