Windows Phone Weekly Digest: October 18, 2015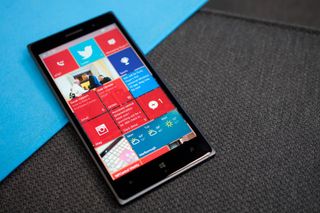 There's a lot going on in the world of Windows Phone. So much, in fact, that it is sometimes tough to catch every important story. Device rumors come and go. New apps join the Windows Phone Store, and your favorite app can get a big update with a new look or new features.
Therefore, every week we will compile a list of the Windows Phone news that you just shouldn't miss. Welcome to the "Windows Phone Weekly Digest."
Windows Phone
Fast Ring Windows Insiders finally got a new preview build of Windows 10 Mobile. Build 10549 added diverse emoji, messaging improvements, and more Cortana support for countries outside the US.
The update brought with it the usual fixes, however, there is one significant bug that remains. Build 10549 has a bug with Cortana occasionally creating a high amount of background activity.
Be sure to check out our hands-on video.
Acer announced that their upcoming Jade Primo smartphone with Windows 10 Mobile will ship with a keyboard, mouse and dock so users can hit the ground running with Continuum. We also got a glimpse of the Jade Primo in action, showing off its wireless Continuum feature.
Reports surfaced that Verizon is blocking unlocked Microsoft Lumia 950 and 950 XL phones from their network. There is no technical issue preventing the Lumias from running on Verizon's network, but rather a refusal on the carrier's part to authenticate the phones.
And file this one under "better late than never." AT&T is finally rolling out the Denim update for its Lumia 830.
Other notable items:
Vodafone confirms plans to sell Lumia 950 and 550 in UK, EE to sell Lumia 950
Mozo's cool looking leather Lumia 950 and 950 XL cases to cost €48.50
Amazon Germany offers free wireless charging pad and 32GB microSD card for Lumia 950 and 950 XL pre-orders
Microsoft outs new DT-904 wireless charger
VAIO among Japanese companies planning to release Windows 10 Mobile phones
Microsoft confirms it has no plans to make first-party cases for Lumia 950 or 950 XL
Here's a look at several upcoming Japanese Windows 10 Mobile phones
New render of Alcatel OneTouch Fierce XL for Windows 10 Mobile leaked
Apps
TuneIn Premium announced a deal with the NFL that will bring a ton of NFL content to subscribers. The deal adds play-by-play feeds for all NFL teams, select NFL network programming, and a seven-hour Sunday show dedicated to football analysis.
WhatsApp was updated with improved search and new in-app notification sounds. Truecaller for Windows 10 Mobile got a major overhaul. The new version not only sports a sharp new design but brings enhanced call blocking, caller ID, call history and more.
The maker of the popular messaging app Nimbuzz has decided to end development of its Windows Phone app in favor of focusing on Android and iOS.
And finally, people spoke, and Microsoft listened. Due to popular demand, Groove Music picked up gapless audio for Windows 10 Mobile.
Other notable items:
Plex updates its Windows and Windows Phone app with new features and fixes

Microsoft Messaging for Windows 10 Mobile gets a minor update

Microsoft Photos updated on Windows 10 Mobile and desktop
VLC for Windows Phone updated with 'force landscape mode' setting
Windows Camera and Calculator get minor updates as Movies & TV snags transparent controls
Outlook Mail grabs a small update for Windows 10 Mobile
HDFC Bank app gets updated for better bill payment experience
Lumia Camera, OneNote and OneDrive get updated on the Windows Store
Microsoft's upcoming Android Dialer app for India reportedly coming to Windows Phone
HERE Maps and HERE City Lens get small updates for Windows Phone
FB Pages Manager for Windows Phone updated with News Feed support and more
Outlook Groups update for Windows Phone and Windows 10 Mobile adds user profile page and more
Games
High-speed racer Asphalt 8: Airborne got suped-up this week, adding 100 new car mastery events and rewards, as well as the first of six new cars, the Lamborghini Huracán. The Bentley EXP10 Speed 6 and four other cars will be "progressively released."
The ever-busy folks over at Game Troopers teased a mystery RPG for Windows Phone earlier in the week. They have subsequently introduced Elements: Epic Heroes as said new title.
Halo fans finally got to enjoy the Halo Channel app Windows Phone 8.1. Unfortunately, it doesn't look like the Halo companion is available for Windows 10 Mobile yet.
Make it Rain got an update that lets you "die" and leave your money to a relative, restarting your game with a pile of cash.
And Trivial Pursuit & Friends is coming to Windows Phone on Oct. 22. You can bet we'll give you a look at the new quiz game.
Other notable items:
Be sure to weigh in on this week's news in the comments section. See you next week!
Get the Windows Central Newsletter
All the latest news, reviews, and guides for Windows and Xbox diehards.
Also i got 1800 up votes, without the use of loading loading resume XD

A very disappointing week considering 549. I still haven't been able to get that build to be at all usable on three devices. I'm really starting to wonder about how it is that it appears to be usable on some devices according to posts from others. Every method I've seen posted has already been tried, but it is completely unusable on every device I've had it on. Endless loading screens, apps won't launch, crashes, blank screens, lags, things don't work, hot, resuming, apps endlessly downloading for most of the day. Literally, nothing is usable. And they've all been factory reset, left to sit for hours to finish, Cortana has been turned both on and off, etc, etc. This is a complete disaster only a few weeks before RTM. Edit: I finally got one device to install all apps and work reasonably well after the forth reinstall of the build. Still no where near as fast as 8.1, but things are at least usable. Lots of work still needs to be done before general distribution to existing devices.

Disappointed that Minecraft: Story Mode never came to Windows Phone while it did as usual on IOS and Android which thankfully I also own devices running those systems

Had Microsoft cared about Windows phone W10M would have been officially released a long time ago.

I agree at least 2014 for Windows 10 Mobile at least. The whole year was skipped while the other platforms moved along to Android Lollipop and iOS 8. After Windows 10 Mobile when will the next major update come, in 2017 or 2018? Posted via the Windows Central App for Android because it's superior to the Windows Phone one

I own a lumia 540 and I am currently on build 10549. Cortana isn't talking in this build. She listens to me, gets the task done. Even her reply is displayed on screen.. But she isn't speaking.. Volume is up. Anyone having this issue?
PS- I don't wanna do hard reset because then I won't be able to download the speech language.. Posted via the Windows Central App for Android

dam'n !!!! 549 can't lock 3G

When will W10M be released for tablets? Or will there be insider preview first?

Wasn't the official update for Windows 10 for mobile supposed to be released this month?

Sometimes I felt like tired of waiting for this windows 10 and even if it does release to phones... Will be updated like for the next 8 months.. I know it's better to wait than to have a buggy OS but come on Microsoft alot of people is not as patient as I am.. Market pls

How do you turn Cortana off?

Lol. People spoke and Microsoft listened on gapless playback... Only took 5 years.

ALOT OF APP JUST UPDATE TODAY

ALL YOUR APP ARE BELONG TO US

Whatever else is going on, until Microsoft sort out the app availability problem and find a way to get Windows 10 between Android and iOS, nothing else really matters. I love my Lumia 1520, I'd love a 950XL too, but I can't keep pretending i'm not missing out on apps, particularly from UK Banks, SKY, BT, NowTV, among many others. When something new comes out, you only ever see "Available in the Google Store" or "Apple Store". As great as the 950 and 950XL are in terms of specs, carriers can and will refuse to carry them if they're not going to be big players and they won't be if the apps are not there. It really seems, given there's been no pre-release hype about the many apps that will finally make it over to Windows Phone, that WP10 is a waste of time. I love the OS, I really do, but the app-gap is not getting smaller, it's geting bigger.

NowTV has always been a surprising one, since it's on Windows 8+ and Xbox platforms

****. I did even hard reset but still I am not able to downgrade my lumia 830 back to 8.1. Also after hard reset whole sms app is missing and it cannot be downloaded anymore from shop... What messaging upgrade they are talking?????