Windows Phone Weekly Digest: September 6, 2015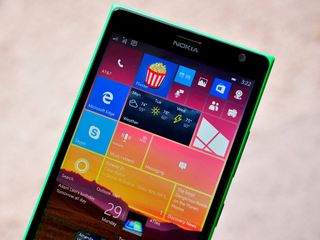 There's a lot going on in the world of Windows Phone. So much, in fact, that it is sometimes tough to catch every important story.
Device rumors come and go. New apps join the Windows Phone Store, and your favorite app can get a big update with a new look or new features.
Therefore, every week we will compile a list of the Windows Phone news that you just shouldn't miss. Welcome to the "Windows Phone Weekly Digest."
Windows Phone
It's looking more and more like Microsoft's upcoming flagship phones, the 'Cityman' and 'Talkman' will indeed carry Lumia 950 moniker, as opposed to Lumia 940. Though it has yet to be confirmed, the report comes from Evan Blass, via his @evleaks Twitter account, who has a pretty good track record with these kinds of things.
The two hero phones are also likely to support Qualcomm's Quick Charge technology. The Talkman and Cityman are rumored to be powered by the Qualcomm Snapdragon 808 and 810 processors, respectively, so it makes sense, as both chips are Quick Charge 2.0 compatible.
Talkman and Cityman aren't the only high-end Windows 10 Mobile phones on the way. This week, Acer announced their Jade Primo smartphone, which sports Microsoft's Continuum technology.
The company also unveiled two new budget Windows 10 Mobile phones at IFA, the Liquid M320 andM330. Windows Central got our hands on the Liquid M330 at the conference.
As for Windows 10 Mobile itself, Microsoft's Gabe Aul took to Twitter to let Insiders know that the next preview build will include a fix for the mobile hotspot feature, in addition to its bug fixes and performance enhancements.
Other notable items:
Leaked video shows Xiaomi Mi 4 running Windows 10 build 10240
Intex partners with Microsoft to become first smartphone brand in India to bundle OneDrive
Windows Phone Recovery Tool gets a mandatory update
Apps
Instagram BETA users got a couple of surprises this week. Unfortunately, the first was that some people were unable to refresh their feeds, likely because of a recent change that allows for landscape and portrait images to be uploaded. The good news is that surprise number two came along. Instagram Beta for Windows Phone finally got its first update in more than a year, which fixed the issue.
Meanwhile, superstar Instagram client, 6tag, got several updates of its own this week. One update added support for Instagram's new image formats. Another contained some fixes and performance improvements, and a third patch brought Instagram's Direct messaging improvements to Windows Phone. Telegram messenger graduated from beta and added search and sync options with its latest update.
Microsoft pushed out some app patches of its own. Lumia Cinemagraph and Lumia Creative Studio Beta app both got Windows 10 Mobile support and Microsoft Messaging app for Windows 10 Mobile got an update without a changelog.
Much to the chagrin of some users, Microsoft announced that it will be ending support for several Lumia Windows Phone apps on October 30. Lumia Storyteller, Lumia Beamer, Photobeamer, Lumia Refocus, Lumia Panorama, and Video Uploader are all going away. Hopefully, we'll see some of the functions that they serve make their way into other Microsoft apps, or into Windows 10 Mobile itself.
Pushbullet client Instabullet became a universal Windows 10 app this week.
And Facebook Messenger was updated to fix login issues.
Other notable items:
Microsoft's UpdateAdvisor helps you prepare for Windows Phone updates
Readit for Windows 10 updated with inbox support and much more
Perfect Workout now available from the Windows 10 Store
Mail and Calendar updated on Windows 10 desktop and mobile
BBC iPlayer for Windows Phone updated after nearly a year
Official Twitter Windows Phone app gets a minor update [Update: Removes DM limit]
Dropbox for Windows Phone 8.1 updated with interface tweaks and more
Windows Camera updated with minor tweaks on Windows 10 desktop and mobile
Games
Less than a week after its release, Gameloft pulled Spider-man: Ultimate Power from the Windows Phone Store. Many users were unhappy with the game's performance and pricing, so it's possible the game will eventually return with some improvements.
Game Troopers said early in the week that they had a 'secret' Windows Phone game that was ready to drop. That turned out to be Imperia Online, a real-time strategy game for Xbox.
Cloud Raiders received an update that boosts the Stronghold and level caps for players.
Finally, Gameloft released the first footage of Order & Chaos Online 2, the follow-up to their hit MMORPG. The game will launch on Windows 10, Windows Phone, Android and iOS and will introduce two new features, Instant Quests, and Solo Dungeons.
We're looking forward to it!
Other notable items:
What in the World? update brings 50 new cards, a new level and more
Be sure to weigh in on this week's news in the comments section. See you next week!
Windows Central Newsletter
Get the best of Windows Central in your inbox, every day!
Rip Windows Phone 10 indeed. It'll b dead before you know

So what ARE the high end phones on the way if the 950/XL aren't?

I'm calling typo.
I think this is what was intended: Talkman and Cityman aren't the ONLY high-end Windows 10 Mobile phones on the way.i

Right you are. Fixed. Thanks.

I just need otg on my lumia 640.....

OTG is good. has some uses at times(obviously not for everyone). But I don't think it will be that much useful. You need to put the content on a thumb drive first and then access them on your phone,but how hard is it to connect the phone and put them directly onto your phones SD card ?

I remember evleaks announcing his retirement a while back. Why is he still around spoiling everything? Microsoft's rumoured October event is no longer special, because we'll all be like, "yawn! We knew all this already". Why officially unveil anything at a special event when you can have evleaks tell the world for you? Microsoft Mobile should start leaking false information to the twitter big shots, so that we can actually be surprised during an official presentation.

It's shame that Acer brings first wp10 phone... MS has worst marketing in the world!

Acer's announcement was premature and precisely what Microsoft didn't want. Acer has said their phone isn't coming until the end of the year, which is a few months away. By the time the phone comes out, the 950/950 XL, iPhone 6S, and dozens of new 3rd tier Android and Windows phones will come out. Microsoft doesn't want that because that kills the hype. They want to get people excited, ride the hype, then put them out. So actually... Acer's marketing is the worst.

No Microsoft is still awful's and worse. Windows 10 phones will come out the same area just when the iPhone will be released and other superior Android phones like the Nexus.

Has to be a new build next week or the doubters may be proved correct that Satya has shuttered the Windows Phone programme.

They don't have the same amount of resources for W10M as they have for W10. It's a several millions of users vs. a billion after all. So it's W10, then apps for Android and iOS and only then W10M.

As a loyal member of Lumia family... It's my humble duty to do what's best for the platform.. So it's my and many others request to bring the "PHOTOSYNTH" app back... The best panorama app ever used by us... We want it back..

Why do you want a fragmented camera experience? Integrating everything sounds much nicer than a bunch of individual apps.

It is the coolest app from Microsoft

Even if Microsoft integrates everything into a single app then that'll be their worst app with full of bugs n it'll be a dead slow app with a poor performance

After having Windows Phone serve as my daily driver for over 4 years - I had the HTC HD7S, the Lumia 900, Lumia 920, & Lumia 1520 - I will be switching to the iPhone 6S Plus later this month. Although the Cityman flagship looks promising, I agree with Tom Warren that I don't anticipate the apps coming to the Windows 10 Mobile platform. I am not a gamer nor do I care about Snapchat, but I want full-featured apps like Avaamo, Evernote, Chase Bank, Citi Bank, ProtonMail, SpiderOak, Disconnect, Twitter, Threema, etc. Yes, Evernote, Twitter, and Threema are on WP, but they do not support the full range of features comparable to their iOS & Android app counterparts. And like a few others stated, I wanted a true Lumia 1520 successor with a unibody construction. I'm not too concerned about a 2K screen or removable battery. And who knows if the rumored forthcoming Surface phone will be a flagship with unibody aluminum design. If Microsoft does deliver, I may return, but after it was announced that the Lumia 1520 would not receive the W10M update, I was very disappointed. And I want direct OS updates, not wait 6 months or longer for a significant OS update to reach my phone as is the current case with Windows Phone & non-Nexus Android flagships.

Why would you buy an iPhone now when a new model is being announced this week? "after it was announced that the Lumia 1520 would not receive the W10M update" Nothing of the sort was said. Please troll harder, I'm not impressed.

Not trolling but nice try to make it as such. And you know what new iPhone will be announced. The iPhone 6s and 6s Plus and like the op said he is buying the new 6s Plus or cant you read. Updates are faster and better and the apps are superior by a milestone with tons of exclusive IOS apps. Good time to switch and not to switch but Windows is failing sadly.

I will switch phone to. I have been using Windows phone since the 920 and now I am on the 930. But Windows phone don't have the apps that I want and actually need. Another reason I will switch is because Microsoft only market is The states and Uk and some other markets.

Jas00555, as Pirate Arr stated, I did NOT intend to troll. I love the Windows Phone 8.1 OS and the builds I've seen for Windows 10 Mobile, but I do want the premium app experience, and iOS offers that experience. Also, like Pirate Arr correctly pointed out, I will be getting the IPhone 6S Plus (which will be announced Sept 9), not the IPhone 6 Plus which was launched last year. Further, like Pirate Arr argued, I want the full range of apps & premium app support. Once I get my iPhone 6S Plus, I will be able to download & use Avaamo enterprise messaging, Chase Bank, Citi Bank, ProtonMail, SpiderOak, Disconnect, etc. I will also be able to download & try out new cutting edge apps that developers target exclusively for iOS devices. As I noted above, I have been a loyal Windows Phone user for over 4 years since NoDo was released - way before Windows Phone Mango 7.5 was even leaked. But I find myself agreeing with Tom Warren that if I want the optimal app experience, I will not find it with Windows Phone. I hope this changes by late 2016.

I am also certain to abandon WP myself. Very loyal here as well. My Nokia 710 Win 7.5 had a very short life. Died as an infant. 8GB on my Nokia 520 and not included on the list will put that one in permanent storage. But the greatest disappointment is the Nokia 1020 I only have about 100hrs run time on it...the, still, most incredible camera phone ever, have babied it for a year.....waiting for an official OS now I know I will never see. Microsoft cannot even reward the loyal. It should produce another flagship with knockout specs..a revamped 1020 just to get people in the door, and get same to look around at the other WinPhone offerings. I will save my excellent 1020 now for the odd special occasion...... And enjoy my new Sony
I'm Xperia Z5 Premium when it can ship. I will come to know Windows 10, but not Windows 10 Mobile.....thru no Fault of my own. Posted via the Windows Central App for Android

JayDesjardins, I understand. I think you're making a good choice with the Sony Xperia Z5. I will of course continue to follow Windows 10 Mobile & Windows Central. I hope Microsoft's Universal Application Program encourages top app developers to bring apps to W10M. After Chase Bank was pulled & SkyWallet stopped supporting its app, I realized I needed to reconsider. I've tweeted Chase, SkyWallet, Citi Bank, Evernote etc. about their respective Windows Phone apps, but I receive either no response or just get the diplomatic reply "We'll consider your feedback." Can you believe that the WP Evernote app still doesn't support bold, italicize & underline??? Of course this is a fundamental feature that iOS & Android both have, but not WP. My tweets to Evernote about this were ignored. WP is left with Beta apps or sub par apps. Thankfully Rudy Huyn has supported the WP platform faithfully.