Best Sports Games for Windows 10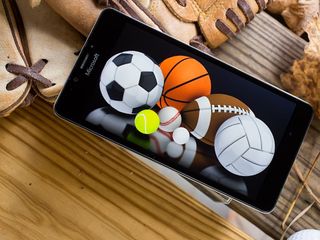 While the likes of Madden NFL, FIFA 17 and NBA 2K17 dominate the Xbox One sports game lineup, the Windows 10 Store has a respectable collection of sports titles. They are great options that can help you pass the time while on the go from a tablet or Windows phone or while parked in front of your PC.
From mainstream sports such as football, soccer and basketball to the likes of bowling and archery, these games tend to approach the sport in more of an arcade style, but entertaining none the less. We've scoured the shelves of the Windows Store and these are some of the best sports games for Windows 10.
Archery 3D
Why you can trust Windows Central Our expert reviewers spend hours testing and comparing products and services so you can choose the best for you. Find out more about how we test.
Archery 3D is an entertaining Windows 10 Mobile game that tests your skills at marksmanship. The game has detailed graphics with simple touch controls for your favorite bow. Archery 3D has 21 tournament style levels where you race the clock to strike a series of targets. If the pressure of a game clock isn't enough of a challenge, you are also limited in the number of arrows available to launch at your target.
As you complete Archery 3D's levels gold coins are awarded that in turn can be used to purchase new bows. The bows vary in accuracy, strength and range. This archery game has great physics and as you hold the bow on target, it simulates fatigue nicely, making it harder to stay on target.
Archery 3D is a free, ad-supported game for Windows 10 Mobile. You can remove the ad support with a $0.99 in-app purchases. Additional purchases include unlocking all levels for $3.99 and unlocking all bows and levels. Target practice with a bow and arrow may not be the first sports game the comes to mind, but Archery 3D is a fun time waster of a game worth giving a try.
Download Archery 3D from the Windows Store
Tiki Taka Soccer
Tiki Taka Soccer is a fast-paced football game (that would be soccer to some of us) for Windows 10. You can create a team and lead them to European club football victory.
Tiki Taka Soccer has the ability to hire staff, players and pick up energy boosters to give your players a little more pep in their step. Gameplay is touch oriented where you switch between players with a simple tap and take shots on goal by swiping across the screen.
Games are short and fast paced, making Tiki Taka Soccer a good fit when you only have a few minutes to satisfy your sports gaming itch. Tiki Taka also has a nice addictive pull that helps the game fill longer game sessions.
Tiki Taka Soccer is a free game, available for Windows 10 PC and Mobile. If soccer is your cup of tea and you are in search of a game not as intense as FIFA Mobile Soccer, Tiki Taka is a great choice.
Download Tiki Taka Soccer from the Windows Store (opens in new tab)
AE Bowling 3D
There are several bowling games available in the Windows Store and AE Bowling 3D ranks among the best. From realistic ball action to colorful graphics, AE Bowling 3D is a Windows 10 sports game worth a look.
AE Bowling 3D supports multi-player games (up to 3 players in pass and play fashion) and two styles of single player games. Single player games include a solo play game and a you vs. the computer game. There are also several sub-modes for these games. The solo player game has a classic mode that is a traditional bowling game and a challenge mode that presents you with specific pin layouts to tackle. The you vs. computer game has a One Board mode that is a single game against the computer and a Championship mode that is a 10-round tournament against computerized opponents. The further you progress in the Championship mode, the harder your opponent becomes.
In addition to the several gameplay options, AE Bowling 3D has three lane styles that determine the game's difficulty and a nice selection of bowling ball patterns. Mechanics of play isn't overly difficult to pick up, but not as easily mastered. Just tap/hold on the bowling ball to slide it into position on the bowling lane and swipe up at the screen to roll the ball. There is an option to use your Windows 10 phone's tilt sensors to control the curvature of your roll.
All in all, AE Bowling 3D is an entertaining, well designed Windows 10 sports game to pass the time with. It is a free game and available for Windows 10 Mobile.
Download AE Bowling 3D from the Windows Store (opens in new tab)
Field Goal Tournament
Let's face it. If you are a fan of American football, there isn't much available in the Windows Store beyond Madden Football. While a full game of football may not be possible, there are a few Windows 10 sports games that focus on specific football skills. You have Touchdown Hero where you play a running back in and endless runner, and Field Goal Tournament where you take on the role of a place kicker.
Available for Windows 10 Mobile, Field Goal Tournament offers two game modes where you attempt to make as many field goals from an assortment of football stadiums. The Windows 10 Mobile game also supports multi-player games (up to eight players) in pass and play fashion.
Ball placement can be dead center to the goal or off to either side. The more successful you are at nailing the uprights, the longer your next kick will have to be. It's not just distance you have to worry about — the wind also blows to push your beautiful kick off center, so you'll have to take that into account too. At least it's simple to play: swipe up on the screen in the direction you want to kick, and away goes the football.
Graphics look good, gameplay is challenging and there is an addictive pull to Field Goal Tournament. It is a free game and while not a full game of football, Field Goal Tournament does a good job of things.
Download Field Goal Tournament from the Windows Store (opens in new tab)
Stickman Basketball
Much like football, the selection of basketball games is somewhat slim in the Windows Store. One of the more enjoyable options available is Stickman Basketball 2017. While the graphics are somewhat modest, gameplay is simple to allow you to concentrate on the game instead of a complicated series of controls.
Available for Windows 10 PC and Mobile, Stickman Basketball 2017 offers 115 teams to choose from and multiplayer games. You can tackle full seasons of play or fill your round ball itch with a quick game.
While the stickmen players are simply drawn up, they do have some very animated dunks. Controls include an on-screen joystick to move your players around and buttons to shoot, pass, block and switch players.
Stickman Basketball 2017 is currently priced at $1.99 and a great sports game to lose track of time with.
Download Stickman Basketball 2017 from the Windows Store (opens in new tab)
While these titles are amongst the best sports games, the Windows Store has to offer, they are not the only game in town. You have FIFA Mobile, Air Hockey (opens in new tab) and Super Golf Land (opens in new tab). If you have tried any of these sports games from the Windows Store, let us know what you think of things in the comments below. Also, if you have a recommendation on a Windows 10 sports game, feel free to share that as well.