The Best Windows 10 PC and Mobile Games for December 2015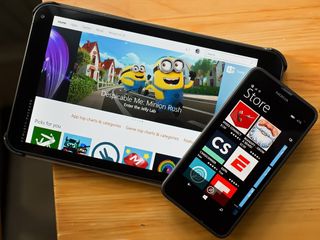 During the course of a month, we look at a lot of apps and games from the Windows Phone and Windows 10 Store. Through reviews, the AdDuplex HERO App posts, the myAppFree deals and other posts Windows Central covers a heaping handful of apps and game.
For this weekend's roundup, we have pulled together a handful of Windows PC and Windows Phone games that stood out from the other titles covered this month. There is no rhyme or reason to this list beyond the fact that I found these titles to be entertaining, useful and would readily recommend them.
If you have tried any of these titles, let us know in the comments below if you agree or why you disagree.
Crossy Road
Why you can trust Windows Central Our expert reviewers spend hours testing and comparing products and services so you can choose the best for you. Find out more about how we test.
Crossy Road crossed our radar in December when it was updated to version 1.2.0 that added twenty-six new gaming characters to the mix.
For those not yet familiar with Crossy Road, it's a popular arcade game that is available from both the Windows Phone and Windows 10 Stores. The game is an endless runner of sorts where you have to guide your character across roads, train tracks and rivers.
Reminiscent of the classic game of Frogger, Crossy Road sports eye-catching pixelated graphics, fast-paced and challenging gameplay and an addictive quality that keeps you coming back for more. Crossy Road is not as involving of a game as the other titles in this week's roundup, but still a fun game to pass the time with.
Download Crossy Road for Windows and Windows Phone (opens in new tab)
Sniper Fury
Sniper Fury is not only one of the best games to hit the Windows 10 Store in December, it may very well be the best first person shooter of the year. Gameloft knocked it out of the park with this gaming title that puts you in the shoes of a long-range sharpshooter battling global terrorism.
Available for both Windows PC and Windows Phones, Sniper Fury includes four gaming modes and a challenging player vs. player mode where you can raid other Sniper Fury player's vaults for gold and set up defenses to protect your vault from raids.
Missions range from contract hits against notorious criminals to offering support for ground missions. Targets include stationary, moving and those that shoot back. Controls are nicely laid out across the gaming screen and graphics are outstanding.
While you work from a stationary location, Sniper Fury is a fantastic first person shooter. Load times were a little slow on the Windows Phone side but nothing to run screaming from the room about. Sniper Fury is available in both the Windows Phone and Windows 10 Stores. It is a free game with plenty of in-app purchase opportunities.
Download Sniper Fury for Windows PC and Windows Phone (opens in new tab)
Mussoumano Game
Mussoumano Game is an entertaining endless runner game that has you playing the role of, you guessed it, Mussoumano on a quest to rescue his kidnapped fans.
Available from both the Windows Phone and Windows 10 Stores, Mussoumano has to contend with a host of obstacles in the course of rescuing his captured fans, including crates and walls. The game has plenty of power-ups that equip Mussoumano with an assortment of vehicles including a magic carpet, armored camels and even a UFO.
Controls are simple (just tap the screen to have Mussoumano jump), graphics/animations are nicely drawn up and gameplay will keep you on your toes. Overall Mussoumano Game is a fun time waster of a game. It is a free, ad-supported game with an in-app purchase option of $3.99 to opt out of the ad-support.
Download Mussoumano Game for Windows and Windows Phone (opens in new tab)
World of Tanks Blitz
This one was a tough one to pull the trigger on as one of the best games of the month. It is a solid Windows 10 PC game, but it pushes the limits on our Windows 10 Mobile devices. What World of Tanks Blitz offers is outstanding graphics, challenging gameplay and you get to blow things up.
World of Tanks Blitz is an online, MMO game that puts you in the middle of a seven-on-seven tank battle. The Windows 10 game has over two hundred tanks to unlock and upgrade, four battle arenas and an outstanding sniper mode to send your artillery round more accurately down range.
The game runs smoothly from a Windows PC (including the Surface 3) but from a Windows 10 Mobile device such as the Microsoft Lumia 950 it can be a bit laggy and even lock-up at times. You can dial down the graphics quality in the settings but that did not seem to help much.
As a PC game, World of Tanks Blitz is one of the best games to hit the Windows 10 Store this month. As a Mobile game, it still needs a little work done under the hood. World of Tanks Blitz is a free game, available for Windows 10 PC and Mobile.
Download World of Tanks Blitz for Windows 10 PC and Mobile (opens in new tab)
Baseball Riot
Baseball Riot is the latest gaming title from 10Tons and is a blast to play. Available for Windows Phone, Windows PC and Xbox One, the game puts you in the shoes of baseball legend Gabe Carpaccio who is seeking vengeance against the energy drink manufacturer Explodz and the baseball community for ruining his career.
Armed with only his baseball bat and a collection of balls, Carpaccio must conquer over 100 levels of gameplay by knocking out his enemies, who will not go easy. He must knock out fans, umpires, fellow baseball players, research scientists and sales representatives. Some characters have natural defenses, such as the umpire with his mask and chest protector, that require either multiple or strategic strikes to knock out (umpires need to be hit from behind).
Each level will have a series of obstacles or barricades Carpuccio needs to bounce his baseball around or through. He will need to choose his shots carefully because each level will have a limit on the number of balls he has to hit. You will have the ability to earn bonus balls and some levels have explosive barrels that can extend the damage you can inflict.
10Tons has a wide range of gaming titles in their portfolio and you can add Baseball Riot to their list of entertaining and addictive games. There is a trial version available for the Windows Phone and Windows PC versions of Baseball Riot. The Xbox One version lacks a trial version.
Download Baseball Riot for Windows 10 (opens in new tab) ($2.99 with free trial)
Download Baseball Riot for Windows Phone ($2.99 with free trial)
Download Baseball Riot for Xbox One (opens in new tab) ($4.99)
George is the Reviews Editor at Windows Central, concentrating on Windows 10 PC and Mobile apps. He's been a supporter of the platform since the days of Windows CE and uses his current Windows 10 Mobile phone daily to keep up with life and enjoy a game during down time.