E3 2018: All the biggest Xbox news and announcements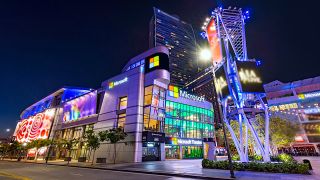 Numerous E3 2018 media briefings took place over the past few days and we got a better look at exciting titles like Gears 5 on Xbox One X. You can read about all the major Xbox news and announcements from the event below.
Microsoft
Next Xbox
Phil Spencer said that the next Xbox was in development and teased a shrouded image of a device with a very square but accented look.
Halo Infinite
Microsoft opened its E3 2018 briefing with a teaser for "Halo Infinite" which is powered by the new "Slipspace Engine". According to 343 Industries, the engine allows for emergent experiences and focuses on Master Chief.
Cyberpunk 2077
Microsoft's event ended with a bang because CD Projekt RED "hacked" the stream and revealed the first footage of Cyberpunk 2077. The game looks absolutely mind-blowing.
Gears 5
Gears 5 features Kate as the new protagonist in 2019. The title follows the young warrior on her journey to discover why she's related to the "Locust" monsters.
Microsoft Game Streaming
Microsoft confirmed that the company was working on a game streaming service to bring console-quality visuals to all your devices like smartphones.
Microsoft Studios
Phil Spencer took to the stage again and discussed the recent Microsoft Studios acquisitions. "The Initiative" is led by Darrell Gallagher of Tomb Raider fame and is based in Santa Monica. Apart from that, great teams like Compulsion Games, Ninja Theory, Playground Games, and Undead Labs are also joining the company.
Sekiro: Shadows Die Twice
FromSoftware revealed a new action game for 2019 which features an ancient Japanese setting.
Battletoads
While we don't know much about Battletoads, we do know that the beloved Rare franchise will return in 2019.
Devil May Cry 5
According to countless rumors, Devil May Cry 5 was going to be a PlayStation 4 exclusive. However, it turns out that it's coming to Xbox One in Spring 2019 with Xbox One X enhancements.
Dying Light 2
Dying Light 2 is in development for Xbox One and PC. The game takes place during the "Modern Dark Ages".
Fallout 76
Fallout 76 is a massive game which is four times the size of Fallout 4. The open-world adventure is launching this November.
Forza Horizon 4
Forza Horizon 4 takes place in a shared open-world Britain. The racing game also allows for different weather seasons unlike its predecessor. The Xbox One X gets a 60 FPS mode.
Metro Exodus
Metro Exodus is coming to Xbox One in February 2019.
The Division 2
The Division 2 takes place in Washington, DC and forces you to prevent a new American Civil War.
Nier: Automata
Nier: Automata is coming to Xbox One this month.
Ori and the Will of the Wisps
Ori and the Will of the Wisps got a stunning new trailer. The game looks gorgeous on Xbox One X and should launch in 2019.
Cuphead: The Delicious Last Course
Cuphead is a challenging platformer and it's about to get even more content. An expansion called "The Delicious Last Course" will launch in 2019 and feature a new character called Ms. Chalice.
Xbox Game Pass
Microsoft officially confirmed that Halo: The Master Chief Collection was coming to the subscription service later this year. The Division, The Elder Scrolls Online: Tamriel Unlimited, and Fallout 4 joined Xbox Game Pass over the weekend.
Kingdom Hearts III
Phil Spencer assured gamers that the company was working with developers to make their games run best on Xbox One. After that, he revealed a new Kingdom Hearts III trailer which gives you a taste of its gorgeous visuals. The game is also getting Pirates of the Caribbean content.
Shadow of the Tomb Raider
Shadow of the Tomb Raider got stunning new gameplay footage.
Sea of Thieves
Future Sea of Thieves content was teased at Microsoft's event. "Cursed Sails" and "Forsaken Shore" expansions are coming soon.
Just Cause 4
Just Cause 4 suffered from numerous leaks ahead of its E3 2018 reveal, but the bombastic trailer still delights because it captures the essence of the franchise.
Gears Tactics
Gears Tactics is a PC game that resembles XCOM.
Battlefield V
Battlefield V got a new trailer which shared one of the single-player scenarios. The mission seemed grounded due to the powerful acting.
Crackdown 3
Crackdown 3 got a new trailer featuring the hilarious Terry Crews. There's a lot of destruction and other mayhem involved.
Sony
Resident Evil 2
The Resident Evil 2 remake is coming to Xbox One and PC in January 2019.
Control
Control is Remedy Entertainment's next third-person shooter for Xbox One and PC.
EA
Star Wars: Jedi Fallen Order
The game takes place during "The Dark Times" and you play as a Jedi. It's set been Star Wars: Episode III and Episode IV. Star Wars: Jedi Fallen Order is expected to launch next year.
Anthem
Anthem got a new trailer which featured game engine footage. The game looks absolutely breathtaking and features a variety of weapons. The world constantly changes due to storms.
EA Game Streaming
EA announced its own game streaming service which is in active development.
Bethesda
The Elder Scrolls VI
Bethesda announced that The Elder Scrolls VI which will come after Starfield.
Starfield
Starfield is a space-based game which Bethesda is teasing for a few years down the line.
Doom Eternal
The sequel to 2016's Doom was announced at E3 2018 and is called Doom Eternal. It seems to take place on a post-apocalyptic Earth.
Wolfenstein: Youngblood
Wolfenstein: Youngblood is a co-op experience which features B.J. Blazkowicz's twin daughters.
Rage 2
Rage 2 got new extended gameplay footage and a rather thrilling performance of the theme song.
Prey
Prey received a massive update that adds a variety of new content. The "Mooncrash" expansion is available right now with "Typhoon Hunter" coming soon.
Ubisoft
Beyond Good and Evil 2
The highlight of the Ubisoft show had to be Beyond Good and Evil 2. The game got a new trailer showcasing the grittiness of the world and the threats that inhabit space.
Assassin's Creed Odyssey
The leak-ridden Assassin's Creed Odyssey was finally announced and it takes place during the Peloponnesian Wars.
Skull & Bones
Skull & Bones is eerily similar to Sea of Thieves. We got a new trailer and a better look at the gameplay.
Those were all of the major announcements from E3 2018. A lot of great experiences are coming to Xbox One in the coming months, and hopefully, you're as excited as we are for games like Assassin's Creed Odyssey and Beyond Good and Evil 2.
Keep an eye on WindowsCentral.com/Gaming for all the latest in Xbox and Windows 10 gaming, accessories, news, and reviews!
Windows Central Newsletter
Get the best of Windows Central in in your inbox, every day!
Asher Madan handles gaming news for Windows Central. Before joining Windows Central in 2017, Asher worked for a number of different gaming outlets. He has a background in medical science and is passionate about all forms of entertainment, cooking, and antiquing.
The games were better than expected, but I'm really disappointed we got nothing about a new Elite Controller or the rumor (posted here a couple days before) about an XB1X price drop.

This should keep the xbox trolls quiet for a little while

Ya i think his username is guest_astf or something.

LOL so if you're calling me a troll, can I call you a fanboy?
I really don't know why I should be kept quiet?
The real big news from MS for me was they made a new studio (even though we probably already knew this). Most games shown on the XB stage were multiplats so can't give MS/XB credit for that.
There is probably nothing new coming in the next 1-2 years. And probably nothing from these studios for years.

I gotta say, Microsoft delivered well beyond my expectations and pretty much dominated this E3. Where before the expo I questioned, I now have confidence in the brand. I asked for more content to compliment the hardware and services, and MS definitely delivered. I now have 21 games on reserve for physical release (paid in full) and another 11 digitally, and once Ori and some others are available, I'll be spending even more. Kudos to MS. They've earned my money.

The studio acquisitions really did it for me.

They've unquestionably shown that they're serious about gaming. It'll be interesting to see what these studios come up with. We all know that Playground is working on Fable, or at least we assume as much, but what else is brewing?

I imagine Ninja Theory will make a game similar to Hellblade. Historical maybe.

Don't forget that they also did DMC, the Devil May Cry reboot. They certainly know how to do action titles. It's certainly a big grab for MS.

I noticed there's nothing mentioned on this site regarding games like Tales of Vesperia or Jump Force. I appreciate that Microsoft tries to continue working with Japanese developers, but it feels like their work is completed ignored by this site. Especially for Tales of Vesperia, which has a story with Xbox 360. I don't mean every game should have their own topic or a paragraph, but totally nothing is really disappointing.

It was mentioned in our Microsoft E3 2018 briefing roundup.

Wow I didn't hear about this. Awesome! Though I beat the game ten years ago and rarely play a jrpg over again. Although it's my fav genre. Just wish there were more

MS did a good job this year. I just wish Halo was coming out this year.

nothing I want has a release date...

The best game shown off at E3 was Sable. Glad it's coming to Xbox One via IDatXbox.
Windows Central Newsletter
Thank you for signing up to Windows Central. You will receive a verification email shortly.
There was a problem. Please refresh the page and try again.