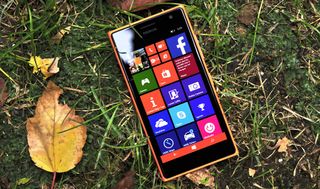 A lot can happen in a week. New apps join the Windows Phone Store or Windows Store. Your favorite apps can get a big update with a new look or new features. Device rumors come and go. Seven days might not seem like much, but it can be an eternity in the tech news cycle. Every week we're going to compile the biggest stories into one post, so you never fall behind – In Case You Missed It (ICYMI).
Windows Phone
This is why Microsoft keeps 'starting over' with Windows Phone [Read]
Nokia Lumia 735 – Unboxing and first impressions of the affordable selfie phone [Read]
Lumia 730 now available for purchase in India [Read]
Lumia 830 available online in India, hitting retail stores tomorrow [Read]
Lumia 530 for T-Mobile US now available for $69 [Read]
Verizon reportedly retires the Lumia Icon less than a year after launch [Read]
Latest intel: AT&T launching HTC One for Windows Nov 7, same day as the Lumia 830 [Read]
Microsoft + Windows
Video hands-on with the new YOGA 3 Pro, the world's thinnest convertible [Watch]
Why the Intel Core M Broadwell processor is going to be a big deal for laptops [Read]
Adobe offers better Windows 8.1 touch support for Photoshop CC and Illustrator CC [Read]
HP confirms plans to split up enterprise and PC divisions into two companies [Read]
How to install Windows 10 Technical Preview [Do it]
Microsoft will reveal what's next for their cloud business on October 20 [Read]
Satya Nadella: Windows 10 will be able to 'run on everything' [Read]
Surface Pro 3 gets new firmware update to improve Surface Pen drivers [Read]
Apps
Games
Xbox
Get ready to stream, Plex for Xbox One now available to download [Read]
Warlock announced as final remastered map in Halo: The Master Chief Collection [Read]
Warframe review – the excellent free alternative to Destiny on Xbox One [Read]
FIFA 15 for Xbox One Review [Read]
Xbox One to add custom backgrounds, themes and screenshot support [Read]
Misc.
Weekly photo contest: Abstract [Enter]
Help us decide the future of the WPCentral name – Part 2! [Vote]
ICYMI Mailing list
Subscribe to my newsletter to get the above content and more delivered to your inbox. I'll share the above content with you, plus share a few extra links to cool stories and products from around the web. You can even submit links to your blog post or apps that you'd like to be shared with the community. Just send me a tweet (@samsabri) with the URL to your story or app and include the hashtag #ICYMI.
Share your thoughts on this past week of Windows Phone, Windows, Xbox and Microsoft news!
Windows Central Newsletter
Get the best of Windows Central in in your inbox, every day!
Not much happened this week :P

At least nothing interesting.

This week really has me thinking about WP10, and what new features it may possibly have. I wonder??? .. What do you guys want, and need, in WP10❓
...............
I like this article. I can agree with every new feature these guys are suggesting. Of course I would never disagree with any feature anyone ask for, but these specific features would be really nice to have, and they don't sound out of the question.... Take a look❗❗❗
http://pocketnow.com/2014/10/10/windows-10-wish-list

I really want landscape mode on the start screen, apps list, and everywhere. And Interactive tiles would be an awesome addition.

Interesting.. Landscape on the start screen is something I've been asking for since Version 7.0. It's actually one of the features mentioned in the article I posted. We need that badly.. It's really more of a ergonomic feature.

No we don't need it. Why would you need it? Just imagine how would it look like, how could we enter action center from landscape or apps list? I'm not sayin it would not work, I'm just sayin it would be awful to use..

My question was what features would you want to see in WP10... Im not trying to start a debate about features.. It's a simple concept that we've been trying to explain to you guys for years.. If you don't like a feature then don't use it... No need to wish other fans can't get what they want.. Now, go away.

i know you mean features ! but with talk of no W10 for arm surface tablets from MS i would love to see WP10 run on a tablet to replace it ..

Something tells me that WP10 is supposed to run on anything 9" or smaller.. I think that's the plan, and might be the reason MS is separating RT from surface.. Actually, it just seems like they are canning surface all together...
.........
Actually, I'm glad you brought tablets up because it relates to the comments about landscape mode on WP.. It's probably already in WP10 because those larger devices are really going to need it... My 1520 could use it.

Verizon burned me twice this week. Retiring the Icon and with it my hopes of getting cyan or denim. And they "lost" the trade in of my wife's old iPhone.

Why don't u use PREVIEW FOR DEVELOPERS?

I do. I am talking about FIRMWARE UPDATES!

Double M, preview for developers runs like crap. It doesn't have the firmware, and its not a replacement for the real update. People shouldn't have to run to a preview to get their updates that were supposed to come months before. My phone has Cyan btw, L820. Love you AT&T ❤

It's a shame that such a great phone will be retired running the same firmware it had at release, which was only 8 months ago.

I am so annoyed of the fact that there is not even a single rumor from Microsoft about the upcoming Lumia flagship -_- I want the successor of 1020. Off-topic by the way

Why do you even care if it's a rumor. I mean it'll be just a rumor.

He means leaks, like shots of pre production devices.. More times than not they are accurate.

You can say that. Well they are not accurate but heck we can have an idea about the upcoming flagship. I just want to sell my 930 because of the bad battery. 1520 is not an option for me and 1020 is my previous phone. I would have considered HTC One for Windows but that camera is the main problem and I am indifferent between HTC One and 930.

I worded that wrong.. I agree with you totally.

Because that sure would get me excited. I love hypes

A MS employee personally told me yesterday that a successor to the 1020 is coming.. These two have been with MS for a long time, and I trust that they know what they are talking about... Look for it by 2nd quarter next year... Any day now leaks should start.

Are you enough confident in what you're saying cuz if it's true then you give me some hope....
Otherwise, nothing

These MS employees weren't playing around. I talked to them for a good minute. It's accurate.

I miss evleaks...if he were around, we would have gotta Lotta juicy leaks by now...

That is a bit too late. I was expecting it at GSMA :-/
Thanks anyway

I know what you are doing rodneyej. :) That's one way to start a rumor. LOL!!!!

No. I work at the airport, and I see MS employees all the time. The lady had a 920, and the dude was a huge 1020 fan, so working for the company as long as he's been there you know his information is accurate.. And, it's really not that big a surprise, rather it's just nice to hear...

Lumia 735 this week widely available and it rocks!

Every now and then someone so doesn't care about anything pops up with some silly question. I wonder why they even come here

Captain please, calm your tits .. I'm just askinggg

Did I miss the story about Verizon releasing the Cyan update? I didn't think so.

We want more updates on software, features, apps and games. Launch new phones on 2015

Why is XIM a US only app? I guess us Australian peasants are clearly no match for the might of the American tongue. :) :)

Plz bring an app that can be used as WiFi direct to exchange files between different platforms of os systems, plz.... I beg

Why should WPCentral make a such app?
Windows Central Newsletter
Thank you for signing up to Windows Central. You will receive a verification email shortly.
There was a problem. Please refresh the page and try again.