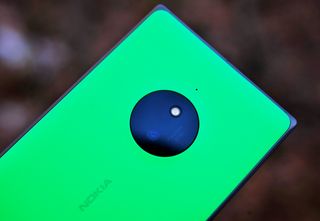 A lot can happen in a week. New apps join the Windows Phone Store or Windows Store. Your favorite apps can get a big update with a new look or new features. Device rumors come and go. Seven days might not seem like much, but it can be an eternity in the tech news cycle. Every week we're going to compile the biggest stories into one post, so you never fall behind – In Case You Missed It (ICYMI).
Windows Phone
Microsoft + Windows
Apps
Games
Xbox
Misc.
ICYMI Mailing list
Subscribe to my newsletter to get the above content and more delivered to your inbox. I'll share the above content with you, plus share a few extra links to cool stories and products from around the web. You can even submit links to your blog post or apps that you'd like to be shared with the community. Just send me a tweet (@samsabri) with the URL to your story or app and include the hashtag #ICYMI.
Share your thoughts on this past week of Windows Phone, Windows, Xbox and Microsoft news!
Windows Central Newsletter
Get the best of Windows Central in in your inbox, every day!
Is there is some ETA for preview for developer for windows 10 for mobile??

You have to wait and see.

April 2015 may be a possibility

Guess I forgot to Downoad that Movie thingy from MS.

Age Of Empires it's on 1.0.3 version. Not 1.3 god ...

It would be nice to see some new Xbox Music app update till next ICYMI.

A lot can happen in a week. Please, change this header :D

Y? It's engaging, and I think that's the point. Plus, if you want a change, give an example of what you want it to change to, Windows Central will certainly listen and consider, or even poll on it.

"ROUND THE CLOCK WILL GET SOME WORK DONE , JUST HAVE SOME GLANCE OVER IT" how does it sounds.....

How come when you click on the Windows central links to other articles from within the app, they never open?

Swipe right and tap "View Links".

I do. But then it never takes me to that article. I just shows a blank page as if it's loading and just stays there.

When I tap on the "View Links" it shows the links!
Maybe you should close the app and open it again or maybe you should reinstall Windows Central app.

Those links have been broken in my phone since the website got renamed to Windows Central.

Yes. It needs to be fixed. They didn't change the default uri I guess.

Busy week again. Microsoft is on a roll

There are like all women on PCs at that Halo event lol.. Just a curious notice.. Anyways Movie Creator is awesome! Needs some work and features, but for a start it's awesome. Easy to use. I recommend it.

Yes better that movie maker 8.1

Any info/ rumors regarding the next Windows Phablet device? Lumia 1530?

No such thing but, some website created a concept phone for 1530 which tells us 1530 may have completely different look, snapdragon 805 processor, 3gb ram, 6' screen as usual like that...

If all concepts made confirm to include in phones...... Then you have pay 1000$ for the flagship and 5000$ for mid range.... Bcoz those concepts are totally very high aimed

Actually I was hoping for a date :)

Lumia 535 make me jealous.. I bought l620 for 15000rs last year.. Now more features on 535 for just 10000rs?? So sad...

You get a more powerful processor/GPU with 620 (The same as in high-end phones--920, 925, 1020, etc.)

Yes u and me know that... But a normal people laugh at the price... Actually i like small...

Wait, Sam works even on weekends?

These ICYMI articles are always on weekends...

Awesome!! NIDMA
(now I didn't miss anything)

I picked up the L830 four days ago to replace my much appreciated L920, and I got to say this is a reasonable update. Specs and flagship clamor aside, the L830 performs very well in the real world, especially for my use, which includes: email, web searching, news feeds, keep contact with my team, writing short documents, music player, calendar & notes and educational use. As you can tell, I am not much into gaming, so the snapdragon 400 works flawlessly. Also, the phone has nice large screen and it is feather light. Anyone considering a very good performing phone and can live without the flagship specs, this is an excellent choice.

Why are you guys ignoring the Windows Store error scandal??

http://answers.microsoft.com/en-us/windows/forum/windows8_1-windows_store/your-purchase-couldnt-be-completed-error-code/f816fc57-0e69-41d5-8731-c24fc6b3e562

A good and free music app?

He asked for a 'good' app.

Windows 10 will be available for the Lumia 520?

Yes, it will. It has been confirmed. ALL Windows Phone 8 devices will get Windows 10.

Well, actually they said all Lumia devices will get Windows 10, not all Windows Phone 8 devices. So HTC, Samsung, Blu etc are questionable.

Yes, it's even mentioned in the article.

No love for Xbox music :(

lost my 720 n um planning to buy a new one
i am considering 730 or 535 what say guys or any other device

I would love to see a follow up article on T-mobile's failed "launch" of the HTC One M8 for Windows. I call them up and they say it launched Nov. 9, but I can't buy through any channel. No one has any information on what the reason is.

I would like to download that movie creator for my laptop, but store isn't working on my windows 10 tech preview.
Anyone with the same issue?
Windows Central Newsletter
Thank you for signing up to Windows Central. You will receive a verification email shortly.
There was a problem. Please refresh the page and try again.