Windows Phone Summary of the Week: April 23 - 29 2012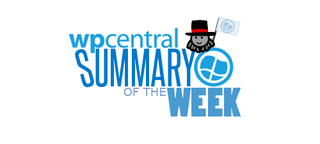 It's Sunday, which means it's time for the WPCentral Windows Phone summary of the week. In this weekly recap we cover the news that matters most to you and combine all the headlines into one digestible article. But before we head into the summary itself, we've got a few WPCentral related headlines to advertise. First up is our Windows Phone community. The forums is a superb place to meet other owners and join in the latest hot topics.
After purchasing your shiny new Windows Phone; what apps are worth downloading for photo editing and whatnot? Our George Ponder takes a look at the top photography apps for your handset. Episode 144 of the WPCentral Podcast has gone live, which has our Daniel Rubino, Jay Bennett, and Rafael Rivera discussing stormtroopers and the cloud. Enough of us, head on past the break for the full summary.
Apple's CEO, Tim Cook has had a dig at Microsoft's platform convergence during the Q2 2012 Apple conference call. He compared the upcoming Windows 8 to a "combined toaster and refrigerator". The Co-founder of Apple, Steve Wozniak, decided to use more conservative words and described Windows Phone as "intuitive and beautiful". The most positive news to come out this week is some Smoked by Windows Phone data showing over 40,000 wins and a handful of loses.
With the upcoming release of Windows 8, Microsoft's next desktop / tablet OS, the company is set to unveil a cross-platform replacement for the Zune music service this year at E3, with a rebrand. There has been some coverage of LG Italy's statement that the LG Optimus 7 will not be receiving the Windows Phone 8 "Apollo" update, which has since been retracted. Geekworks, the developers behind Shuriken Ninja is estimated to earn approximately $245 million a year from in-app advertising.
A report from research agency Strategy Analytics shows Samsung jumping in front of Nokia in the mobile phone race for world domination with the Finnish manufacturer's shipments decreased by 24%. Samsung is rumoured to be basing the next Windows Phone on the Samsung Galaxy 3 design, who could complain? We have received reports that the AT&T $100 phone bill credit for Lumia 900 issues has began to roll out.
We've been following Wordament since it was announced that the Windows Phone game would be receiving Xbox Live status. Now we are pleased to announce that the title has gone live with the refresh - a day earlier than previously planned. Fruit Ninja has joined the aray of Xbox Live titles that have reduced their pricing, and is now available for just £0.79 / $0.99. This week's Xbox Live Deal of the Week is ZOMB1ES on teh ph0ne, so should you desire to slaughter zombies after zombies, then this game might well be the quick-fix for you.
Grow, a light little indie game, has made its way to Windows Phone and is now available on the Marketplace. Assassin's Creed has a clone available which is actually a higher version leading to the suspicion that an update is on the way. Should you reside in Europe and wanted to take route on the Oregon Trail, now you can as the popular 'old skool' title has come to markets beyond the U.S. shores. Glu Mobile is set to bring across two freemium Xbox Live titles to Windows Phone: Gun Bros and Contract Killer.
Microsoft has been changing things around, including the Zune media centre for Windows. You can no longer access the Windows Phone Marketplace to download apps using the software suite, unless you hack it of course. The Facebook app development team have been taking feedback seriously and have detailed the upcoming version bump to 2.5 The update will bring threaded messaging, tagging, and more. Nokia has claimed that Skype, which reportedly requires 512MB of RAM, actually works on the Lumia 610 - sporting just 256MB. We've already been aware of this since Justin Angel connected to a recent podcast of ours using his trusty Lumia 610.
The "Instagram of video" aka Viddy, an app available for iOS and soon Android, sport a Windows logo on their website in the list of supported (or upcoming) platforms. As this service is video editing for smartphones, we can only assume it means we should soon see a Windows Phone app. Reddit, arguably one of the most frequently updated apps, is being updated to version 2.0 with a number of new features. Speaking of Instagram, an alternative solution has landed on the Marketplace - EyeEm.
The official Cleverbot app is now available for Windows Phone, should you enjoy conversing with an AI, and an official solution for Crunchyroll has also made it's way onto the platform. Pandora has made more alterations to the API, which in-turn has a negative impact on the unofficial apps (again). Amazing Weather v3 is hitting the market with new themes available for users. Finally, Ask Ziggy has received a major update that implements a number of interesting features, including Live Calendar support.
The Nokia Lumia 900 has beaten the dual-core HTC One X Android smartphone in a HTML5 reading test. Though browser tests don't particularly mean much, it's certainly interesting to see a higher specification-boasting handset lose out. The Lumia 900 itself has been in the news for the past weeks for all the right / wrong reasons (depending how you look at it), regarding availability and stock levels. Even countries in Europe, most notably the UK, are experiencing delays due to "overwhelming demand" in the states.
UK retailer Phones4U, which is set to stock the white version of the Lumia 900 exclusively, has confirmed the delays and is offering early ordering customers a free pair of Nokia Purity headphones to compensate. AT&T is reportedly planning to step up the advertising level for the Lumia 900 in May and June with "Operation Rolling Thunder" gaining speed. The U.S. carrier is also making update notifications more obvious to customers by sending SMS messages when a software update is available.
The Nokia Windows Phone is now listed on Amazon for £479, while Clove UK has reduced the set price from £486 to a more attractive £458 with availability dates still pointing to May 16th. An employee at a Norwegian Elkjøp retail chain store has sent us a photo of the store ordering a couple of Lumia 900s for what we assume to be demo units - two of each colour (cyan, black and white). Could the Nokia flagship Windows Phone be heading for Norway?
Nokia has clarified the firmware issue with the Lumia 900 (don't worry -- not all of this summary is tied to this handset) with two versions being available in the wild for customers. Should you have either 12082 or 12084 then you should be good to go without any connectivity issues that were previously bugging the device. The magenta version of the Lumia 900 actually exists, thanks to Finnish retail site Gigantti, and could possibly be heading to AT&T for Mother's Day as previously rumoured?
While delays are hitting a number of countries in Europe, the Philippines are having trouble with launching the Lumia 610, 710, 800 and 900. Basically every Nokia Windows Phone. Carriers are being blamed due to Nokia having an agreement with both Globe and Smart for the carriers to push the handsets themselves, leaving the manufacturer powerless when it comes to bringing in their own stock and selling Windows Phones directly to customers. All four Windows Phones have been put on hold "indefinitely", but word on the street is they have almost sorted out issue present.
Are you interested in the HTC TITAN? With the release of MK II, it makes sense for the first version to come down in price, so we've taken a look at where you could pick up one and not blow your bank balance into oblivion. Closing up the hardware section is the news of Huawei waiting for Windows Phone 8 "Apollo" to roll out new hardware for the platform. The OEM was originally supposed to be supporting Windows Phone with handsets being released for China early this year, but it seems the manufacturer has other plans.
Microsoft has gone into detail about the origins of the Metro UI design and how it all came to be, while AT&T's Ralph de la Vega shows off his shiny Lumia 900 on CNBC instead of talking iPhone 5. British Scientists from the University of Southampton have literally taken the Lumia 800 out of this world by attaching it to a balloon and sending it up into the stratosphere. The Australian carrier Telstra has kicked off the promotion for their "Lumia Quest" events that will take place in a number of major cities. At the end of these treasure hunts are brand new Lumia Windows Phones up for grabs.
Ben (the "PC Guy") Rudolph returned over the weekend with a new promotion for Windows Phone - a Twitter caption contest. But there are many ways the public can get their hands on a free Lumia smartphone, including a new Lumia 900 sweepstake on Facebook. A Skype giveaway is also taking place where entrants could win one of ten Nokia Lumia 900s or HTC TITAN IIs, but again is restricted to the states.
Strategy Analytics is set to report on developer interest for Windows Phone depending on how survey forms look like, so should you enjoy developing apps for the platform you'll want to take 10 minutes of your time to fill in the survey to build support. The Buddy platform, which provides developers on all major mobile platforms with cloud functionality, has gone free until August. Be sure to check out this offer out if you're wanting to get notifications and live tiles set up for apps. The last known Your App Here campaign has closed its submission doors today. The marketing helps developers who can't afford effective promotion or possess the knowledge and contacts.
Highlights
Gaming
Software
Hardware
Media
Developers
Rich Edmonds is a word conjurer at Windows Central, covering everything related to Windows, gaming, and hardware. He's been involved in technology for more than a decade and knows a thing or two about the magic inside a device chassis. You can follow him over on Twitter at @RichEdmonds.
Wow - it's amazing how much Windows Phone news there is from just one week. It seems the platform is really skyrocketing up uP UP!!!!

250k not millions, check article and delete this post.
Windows Central Newsletter
Get the best of Windows Central in in your inbox, every day!
Thank you for signing up to Windows Central. You will receive a verification email shortly.
There was a problem. Please refresh the page and try again.