Windows Phone Summary of the Week: November 28 - December 4, 2011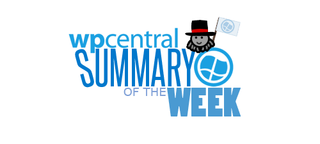 Phew, what a week! Before we get into your Windows Phone weekly summary, the WPCentral app has been updated to 1.8, which includes a number of bug fixes that appeared during website development. We've also been joined by Gergely Orosz for this week's developer interview who's the brains behind AppFlow, Cocktail Flow, and Flashlight 7. For the full summary, head on past the break.
Should you wish to keep track of awards that are available on Windows Phone, be sure to check out NinjasFate, a website that has gained popularity in the gaming community for having a database populated by games that have awardables. Nokia held an awesome event in London not so long ago, which saw the Millbank Tower being transformed into a light show and massive presentation to a couple of tracks by Deadmau5. WPCentral was down at the south bank in the midst of the atmosphere, and now you can check out the performance in HD should you be missing out on the action.
The UK CNET Editor, Rich Trenholm, has used an iPhone until he got his hands on the Nokia Lumia 800. After using the handset and experiencing what Microsoft's OS has to offer in terms of the UI uniqueness and freshness of a different kind of phone, Trenholm notes the Lumia 800 is "utterly compelling" when compared to the iPhone. With what's currently happening on the front with mobile sales, RIM is looking at offering security services to other platforms, however Windows Phone is not being targeted. The question will be asked should the consider the platform, do we really require their security service? Keeping to the gloom area, HTC is having a tough end of the year with Android (hard to believe), due to patent costs and a competitive ecosystem, but is looking positively at 2012. While HTC is facing some trouble, Nokia is said to actually disappear in 2012. analysts must be bored these days.
Should you require some assistance on getting the perfect gift this Christmas (which should be a Windows Phone - hint hint), the heads of state of blogs under the Mobile Nations umbrella (including our dashing Dan Rubino) have huddled together for some banter and useful advice. No, really. AT&T, the premier partner for Microsoft and Windows Phone, has been releasing surveys into the wild to customers for detailed feedback. Should you not own a Windows Phone, you can now visit a demo on your Android, iPhone, or other smartphone and test drive the Metro experience for yourself.
Nokia has already proved to the mobile community that they know how to market phones and put on shows, but they still wont cease efforts. Their "Amazing Vans" have been touring France and running competitions. The Finnish manufacturer is also working on indoor navigation for maps (using WiFi and BT 4.0) and continuing to give away Lumia 800 handsets on Facebook. If this wasn't enough, Nokia Hong Kong has created a large Windows Phone out of 550 Lumia 800 devices to celebrate the launch of the Lumia family of handsets in the region. We should expect to see some exciting stuff from the company as they've hired Justin Angel as Principal Engineer on Windows Phone 7 developer experience.
With all the news surrounding patents and the lot, one can't help but feel for HTC. Things are looking up though, as the ITC has ruled that HTC cameras in Android and Windows Phone handsets are not infringing on FlashPoint patents. A while ago we covered the news that SkyDrive would be getting "unlimited" storage for all files (photos and documents), but we can now confirm that this is not the case. Should you be wanting to go to CES at some point but simply do not have the funds, Microsoft is giving away a trip for two to Las Vegas and to the event.
WPDownUnder, an Australian based Windows Phone enthusiast website, has ran an interesting report that paints the same bleak picture we've all seen around the U.S. and Europe with carrier stores not pushing the platform at all. SkyDrive recently received a pretty hefty makeover, improving the user experience, but it would appear that we've gone in the opposite direction with OneNote with notes being "deleted". Fortunately, files were not being lost and all that's required is a quick app reset. There have been some security issues surrounding the Carrier IQ software that's found on Android and iOS devices. Fortunately, Joe Belfiore has confirmed that Windows Phone does not feature the software that's under attack. We've have piracy issues in the past, with Microsoft being on the slow side when it comes to removing the offending material (infringing copyright), but they've been on the ball when it comes to apps being ripped and submitted to the Marketplace for free. Four big name apps have been unveiled at Microsoft's Acceleration Week in Israel, including Doat, WorldMate, Babylon, and Touch Apps.
Moving swiftly onto gaming news this week, we have an Xbox Live developer interview with Ken Balough, Brand Manager at SEGA, makers of Sonic CD. geoDefense is this Week's Xbox Live Deal of the Week, while Ghostscape and Shuffle Party are the new Live titles. Rainbow Rapture, the popular Indie arcade game, has received a major update, which brings Mango goodness, ringtones and wallpapers. Speaking of game updates, IonBallEX has received the Mango treatment too while killing a few bugs. Survivalcraft, the unofficial Minecraft port for Windows Phone, has been bumped to version 1.1 and brings a bunch of new functionality.
Jewel Tower, a popular Tetris-style arcade game, has lost it's in-app advertising but remains free. You now get to see the entire screen without any annoying advertising. Tank Battle, developed by Birchwood Games, was released a while ago, but now a free version has been made available. Shuffle Party is a shuffleboard/bowling game, which has landed on the Marketplace and is available worldwide (as opposed to being U.S. restricted). Wheel of Wealth version 1.3 is in the testing phase and will be released soon bringing more functionality and UI improvements.
Software news! YuleTile that's available on the Marketplace which will not fail at getting the user in the Christmas spirit with Live Tile countdowns and more. MetroRadio, the first Pandora radio app for Windows Phone, is currently n development (and is close to completion), but we got our hands on the XAP for a sneaky peek at what we can expect. If you're constantly buying drinks when out socialising, or lend money to friends, you may sometimes get lost with what you're owed. Introducing Metrowe, an ingenious app that helps you keep track of what you're owed.
We may be pretty late in covering the app, but Ocado (popular online UK grocery) has got their app for Windows Phone out and it's slick looking as all other brand applications on the platform. Carbon is a popular Twitter client for webOS and the team have decided to make a version for Windows Phone, called CarbonWP. It's a slick, fast and feature rich Twitter client that will suit many tweeters. We've covered MetroTube a number of times in the past with the transition from LazyTube, and the app is now available in the Marketplace (free upgrade for all paying customers).
Google hasn't exactly played ball with us by bringing apps to the platform, but at least they're continuing development on their mobile search features to cater for Windows Phone users (but why aren't you using Bing?). Board Express, the popular bulletin board app (which works with the WPCentral forums), has been updated to version 2.8 and brings improvements to vBulletin viewing. Evernote has been bumped to 2.1, which brings background synchronisation, search integration, more social functionality, and more. ebay has been updated to 1.15 and brings some bug fixes, while Fly Delta receives a Mango update and no allows users to track luggage. Lastly, the Bank of America app has been updated, but brings nothing new to the table. The only change is that now the app actually works.
Time for some hardware. We've taken a quick look at the available total storage, and how the amount differentiates between manufacturers and models (by anything up to 1GB!). Making your Christmas shopping easier, we've shortlisted some accessories that would make perfect festive gifts. AT&T has reportedly sold out the HTC Titan across the board, which is a good sign of demand, or a terrible showing of short supply. We're pinning our hopes on the former. But that's not all, the Samsung Focus S is on backorder too.
We've only seen the Nokia Lumia 800 in black since it was officially launched, but now the other colours are creeping in with the cyan variety making an appearance at The Phone House in France. Now, where's magenta for the girls? Ah, Orange FR has it! In the next few days we'll be seeing the Lumia 800 launch itself into orbit in Singapore, but being Nokia, and being Lumia, we'll expect to see some more promotions prior to the 7th.
BGR has confirmed earlier rumours of a Lumia 900 heading to the U.S. when Nokia makes the strong push into the states. While the manufacturer has the red and blue lines with white stars in their eyes, Lenovo (popular laptop OEM) is apparently going to be launching a Windows Phone in China. Good to see Microsoft working on PC venders with whom they hold strong relations with. The Samsung Omnia W has hit Sweden by making it onto Telenor's stock list. While almost every phone has enjoyed Mango, the poor Dell Venue Pro has been lagging behind, but now it's set to receive the 7720 update.
The Nokia Lumia 800 and Samsung Omnia 7 are both receiving the 7740 update being pushed out by Microsoft. Not so long ago, the U.S. HTC Titan was also receiving this upgrade, now the European version is following suit. The LG Optimus 7 has popped up on an Australian deal website, could this mean that second generation handsets are on the way? We've looked into reports from our forums that AT&T is actually throttling 4G speeds for Windows Phones.
Nokia's "The Little Amazing Show" is still going strong, with episode two hitting YouTube, which was shot in London. KeyboardP, a Windows Phone developer and enthusiast, has been developing an interesting concept - using voice and Windows Phone to control the media player on a Windows installation. Saves getting off the couch to change song! Should you be texting another Windows Phone owner, why not have some fun with the available smilies by checking out a compiled list (note: there are many more still out there!)?
Nokia has been relatively quiet when it comes to the Lumia 710, with the 800 taking the stage, but it seems the manufacturer is getting round to the baby brother with a new advertisement. Are you one to spend a romantic evening with a loved one gazing at the stars? Or are you a techno-geek who has NASA's RSS feed on your phone? Now you can complete the set by getting some NASA ringtones. Carriers never cease to amaze us with the sloppy promotion that's brought to our attention when it comes to Microsoft's platform, and it's now AT&T's turn by using a normal Samsung Focus device for a Focus S display. Derp.
Yo, developers! Did you know Windows Phone is still topping the charts (not in TOTP) but for advertising CTR (click-through rate), neat eh? Microsoft User Community is running a sweepstake for game developers - "You've Got Game". Prizes include a Dell Alienware M18x gaming laptop (3 winners chosen by random) or an Xbox LIVE Gold Card (25 winners selected on a weekly basis).
Should you have your app published on the Marketplace, you may find yourself thinking, "What now?" Telerik, the company behind the RadControls for Windows Phone, has published a whitepaper for promoting your app(s). According to a case study carried out by Anlock, who specialise in child-learning apps for mobile platforms, apps for Windows Phone accumulate five times (5x) more revenue than iOS counterparts. Closing off our summary, Microsoft is looking into opening up native-code access to developers for more integration with the OS.
Highlights
Gaming
Software
Hardware
Fun
Developers
Windows Central Newsletter
Get the best of Windows Central in your inbox, every day!
Rich Edmonds was formerly a Senior Editor of PC hardware at Windows Central, covering everything related to PC components and NAS. He's been involved in technology for more than a decade and knows a thing or two about the magic inside a PC chassis. You can follow him on Twitter at @RichEdmonds.
Wow! Busy week. Great job WPCentral team...have to force myself to take Skyrim breaks every now and then just to see what WP7 developments have come up on your site! ;)
Keep up the great work all.
Sheeds.