Windows Phone Summary of the Week: October 24 - 30, 2011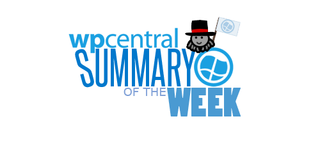 Welcome to the WPCentral Summary of the Week, where we bring you the latest goings on in the Windows Phone community for the past week. Stories you may have missed, deals you're not aware of and more are all covered here. Before we begin, should you be interested in our Nokia World '11 (opens in new tab) coverage (and how we hung out with Stephen Elop (opens in new tab)), head on over to our everything you need to know about Nokia World article. Our Dave Blake returns this week with a special Nokia update from our forums (opens in new tab). Speed on past the break for the full run through.
Things are changing around here, with Mobile Nations becoming the community network brand (opens in new tab) and to celebrate both the news and Halloween, we're giving away a Windows Phone (opens in new tab) in a contest! Nokia is no set to hit the U.S. until 2012 (opens in new tab), which we were already aware of. New York Time's David Pogue has taken Windows Phone for a spin and positively reviewed the platform. Three UK has announced the news that the carrier will be sporting the Nokia Lumia 800 (opens in new tab) (Cyan and Black), which shows their commitment with earlier reports of the network ditching the platform.
HTC and Microsoft took Windows Phone to Paris Games Week (opens in new tab), where a booth was situated alongside Age of Empires and Halo. The HTC Ultimate (Titan) gets full page treatment in a Brazilian newspaper (opens in new tab). Sprint has been denied access to internal AT&T documentation (opens in new tab) to prevent the merger with T-Mobile. The Zune Pass has gone down to Australia. With all the promotion, advertising and the release of the Lumia 800, Nokia is giving away five of them for free (opens in new tab) on Facebook. Microsoft is following suit with a Twitter contest that promises some sweet prizes.
To show off their vision of the future, Microsoft has published a video (opens in new tab) that puts Windows Phone in a more integrated role with personal and office productivity. While Microsoft continues to advance onwards, Nokia looks at Symbian users and has provided an app that gives them an insight (opens in new tab) into Windows Phone. HTC are still spending advertising funds, in fact they fail to show signs of slowing down, with the manufacturer taking over the Metro newspaper (opens in new tab).
Microsoft will be set to hold a special event on November 7th (opens in new tab), in New York. We'll be there to cover it as always. As well as throwing parties, Microsoft is using their Skype acquisition to pump adverts onto the network (opens in new tab). Jim Gaffigan, a comedian, has teamed up with HTC to be featured in their videos (opens in new tab) promoting the HTC Radar and Titan. We got in touch with Nintendo about the illegal ROMs that appeared on the Marketplace (opens in new tab) and it seems as though Microsoft has finally removed them.
Our Paul Acevedo gets hold of Signal Studios and Chrome Studios (opens in new tab), developers of Toy Soldiers: Boot Camp, for an interview. We've also got an exclusive preview of Shoot1UP (opens in new tab), an upcoming Xbox Live title which is set to be released in 2012. For now, we can settle with Orbital that has circled onto the Marketplace. Kinectimals has been catnapped unfortunately, Microsoft will be releasing the title on Windows Phone on November 2nd.
The Xbox Companion app will be coming to Windows Phone this winter. For updates, Doodle Jump gets updated to version 1.3 and Sally's Salon goes up to 1.1. EA will be releasing some exclusive titles to Nokia (opens in new tab), according to an announcement at Nokia World.
There have been a number of updates being rolled out this week. We've had IM+ pushed to 1.8, Groupon hits 2.5 and has deals in Europe, BoardExpress receives Mango treatment, gMaps Pro sports compass support, ...I'm a WP7! introduces lairs, Mehdoh flying up to 1.4, and ImageWind returns to the Marketplace Mango'd.
Windows Phone Folders for Mango is released to the public which the homebrew community can enjoy. The Tango video calling app we covered from HTC's London event back in September is set to support video conferencing by November 7th (opens in new tab). The official Facebook app, developed by Microsoft, is going to receive Mango treatment on Halloween. We take a dive into explaining Nokia Music (opens in new tab) from Nokia World as well as WNM Live, which allows users to have free voice calls with people (opens in new tab) who live nearby (or afar).
We've received word on carriers and manufacturers that are rolling out updates to enable tethering:
The HTC Radar 4G will be available on T-Mobile for $99 (opens in new tab) (contract) on November 2nd. Nokia Windows Phones are available for ordering online, and they're are showing up in Italy. Vodaphone UK is displaying Nokia love with offering £60 in vouchers (opens in new tab) for the first 10,000 customers to order the 800. For T-Mobile, the 710 has passed through FCC (opens in new tab), while in the UK the carrier is looking to stock the Nokia 800 soon (opens in new tab). Orange UK is going one better on Vodaphone by offering a free Xbox 360 when upgrading to the 800.
As much as we'd enjoy having the features, the Nokia 800 does not support TV-out (opens in new tab) or the ability to be used as mass storage. Back to a 1st gen device, we have Deutsche Telekom sending the Mango update for the Samsung Omnia 7 into scheduling (opens in new tab). Acer has announced the W4/Allegro (opens in new tab), which is a mid-spec handset and will compete with the Radar. ZTE is looking to bring some Windows Phones to Europe (opens in new tab).
AT&T has announced the Focus S and Flash (opens in new tab) for November 6th. The Samsung Focus and HTC HD7 are now available on the carrier pre-pay "Go" plans (opens in new tab) with the Focus being sold out. Photos of a Lenovo S2 surface (opens in new tab) and could be heading to China?
Nokia Conversations has gone Metro with a complete design revamp (opens in new tab). Microsoft's Windows Phone Inner Circle night parties (opens in new tab) are set to go to 15 more U.S. cities. If you weren't already aware, Windows Phone is extremely sexy (opens in new tab). If this isn't enough, Nokia is working on a flexible screen (opens in new tab)! With Nokia using 'Lumia' as the brand for their strong Windows Phone family, what does it mean in other languages? Protitute in Spanish (opens in new tab)?
For developers, Homebrew apps can be developed using Mango native code (opens in new tab), which allows apps to take advantage of APIs etc. and Nokia is set to give away 25,000 Lumia 800s (opens in new tab) to developers. Woah!
Highlights
News
Gaming
Software
Hardware
Fun
Developers
Rich Edmonds is Senior Editor of PC hardware at Windows Central, covering everything related to PC components and NAS. He's been involved in technology for more than a decade and knows a thing or two about the magic inside a PC chassis. You can follow him over on Twitter at @RichEdmonds.