Windows Phone Weekly Digest: December 20, 2015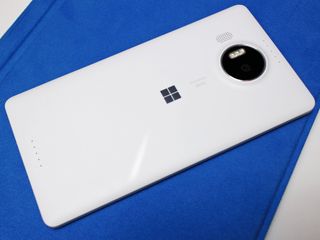 (Image credit: Daniel Rubino / Windows Central)
There's a lot going on in the world of Windows Phone. So much, in fact, that it is sometimes tough to catch every important story.
Device rumors come and go. New apps join the Windows Phone Store, and your favorite app can get a big update with a new look or new features.
Therefore, every week we will compile a list of the Windows Phone news that you just shouldn't miss. Welcome to the "Windows Phone Weekly Digest."
Windows Phone
It appears that there is a new Lumia smartphone on the horizon. A leaked render of the upcoming Lumia 650 made its rounds on the internet this week. the rumored specs include a 5-inch 720p display, Snapdragon 210, 1GB of RAM and 8GB internal memory. Chances are we won't see anything official until Mobile World Congress in February.
Microsoft pulled the Windows 10 Mobile 10586.29 update early this week after many reports of bugs on some Lumia 950 and 950 XL owners. The update returned two days later, though some installation issues remained.
Both Fast and Slow ring members began receiving Windows 10 Mobile Insider Preview Build 10586.36 the next day. Lumia 950s and 950 XLs that were still stuck were able to jump right to 10586.36.
Sadly, that wasn't the end of the buggy updates for the new Lumias. Microsoft's latest update to the Audio settings caused some crashing on them.
This week marks the end of Windows 10 Insider Preview builds for PC and Mobile until January 2016.
And after being delayed, January is now when older Windows phones will see Windows 10 Mobile roll out to them.
Other notable items:
Apps
There was a whole lot of app news this week. The Wall Street Journal released an official universal Windows 10 app for PC and smartphone.
Twitter client Tweet It! for Windows made its return as a new Universal app for Windows 10 and Mobile as well.
Microsoft updated their Windows Maps app with lane guidance for easier navigation. It also picked up access to live viewing of over 35,000 traffic cameras in 11 different countries.
Also, be on the lookout for [a new Remote Desktop app](/micro soft-confirms-remote-desktop-universal-app-soon). Microsoft confirmed in a statement that they will be releasing a Universal Remote Desktop app that lets you connect to computers while using Continuum. According to the statement, it "will be released very soon in Technical Preview."
The Facebook Beta picked up some new features. Now you can edit your posts, change your cover photo and profile picture, and reply to inline comments.
Two well-known companies launched official fitness apps. Garmin Connect Mobile brought its fitness tracking to Windows 10 PC and Mobile and Adidas released a miCoach beta app for Windows 10 Mobile.
And after an outpouring of requests, Bank of America confirmed via Twitter that they are working on a Windows 10 Mobile app. We'll be sure to let you know as soon as it drops.
Other notable items:
The HERE Windows Phone mapping apps get updated with new user agreements
Fenice Twitter app for Windows 10 gets a one-week price drop to $1.49
InstaBlurrr photo editor is currently free until Dec. 31 for Windows 10 PC and Mobile
Baconit nabs full Notification Center support, Microsoft Band integration
Path to end Windows Phone support at the end of this year
Order bouquets from your Windows 10 PC or phone with the new 1-800 Flowers app
Microsoft People gets minor interface tweaks in latest update
LockTemp puts weather a Glance away on your Lumia lockscreen
NBC's Breaking News updated as a universal Windows 10 app
Skype receives another minor update on Windows Phone 8.1
Store app updated with interface tweaks on Windows 10 Mobile
Amex Mobile app rebrands as American Express, goes fully native
Windows Camera and Twitter snag minor updates
OneDrive for Windows 10 Mobile updated with moved 'sort' toggle
Slack beta for Windows Phone brings multi-team support and fixes various bugs
Games
Honor Quest, the fantasy-based RPG for Windows Phone, got a significant update. In addition to fixes and performance enhancements, it gained a new map, six new heroes, new items, and the ability to boost heroes past level 80.
QuizUp got a much-needed patch to stop it from crashing on low-end Windows phones.
We reviewed Sniper Fury, one of the year's best shooting games for Windows PC and mobile.
And Game Troopers, the busiest team in Windows gaming, released Looking for Laika, a new game where you set off to find your abducted dog.
Other notable items:
Be sure to weigh in on this week's news in the comments section. See you next week!
Are we sure the older phones will get updates in january? Some sites suggested that early 2016 can even mean few months into the year. Will they be firmware updates? Or just an OS update? And, some sites reported that the 820 would not get the official update, while the 822 will. I have denim on my phone and have 8 GB storage. And those were the prerequisites right? Can someone please confirm or deny this news please?

Older phones will "begin" to get the option to upgrade. Some will not get it due to low specifications. Personally, unless you have a Snap Dragon 800 series CPU I'd stick with WP8.1 Cyan..

In January?? I was thinking march.

Yes, it would be nice to have some firmer details of dates??

The thing whit windows phone today is that I don't see it getting better. Windows phone today is buggy, bigger app gap and some of the really good apps like Nokia camera has become awful since Microsoft took over. I can't see the future anymore for Windows phone.

Offtopic but can anyone tell me if the navigation bar is hiding in all apps in lumia 730 in the latest build

It's not on the 735, and I that's a similar model? Netflix does. The other On Demand players do not. All the games I have do. Really is hit and miss. But to answer your question more directly: no.

Oh my god thanks to Microsoft

Oh my god who can tell me y my phone needs WiFi to upgrade it???

I kno that this is going to be completely off subject but I am a constant reader of all windows phone central news everyday and read as many articles as I can. So I would appreciate any help that anyone can provide. I recently bought my wife the 950XL, awesome phone by the way, and I took her old phone 925, brand spanking new, insurance upgrade. Waiting on next year's Surface Phone designed by Panos Panay of course!!! But here's my dilemma. She has "Hey Cortana" which is a **** of a feature. And for whatever reason, I can not seem to get it activated on the 925. We have T-Mo. I have tried downgrading back to 8.1 then back up to 10. I have down it with the Denim and w/o Denim update. I have tried it with Developer Preview & w/o DP. I have tried everything that I can think of, and I can not get the option to even show the feature is available to be enabled. Any suggestions?! Thanks ahead of time.
#MSFTFOXHOLE
(Im a die-hard WP fan and im in the fight against Apple & Google with them til the end! I fight for them so I hope they fight for me, even tho I might be the minority, the true WP/MSFT Loyalist!)

Hi there,
As far as I understood, your "Hey Cortana" is not working on Lumia 925 right?
So here's the thing,
The Lumia 925 doesn't support this feature as it is reserved for S800 chipsets and higher. The S4 chipset lacks a dedicated co-processor that requires a hands free voice commands.
The only phone that are supports are 1520,930/ICON,950 and 950XL

Your hardware doesn't super that feature

Ok, thank you. Off to the Microsoft Store, 950XL we go. Surface Phone HURRY UP!!!!!
#MSFTFOXHOLE

Nice dude! That's a good phone too! Can't go wrong with that

Not sure if this is an off topic or anything, but my phone doesn't get the insider updates that is 10586.36!
Yes, I have checked the Windows Insiders app, signed in here and there, but none. This issue wasn't supposed to be happening on my device. :/ any ideas?
Lumia 525

What about the 950. When can we expect to have office 365. I have it on my cheaper Android. Bought the 950 no questions asked and found it impaired

You have to log in with Your 365 account (but if i remember correctly, you can have only one Phone connected per acc)

I am not an Office 365 subscriber. But, aren't the 365 online features just tied to your Microsoft ID, and activated, when logged Inyo the full Office App, preloaded, on the 950? Or, I may be mistaken...

Well my favorite news for the week is charging users of display dock for editing their office documents :) yaaaaaaaaaaaaaay!

Totally agree about the many many bugs in the new Lumia firmware, many basic bugs out there, that do not bode well for MS as a software company. What the heck my Lumia 830 is more stable than the new Lumia's :-(

Still no Amazon video app!
No Starbuck Pay App!
No mobile pay app!

They would have better stayed with nokia

I have an 830.should I wait till the official win 10 update or install the preview? Any tips?
Windows Central Newsletter
Thank you for signing up to Windows Central. You will receive a verification email shortly.
There was a problem. Please refresh the page and try again.