Windows Phone Weekly Digest: July 5, 2015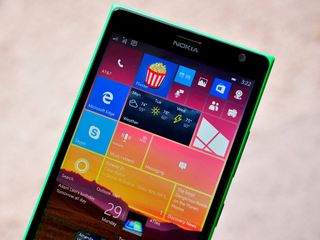 There's a lot going on in the world of Windows Phone. So much, in fact, that it is sometimes tough to catch every important story. Device rumors come and go. New apps join the Windows Phone Store, and your favorite app can get a big update with a new look or new features.
Therefore, every week we will compile a list of the Windows Phone news that you just shouldn't miss. Welcome to the "Windows Phone Weekly Digest."
Windows Phone
After playing around with Windows 10 Mobile build 10149, it looks like cellular download limits in the Windows Phone Store have been removed. That means you can download some of the bigger games and apps without having to connect to Wifi.
There also appeared to be some odd occurrences in the build. Be it missing Call History, no Glance controls, quirky Quiet Hours, or funky error messages, build 10149 had its imperfections. However, most of these quirks have fixes and 10149 remains the most stable and best performing iteration of Windows 10 Mobile yet.
An emulator build Windows 10 Mobile build 10158 gave us a peek of upcoming features, including a new Wallet, 120 FPS video, and newly-added animations.
There was also an image that circulated around the internet of a supposed display bezel for a Verizon-branded Lumia 1030. Unfortunately, the image raised more questions than it did answers.
And lastly, we took you on a tour of the new AT&T Microsoft Lumia 640 XL.
Other notable items:
Poll: Would you have bought an Xbox Phone?
Best Buy has the T-Mobile Lumia 635 available for $49.99
Acer Liquid M220 with Windows Phone 8.1 now on sale in Russia and Canada
Apps
Microsoft just kept on releasing and updating apps this week. Their Microsoft's Calls+ helps you manage call waiting and forwarding while Receipt Tracker helps you track your spending.
InstaNote makes fast work of note taking in meetings using audio capture. And Try Lumia helps bring new Lumia owners up to speed with Windows Phone.
As for updates, Contacts+Message Backup was updated to work without an SD card. And Windows Camera on Windows 10 Mobile can now recognize your face to help you snap the perfect selfie.
Truedialer got updated with a refreshed design and new features and WhatsApp beta scored new emojis and better message sharing options.
Nokia rolled out updates for its HERE suite of Windows Phone apps while Sygic GPS Navigation added new maps and knocked 70% off their world pack.
Autodesk Pixlr and Mint both made the jump to universal apps for Windows Phone and Windows 8.1.
Other notable items:
WhatsApp for Windows Phone gets a minor bug fix update
OneDrive and WhatsApp for Windows Phone both get minor updates
City Art Search and Viber pick up minor bug-fixing updates
6tag for Windows Phone adds letterbox video support in latest update
ESPNcricinfo for Windows Phone updated after two years for the latest in cricket news
Lumia Camera 5.0 app gets a minor update to fix some video recording bugs
Games
Game Troopers, who have become one of the most prolific game developers for Windows and Windows Phone, announced this week that their new adventure game The Last Door is headed to both in July. They were also kind enough to speak with Windows Central about their future plans for the platforms.
Modern Combat 5: Blackout for Windows Phone got updated with Xbox Live support and became free to play. The following day, its Windows 8.1 counterpart followed suit.
We also saw the official Tour de France 2015 mobile game race its way to Windows Phone.
And everyone's favorite time killer Candy Crush Saga gained entry to the Soda Swamp.
Other notable items:
Be sure to weigh in on this week's news in the comments section. See you next week!
Windows Central Newsletter
Get the best of Windows Central in in your inbox, every day!
if the "xbox" phone was meant for gaming. then i would certainly buy it

What phone is that in the picture? I love the 4 columns look that it has. Is that for all HD screens or just for screens over a certain size?

I have it on my 1320 too :)

Looks nice now because the spacing is narrowed.. This should've been done years ago. Looks terrific❕

640 xl come to go phone I all ready have 925 and 1520 still want it xD

FB should have inbuilt chat feature like Android...shouldn't it?

iDroid has the separate apps as well.

My 1520 still takes better pics theb all my buddies new phones. Such as LG g4 , Both iPhones HTC m9, Sony z3...ect

Is anyone else getting that blank screen with the music app in WM10❔
....
It happens after the phone goes on lock, then is unlocked. Oddly it still functions, just the grey screen with the hamburger menu only.

Having real problems with Here Maps in W10M. Initially it didn't seem to make it across when I upgraded, then managed to track it down and install it via the old store. Since then however the new store in Beta has been trying to download it and it has been failing with the error code 0x80070003. Now I can't uninstall it and reinstall the app along with Here City Lens, Adobe Reader and few other apps. Any suggestions?

Alot of people say to do a full wipe before installing 10, and then go get the apps. It happens with many more apps than you listed.

Sambo, Me too... I believe thats a known issue based at the Store level. I have lots of ae some system settings that downloading and missing from settings.

Same issue, uninstalled and reinstalled from old store. I turned Audio updates off for now

I have the new 640xl with win 10 preview 10149 and am having the same problem and error message. And now I've noticed that I have 18 apps that are stuck in limbo. I hope a fix is on the way. It's affecting even core microsoft and lumina apps.

Plz release the HTC 8x windows 10 update. :( as soon as possible :(

Nokia 1320 goes through fits of overheating after 149 upgrade.

Nokia 1320 goes through fits of overheating after 149 update.

We need in-built call recording on d active call display instead of Skype

Dame that 1520 in first images looks amazing . Can't wait for it to come on my phone. Wooohooo that is the coolest lookin phone ever. Fuck Android & iPhone.
Can't wait

Will L1320 also get this 4 column feature?

It already has it in W10.
Windows Central Newsletter
Thank you for signing up to Windows Central. You will receive a verification email shortly.
There was a problem. Please refresh the page and try again.