Windows Phone Weekly Digest: June 21, 2015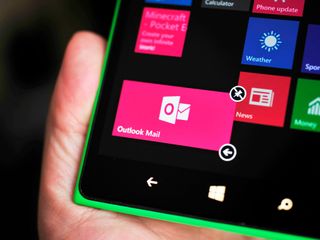 There's a lot going on in the world of Windows Phone. So much, in fact, that it is sometimes tough to catch every important story. Device rumors come and go. New apps join the Windows Phone Store, and your favorite app can get a big update with a new look or new features.
Therefore, every week we will compile a list of the Windows Phone news that you just shouldn't miss. Welcome to the "Windows Phone Weekly Digest."
Windows Phone
After debating internally about whether or not to release a buggy Windows 10 Mobile build 10136, Microsoft put it up to a "yes or no" vote. The answer was a resounding "yes" and build 10136 was rolled out.
Among the highlights of the update are the new one-handed split screen feature and a dark theme for the app store.
As usual, we gave you list rundown of what's new and improved in the Windows 10 Mobile preview build 10136, as well as the list of fixes and known issues.
Another big update that rolled out was a critical fix for random reboots on the Lumia 830, 1520 and 1020 on AT&T. A similar one was pushed out to devices in India, Europe, and Asia.
Verizon revealed pricing and color options for their Lumia 735 shortly before [it went up for sale. Not only is the Lumia 735 very affordable, but includes an offer for a free year of Office 365 Personal.
T-Mobile began selling their Microsoft Lumia 640 and announced a June 20 launch for the phone at Walmart, some Walmart stores jumped the gun, selling it before the official launch date.
MetroPCS is set to join the party offering their Lumia 640 on June 22 for ridiculously cheap $39 after instant rebate.
And AT&T will begin selling the Lumia 640 XL on June 26 for $249.99 without a contract.
Finally, we got a look, albeit blurry, at an alleged future Microsoft phone. The image shows the smartphones rear camera, which resembles that of the Lumia 1020.
Other notable items:
Kazam confirms it has plans to launch Windows 10 Mobile smartphones
Apps
LastPass, a company whose bread and butter is security, noticed some suspicious activity on their network, and, as a result, is warning customers to change master passwords as a security measure.. Though LastPass claims that no information was compromised, the password-keeping firm said:
Some popular apps got updates this week. Twitter app Tweetium got a long list improvements, including some to support upcoming changes with Twitter's functionality.
Facebook Messenger picked up additional conversation settings amongst other things with its latest patch.
And everybody's favorite Instagram client, 6tag, received two. The first one brought with it image quality improvements, while the second delivered better avatars, faster-loading comments, and clickable links.
The long-absent HTC Sense TV app made its way back to the Windows Phone Store as well, restoring its remote control TV functions.
Other notable items:
SmartThings app update for Windows Phone adds custom image support
Skype for Windows Phone grabs small update to 2.29.0.3
Fhotoroom updated with new fonts, mask brush, and more
Readit gets updated with new mobilizer, increased speeds and bug fixes
Whisper Notes for Windows Phone, note-taking with a dash of social networking -Zomato snags filters for bookmarked restaurants and more in latest update
Flipboard update refreshes the user experience, adds some minor features
Lumia Camera Beta update adds access to Office Lens for some Windows Phone devices
Games
Lara Croft is getting a lot of work these days. She is the star of two new games, Lara Croft: Relic Run, which is out now, and the upcoming Lara Croft GO, a combination adventure puzzle game.
Game Troopers added yet another game to their oeuvre. Lines is a pattern-based puzzle game with five different game modes and over 250 levels, plus daily online challenges.
6Studios' trivia game 94% asks you simple questions and challenges you to find, you guessed it, 94% of the answers.
Another trivia game, the immensely popular QuizUp for Windows Phone, graduated out of beta. The community-based quiz contest was also joined by its new Windows 8.1 counterpart, so now you can play on any device.
Other notable items:
Be sure to weigh in on this week's news in the comments section. See you next week!
Windows Central Newsletter
Get the best of Windows Central in your inbox, every day!
Guys what is the best password manager service that has real support for Windows platform? Is it LastPass?

roboform. it syncs up to their cloud service too.

SplashID Safe (www.splashdata.com)

Another vote for roboform. Been using it for ten years on all my PCs and now on my WPs. Not free though.

I use Sky Wallet, syncs to OneDrive and is for phone and PC.

LastPass is great on Windows and Windows Phone. It's been a few years, but I had originally tried out a few, including LastPass and Roboform, before deciding to go with LastPass. Certainly possible that others have since caught up or surpassed it.

Also the critical update push happened on the Verizon Icon.

Any chance to get Lumia camera 5 for the 735?

If the 735 has Denim and the update, why not?

Man news's been so slow lately.

then welcome to the weekends! :D

Exactly. Weekends are always like this. The writers need a break too :)

Ok, ok... Is anyone having serious force close issues with the latest build 10136❓

Yup, it's one of the reasons why I rolled back to 8.1.1 that and the fact that my texts aren't being read out over my car's auxiliary port like in 8.1. Otherwise everything else looks good but those two issues made it impossible for me to keep it.

Installed on L920, and to be honest, I am pleasantly surprised. No longer does the phone overheat and kill the battery in a matter of a few hours. Also, it has not crashed since installing the latest build and I used it all day Saturday with only a few minor glitches, nothing major. ​

The L920 is not on the list of devices this patch is aimed at. Though it is also rolled out to the 920. I guess to keep it all unified. We have several 100s of 920's in our company, but none of them have any issues. Sure you are not an isolated case?

Zune guy is talking about the tech preview...and you abt the critical fix I guess...

Correct you are, my remarks were about build 10136.

I accidentally installed the latest phone build, rolled back within hours. Nice to have a quick look. I was pleasantly surprised at how useable it was. But not for me on my daily driver. They keyboard seemed smaller, and much worse for it. And there seemed much missing from shat I have, for obvious reasons. Thankfully, the rollback went well, and I was able to get rid of the GDR2 update, which pleased me no end. That had me overheating frequently and the battery certainly struggled. It is a release 920, so I know the battery is no spring chicken, but going back to GDR1 has made a huge difference. Notable absence from the round up was the "news" about the 4 other codenames. However, I don't think there was much to talk about there. EVLeaks gets some early scoops, but I prefer a bit more meat on the bone.

What about the Microsoft decision of writing off the Devices Division and letting OEMS do it fully instead.

I think you misunderstood the re-Org of the divisions. It was just leadership changes and to streamline the top executives and who reports to who. Microsoft will continue to make their in home devices such as Xbox, Surface, and Lumia.

Pretty much make everything efficient. I like the Lumia hardware but mostly the WP OS now Windows 10 Mobile. If Microsoft does stop I'll miss but I'll still love Xbox and Surface.

Not directly related to Windows Phone. You can find that news piece in this week's ICYMI.

Does W10 has 4 columns of tiles???

For what I've seen, yes, it seems so, but I think it will depend on how big your phone's screen is

I've been using 10136 on my daliy driver, a Lumia 925, for a few days now and it is so much better than the last build. It still takes a second or two to respond when you tap on a tile on the Home Screen and some of my apps stil can't display anything on their Live Tiles but it is way more stable, battery life has improved immensely and the UI design seems to be coming together very nicely. I have way more faith with where this is heading than I do with Windows 10 itself.

Don't worry about those bugs, they will squash them all (and thus will making it perform way better) when Windows 10 for desktops are released ;)

Yea once the desktop version of Windows 10 is released they will be left with wp10, which means the pace of updates with features and bugs smashing will surely be high (imo)

I finally downgraded, but this time to windows 8, the windows phone recovery tool kept saying server error after downloading updates so I used lumia recovery tool version 5, and it did the job am so happy, upgrading back to windows 8.1 now

I did my roll back on my 925 using my Dell venue 8 Pro, After the successful roll back, I would love to free up the 1.5Gig storage space firmware is taking. Anyone knows where to find and delete this? Disk clean up doesn't locate... Please advise. Thanks

My Lumia 830 got GDR2 update few days ago.

Maybe windows phone can have their apps become more nicer and mature UI design when the time we are waiting for windows 10 mobile update.
A lot of Android and IOS apps very nice to refer.

Maybe windows phone can have their apps become more nicer and mature UI design when the time we are waiting for windows 10 mobile update.
A lot of Android and IOS apps very nice to refer.