Windows Phone Weekly Digest: May 2, 2015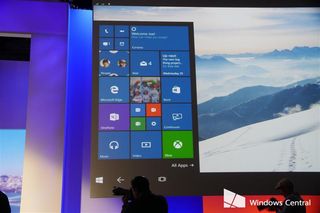 There's a lot going on in the world of Windows Phone. So much, in fact, that it is sometimes tough to catch every important story. Device rumors come and go. New apps join the Windows Phone Store, and your favorite app can get a big update with a new look or new features. Therefore, every week we will compile a list of the Windows Phone news that you just shouldn't miss.
Welcome to the "Windows Phone Weekly Digest."
Windows Phone News
The biggest piece of news to come out of Build 2015 that was solely devoted to phones is that Continuum will be built into Windows 10 for phones. As demonstrated in a new video. This news means that you will be able to connect your phone to a monitor and a Bluetooth keyboard/mouse and use it like you would a PC. However, it does look like you will need a new phone to make that happen.
Despite being run on just a smartphone, apps, like the Office suite, will display in full computer mode as if you were using a PC, tablet, or Xbox.
Speaking of Office and Windows 10 for phones, it looks like the preview build with Office got pushed back, missing the "end of April" delivery we were expecting.
In other news, a 7-inch Windows Phone, called the Ramos Q7, was revealed. It's likely never to make it outside of China's smartphone market, but it is interesting nonetheless.
There was also more evidence of an upcoming LG Windows Phone appeared in documents on company's website. Known only as the LG VW820SS, it looks to be a Windows Phone variant of a phone with the model number LG VW820. With nothing else to go on, we'll just have to wait and see for now.
One smartphone that we know plenty about is the Microsoft Lumia 640 XL. Our very own Richard Devine shared his thoughts about it in his review.
The widespread number of budget devices like the Lumia 640XL also led Jason Ward to ponder whether or not low-end Windows Phones are hurting Microsoft's smartphone brand?
Other notable items:
[ITC judge rules Microsoft smartphones infringe on two InterDigital patents]
Apps
In the world of apps, VLC for Windows Phone got two updates in as many days. The first update, brought better background audio sync and bug fixes. Update number two was packed with stability improvements.
Skype announced a fascinating venture, an India-specific app, tailored for 2G/3G networks and entry-level devices
The Microsoft Health app got updated as well. New features include:
Multi-Device support: Track your steps and calories without the Microsoft Band, using the motion sensor on the phone you own
Connected Apps: Share your bike data with Strava and MapMyRide
Sleep: Auto-detect your sleep without activating the Sleep tile.
Movie Creator Beta also saw some improvements. The two biggies were 4K video input support and OneDrive integration.
And on a sad note, SnapChat's continued crusade against Windows Phone has resulted in the demise of Rudy Huyn's app 6Discover. The company filed a copyright infringement claim against 6discover, which got it pulled from the Windows Phone Store.
Other notable items:
(/video-upload-instagram-new-features-update)
Facebook Beta for Windows Phone updated with a couple of improvements
Zomato heading to the U.S. shortly, updates app with Cortana integration
Games
This was quietly a pretty big week for gaming on Windows Phone.
Game Troopers, developers of Make it Rain, put out a new Xbox enabled game called Overkill 3, that blurs the lines between mobile and computer gaming. With console-grade graphics, this third-person shooter features crazy weapon customization, intense gameplay, and epic boss battles.
Gameloft released their latest title, Battle Odyssey, a cross between a match-three game and an RPG. You can find it on Windows and Windows Phone.
Windows Phone also welcomed three hugely popular games that were previous only available on other platforms. Their arrival signals the start of the closing of the "app gap" between Windows Phone and its competitors.
Firstly, matching game Threes! found its way onto our phones, which is a big deal in its own right. Throw in the fact that it is also free, compared to the $1.99 price tag you'll find on iOS and Android, and now you're cooking with gas.
The award-winning game Monument Valley also made its Windows Phone debut this week. This beautiful architecture-manipulating puzzle game was named iMore's best iOS game of 2014 and now it's in the Windows Phone Store.
And lastly, the Frogger-esque endless hopper, Crossy Road found its way onto Windows Phone and Windows 8.1. The retro-style arcade game is a world-wide smash hit, so it's a good sign to see it join the Windows family.
Other notable items:
The Sims FreePlay goes DIY in latest update
Be sure to weigh in on this week's news in the comments section. See you next week!
Windows Central Newsletter
Get the best of Windows Central in your inbox, every day!
Isn't the saying cooking with fire? And as Hank find out charcoal is better than propane at cooking some fine meats.

No, it's an old radio advertising slogan that was designed to make gas fire seem to be somehow better than real fire, with the stress on the first word: "NOW we're cooking with gas!".

Actually the phrase is Cooking with gas.

So.. Many... Games! I'm really happy that they've all made their way to Windows. Experiencing Monument Valley for the first time was pretty fucking amazing.

I already played on my Android phone. Posted via the Windows Central App for Android

I guess the biggest thing that wasn't mentioned by Windows Central is the new 4 medium sized tiles. I am excited for this!

New phone to run continuum? I guess that means new FLAGSHIP!?

They're fake. Not there're fake!! (article spelling error on rumoured multi screen windows phone)

Oh great. You prize will be deliver soon. Don't share your personal details :P

Lots of good news for a change but would expect that around Build. Just gotta hope MS can keep the good news rolling in. It's going to be an interesting year.

The critical question is will Microsoft's Universal application program in conjunction with its iOS & Android Porting assistance program be compelling enough to motivate popular app developers to bring their apps to Windows Phone 10? e.g. Chase Bank, Bank of America, American Airlines, Instagram, Citi Bank?

Well, I think if windows phones market share expands and more and more users start using the platform it may get a whole lotta developers to jump on.

Well, to help you out, there was an article that explained BoA's reason for pulling their app. However, they will be making an app for Windows 10. Just FYI, BoA pulled their app, because of security issues. Meaning, they had not planned to further update the WP8.1 version, and had not planned to do anything until the release of Windows 10. Apparently, MS has been in contact with them and working with them to bring their app to Windows 10, which means its return to WP. When will it return? No estimated date, but since MS is working with them, I would guess that not long after launch. Hopefully, that will be the case with many of the banks. Major banks are a definite, but regional banks would be extremely beneficial.

I think developers will be more excited coinciding to Windows platform... When I was watching build 2015... As first day...Ms just reviled their goal of Windows 10 on 1 billion devices in next 2-3 years.... And that's a holy shit amount of numbers... So Microsoft is definitely in the game because so fast android kitkat is about on over 500 million devices and ios about less then 500 million if Microsoft reaches anywhere near their goal... My friend developers have to consider this OS first to launch their apps because it will run across all Windows devices like pc, mobile,tablet,Xbox and even the future of our life HOLOLENS.... So ya m very much in favour of Microsoft...

New versions of the Windows Phone OS always comes out the gate with a lot of momentum but then tapers off. I hope W10 will be different.

Unfortunately, that does seem to be the case. In the US, they need some compelling new phones and they need to get our major carriers involved. Verizon?

If MS releases flagships and Windows 10 on phones without certain apps (like Snapchat), there will be little to no growth in the US. Or the short spurt of growth will die off quickly. I feel like so many people are not going to give up using those apps, even if they're getting a better device.

I like the idea of a phone-focussed weekly digest. Thanks :-)

Me too. Even though everything will eventually be looking the same (homes screens and apps) I'm not really interested in PC and tablet news.

So true. I have an extremely old PC, so I only care about my phone.

Can anyone give link to video for announcement of continuum for win10 phones?

Has any one noticed that people tile in that photo .... Is that really good??

I believe Belfiore mentioned it's not the actual thing. The demo I mean. The display maybe simulated? Correct me guys if im wrong

Ramos phones do get to other asian countries. I can see heaps of Ramos Androids here at Philippines. Anyhow, this digest specifically for phones really does count :) more power WC!

Every time I see an 8-column WP Start or a radically different internal page, I get itchy and pointlessly check the TP update (and of course, there isn't an update). GIVE IT TO ME.

MSFT absoloutley should offer better deals in places where they have greater marketshare for Windows Phone! Why waste offering these types of deals in a place (USA & Canada) where the technology media and its customers are blind to anything BUT Apple and Android. They can offer deals in the UK, France, Italy...and actually make some money and continue to grow market share!