This Xbox deal blows every other deal out of the water — Xbox Series X console and Diablo 4 bundle PLUS a $75 gift card for only $449
That's basically getting Diablo 4 for FREE and extra cash to buy another game or controller, one hell of a deal.
Update, Nov. 27, 2023: This deal now appears to be out of stock at Target. We'll keep hunting around, but it looks like if you want to grab an Xbox Series X with Diablo 4, you'll need to go elsewhere. In the meantime, an offer at Walmart is the next best option, and your last chance to score a discount now that it's Cyber Monday.

Original deal post:
This is hands down the best deal on an Xbox Series X I've seen, and blows anything else offered in Cyber Monday deals out of the water. Target is going in hard and not just shaving $50 off the price of the Xbox Series X console, but bundling in a copy of Diablo 4. And it doesn't end there, they're throwing in a $75 gift card to spend on anything else in-store or online, so that's another controller or game of your choice, or even something to help with the holiday shopping.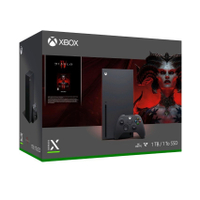 ✅Perfect for: Those who want to play the latest installment of the Diablo franchise on the most powerful console, and may purchase some extras with the Target gift card.
❌Avoid it if: You aren't interested in Diablo 4 as there may be similar deals around or on the way with other games bundled like Call of Duty.
👍Price check: $449.99 at Best Buy
🔍Our experience: Xbox Series X review | Diablo 4 review
Given the free gift card with this, you're practically getting the Xbox Series X for $375 — which is a wild price. Target's gift card can be spent on anything else, too, whether that be more gaming goodies in the Black Friday sales or even keeping aside for when the January blues hit. If the gift card doesn't interest you though, you can bag it for $10 cheaper at Walmart.

Note that if you have Target Red card you can also bag another 5% off this price.
More great Cyber Monday deals
Why choose the Xbox Series X?
If you are looking for a new Xbox console, you might be wondering whether to buy an Xbox Series S or an Xbox Series X. Both consoles are part of the same generation and offer similar features, such as Quick Resume, Smart Delivery, backward compatibility, and access to Xbox Game Pass. However, there are also some important differences that you should consider before making your decision.
Black Friday 2023
• Convertible 2-in-1 laptops
• Unbeatable Xbox bundles
• Discounted Dell laptops
• Razer gaming accessories
• Pre-built gaming desktops
• 4K and ultrawide monitors
• The best gaming laptops
The Xbox Series X is the more powerful and high-end console, offering the highest resolutions and smoothest performance. It has a 4K UHD Blu-ray drive that can play physical games and movies, as well as a 1TB SSD that can store more games and reduce loading times. It can also output games at up to 4K resolution and 120 FPS, with support for Dolby Vision and Dolby Atmos. The Xbox Series X is ideal for gamers who want the ultimate gaming experience and have a 4K TV or monitor to enjoy it.
The Xbox Series S is a more affordable alternative with lower resolution and half the storage space (though the black version now also has 1TB). It does not have a disc drive, so you can only play digital games and stream movies, which is fine but may not suit the majority of gamers who prefer physical games. It can output games at up to 1440p resolution and 120 FPS, but it's more rare to find games that do run at 120 FPS on the more affordable console.. The Xbox Series S is ideal for gamers who have a smaller budget or do not have a 4K TV or monitor, and if that's the console you prefer then check out our full round up of the best Cyber Monday Xbox console deals.

If the Xbox Series S is your console of choice, this Cyber Monday 2023 deal is the best one right now and the most value for your money, so go quick while stocks last.
Get the Windows Central Newsletter
All the latest news, reviews, and guides for Windows and Xbox diehards.
Jen is a News Writer for Windows Central, focused on all things gaming and Microsoft. Anything slaying monsters with magical weapons will get a thumbs up such as Dark Souls, Dragon Age, Diablo, and Monster Hunter. When not playing games, she'll be watching a horror or trash reality TV show, she hasn't decided which of those categories the Kardashians fit into. You can follow Jen on Twitter @Jenbox360 for more Diablo fangirling and general moaning about British weather.
Xbox is so bad, they can't give them away. PlayStation is where gamers are. Definitely not the Xbox Garbage Series.

Reply