ICYMI: Office 2016 comes to the office, Free Basics basically fails, and a terrible spy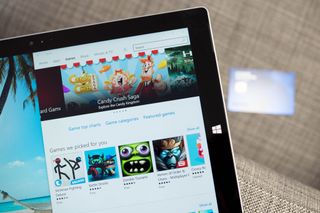 A lot can happen in a week. Seven days might not seem like much, but it can be an eternity in the tech news cycle.
Between Windows news, hardware and software developments and Microsoft's fast-paced movements throughout the technology landscape, it's never easy to keep your hand on the pulse of technology. Not to mention everything that's going on right here at Windows Central!
Every week we're going to compile the biggest stories into one post, so you never fall behind – In Case You Missed It (ICYMI).
Windows
It appears that the Windows Store is experiencing some issues resulting in publishing delays for developers. New submissions are taking days before they appear in the Store or reflect changes. Microsoft posted an alert online and said that it will remain up until they have resolved the problem.
On a positive note, a new feature in the Windows Store now tells users which apps were made for Windows 10. Since the latest Store update, Windows 10 app pages show "Built for Windows 10" under the Share link.
Early in the week, Forbes posted a story from a supposed security expert claiming that Windows 10 is "spying' on your PC.". ZDNet's Ed Bott, debunked the accusation, which looks to be nothing more than sloppy reporting on Forbes' part.
Windows 10 build 10586.104 rolled out to PCs, bringing with it security patches, simultaneous app installs, improvements to Edge's browsing, and more.
And even though Windows Central will always give you the skinny on what's new in every update, Microsoft has created a webpage showing you Windows 10's update history, so you can stay up-to-speed with the changes.
Other notable items:
Microsoft
Back in November, Microsoft announced that Office 365 subscribers who had unlimited OneDrive storage would see their infinite cloud depository shrink to a 1TB cap. However, according to many users, this cap was instituted long before the planned date, resulting in many of their files showing up as "read only." In a statement, Microsoft acknowledged that this did indeed occur for some users, but says that it was a mistake.
Meanwhile, in other Office 365 news, many business customers are being updated to Office 2016. It looks like it is rolling out in phases, as reports indicate some users are not getting upgrade notifications and others only being able to upgrade a single PC.
Microsoft has acquired Groove, a small Canadian company formerly known as Zikera. The three-person team are the creators of the Groove: Smart Music Player app for iOS and Windows 8.1, which scans users' music libraries and creates personalized playlists using Last.FM. The plan is to integrate Groove's abilities into Redmond's identically-named music player.
And Microsoft employees beat their past record by raising $125 million for nonprofits in 2015. The Microsoft Employee Giving Program saw an all-time high participation rate of 71 percent and raised more than $8 million more than their previous best.
Other notable items:
The Surface Pro 4 is discounted by $100 until Feb. 27
The Microsoft Band 2 can be yours for just $200 until February 20
Skype teams up with Paul McCartney to create new love-themed 'Mojis'
Miscellaneous
Electronics manufacturer MSI released a gaming laptop sporting Tobii eye-tracking technology, which allows you to control your PC just by moving your eyes. The self-proclaimed "world's first eye-tracking gaming laptop" is powered by Intel's 6th generation Core i7 and comes equipped with a 17.3-inch Full HD display, 32GB of RAM, 1TB hard drive and a 256GB SSD.
Dell's Skylake-powered XPS 15 got a BIOS update that fixed some known bugs. Dell also rolled out a new version of their Dell Update application with a vague changelog indicating fixes and improved performance.
The Telecom Regulatory Authority of India has all but banned Facebook's Free Basics initiative based on pricing and net neutrality concerns. Seeing their rigorous ad campaign fail to win over critics, Facebook has admitted defeat and shut down the operation in India.
Chip maker Qualcomm announced a new super-fast gigabit LTE modem, dubbed the X16. The 1Gbps far surpasses the networks speeds of any mobile carrier, making it more of a novelty and sign of things to come for now. But the world of technology moves fast, so who knows what will happen.
Intel is planning to roll out an update to prevent the overclocking of their locked processors. Motherboard manufacturers will be bundling the patch with future BIOS updates, so if you really want to keep breaking the speed limit, you'll need to keep an eye on the changelogs.
Opera Software, the minds behind the Opera Mini web browser, received a buyout offer from a consortium of Chinese companies, consisting of mobile game developer Kunlun, mobile security maker Qihoo, and the Golden Brick and Yonglian investment funds. Opera CEO Lars Boilesen says that "there is strong strategic and industrial logic to the acquisition of Opera by the Consortium," which is worth more than $1.2 billion.
And finally, with Valentines Day right around the corner (tomorrow!), we put together a list of sweet Valentine's Day gifts for your favorite tech-lover.
Other notable items:
Lenovo launches the Yoga 900 in India for ₹1,22,090
The second annual PC Gaming Show returns to E3 2016 on June 13
Share your thoughts on this past week of news! And we'll be back again next week to do it all over again.
Get the Windows Central Newsletter
All the latest news, reviews, and guides for Windows and Xbox diehards.