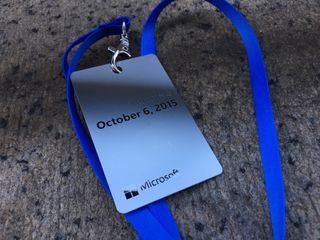 A lot can happen in a week. Seven days might not seem like much, but it can be an eternity in the tech news cycle.
Between Windows news, hardware and software developments and Microsoft's fast-paced movements throughout the technology landscape, it's never easy to keep your hand on the pulse of technology. Not to mention everything that's going on right here at Windows Central!
Every week we're going to compile the biggest stories into one post, so you never fall behind – In Case You Missed It (ICYMI).
Windows
This week was all about hardware, so there wasn't a ton of Windows news going on. We did continue to witness the growth of Windows 10, as it is now installed on over 110 million devices. Combined, those 110 million computers have paid visit to the Windows Store over 1.25 billion times.
While there was no official Windows 10 Insider update released, build 10558 did leak out onto the internet. The new version includes some updated menus, a Find My Device feature, and the ability to install apps on external storage, amongst other things.
It also sports some new apps, like Messaging, Skype Video, and a Phone app, which will include a Call Recorder feature.
You can get a more in-depth look at the leaked build 10558 here.
Other notable items:
Microsoft
On to the good stuff…
You may have noticed that Microsoft held a little press event on Tuesday. Windows Central was there live, of course, to bring you all of the big news.
First up was the the Microsoft Band 2, in all of its curvy new glory. The redesigned fitness device didn't just bring a new look to the party, but also added functionality, like V02 Max sensing and even tutoring you on your golf swing. Microsoft announced new partnerships for the Band.
Check out the specs and our first-hand look. The Band 2 is up for pre-order for $249.
Next up, were the newest Windows phones, the Lumia 950 and Lumia 950 XL. We got to see Continuum in action with the new Display Dock.
Then we were wowed by the Surface Pro 4. It's thinner, lighter, and with its 6th-gen Intel Core Skylake processor, 30% faster than the Surface Pro 3. It has a fingerprint scanner, up to 1TB SSD storage options and up to 16GB RAM. Here's the skinny.
It comes with the new Surface Pen, which now has a tail eraser and a full year of battery life.
Microsoft's new Type Cover is better than ever, with a fingerprint reader and a bigger trackpad. It even works with the Surface Pro 3, too.
And finally, Microsoft dropped the bomb, announcing the Surface Book, a 13-inch 2in-1 laptop. Packed with GDDR5 RAM, a 6th-gen Intel Core Skylake Processor, and the latest NVIDIA GeForce GPU. It gets an impressive 12 hours of battery life per charge.
We've got the full specs and a hands-on video.
Throw in a brand new Surface docking station that works with Surface Pro 3, Surface Pro 4, and Surface Book, and we've got a party.
If you didn't catch the event and don't have time for the replay, we've put together a condensed version for you.
All in all, it was a fantastic day, one of the best Microsoft events of all time.
Other notable items:
Miscellaneous
Microsoft wasn't the only one announcing new toys. HP officially revealed its Surface Pro competitor, the Spectre x2. They also showed off the HP ENVY 13, the thinnest notebook they've ever made, and a limited Edition HP Spectre x360 with Intel Skylake chips and more.
Their new ENVY Curved all-in-one has a huge 34-inch display. And queue the theme music because HP will also be selling a Star Wars Special Edition notebook, starting at $700.
Meanwhile, Dell's refreshed XPS 13 got some upgrades. They also supersized the XPS 13 to make the all new Dell XPS 15 and announced the XPS 12, a 2-in-1 coming next month.
In other news, AT&T got a waiver to roll out Wi-Fi calling from the FCC.
Netflix decided to raise the price of their most popular plan. New customers will pay $9.99, a buck more than current subscribers.
And lastly, LogMeIn purchased the popular password management company LastPass.
Other notable items:
Acer all set to announce new Windows 10 products on October 12
Share your thoughts on this past week of news! And we'll be back again next week to do it all over again.
Windows Central Newsletter
Get the best of Windows Central in your inbox, every day!
Thank you for omitting all the "In case you didn't miss it, but wish you had" items.

Wait, did I just get first comment?

"All in all, it was a fantastic day, one of the best Microsoft events of all time." Definitely true although the Windows 95 launch event will probably never be topped!

Where can I get a lanyard from the event ?

On Amazon for $400,000, your soul, and 3 years of slavery. or ask an MS-related person