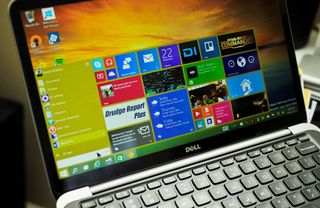 A lot can happen in a week. New apps join the Windows Phone Store or Windows Store. Your favorite apps can get a big update with a new look or new features. Device rumors come and go. Seven days might not seem like much, but it can be an eternity in the tech news cycle. Every week we're going to compile the biggest stories into one post, so you never fall behind – In Case You Missed It (ICYMI).
Windows Phone
A new Microsoft Lumia device is coming 'soon' as the Nokia name fades from Windows Phone [Read]
This is how Cortana's Concert Watch feature works on Windows Phone [Read]
Windows Phone revenue down 46 percent despite 'modest growth' in sales [Read]
Microsoft sold 9.3 million Lumia Windows Phones worldwide for 'modest growth' [Read]
What will this iPhone user miss after switching to Windows Phone? [Read]
Microsoft + Windows
Microsoft generated $23.20 billion in revenue for its FY15 Q1 time period [Read]
Microsoft Account two-step verification: What it is and why you want it [Must read]
Windows 10 Technical Preview update 9860 available to download now, adds Action Center [Read]
New Windows 10 preview build adds Data Sense and Battery Saver features [Read]
Here is what is new (so far) in Windows 10 Technical Preview [Learn]
Thinnest Ultrabook in the world! Our Lenovo Yoga 3 Pro unboxing [Watch]
Satya Nadella talks inequality, women rights and vision for Microsoft in new videos [Read]
Microsoft smartwatch may launch within weeks [Read]
Report says public preview of next Office 'could be released any time now' [Read]
Apps
Games
Xbox
November Xbox One update brings custom backgrounds, trending TV and more [Read]
Killer Instinct 2 Classic review – the vintage fighter returns with online play on Xbox One [Read]
Trailer offers a glimpse at Microsoft's Halo 2: Anniversary documentary [Watch]
Sunset Overdrive's Xbox One gameplay launch trailer breaks the fourth wall [Watch]
Microsoft to stream HaloFest live from Los Angeles November 10 [Read]
Microsoft Garage releases free Xbox One game, Voice Commander [Read / Download

(opens in new tab)

]
Misc.
ICYMI Mailing list
Subscribe to my newsletter to get the above content and more delivered to your inbox. I'll share the above content with you, plus share a few extra links to cool stories and products from around the web. You can even submit links to your blog post or apps that you'd like to be shared with the community. Just send me a tweet (@samsabri) with the URL to your story or app and include the hashtag #ICYMI.
Share your thoughts on this past week of Windows Phone, Windows, Xbox and Microsoft news!
Windows Central Newsletter
Get the best of Windows Central in your inbox, every day!
My game recommendation for today : "Daddy Was A Thief" and "Chimpact"

Blimey, I had Chimpact on my Lumia 800 three years ago.

New "Carcassonne" online has a good replay factor.

Yeah too bad the new Xbox update screwed up the OneGuide for those with Antenna TV. All the channels are listed correctly, but the OnGuide now fails to send the command to the IR blaster (Kinect) to have my HomWorx tuner turn the channel. Now when I try to turn the channel with the OneGuide, the Xbox One says, "we can't find that channel" for every single channel.

I've already tried everything.

Another week without a WhatsApp update.

I downloaded a few of them from here in the UK no problem

Just subscribed to your newsletter. Jeep it up Sam :-)

Links to articles on Windows Central seem broken on the Windows Phone app for me..

Thanks Sam! Keep up the good work!

What's that dell? Is it 7537??

Thank you Chalanthorn for asking this question. I had already began to research for the name of that beautiful PC :)

Guys, is it a good idea to get Windows 10 at this time? Or is it too unstable for that?

http://windowscentral.com/commenting-guidelines

I'm still honored to have the headline picture of that article. You're welcome, guys.

No mention of the OS update for the Preview for Developers users.

When will tetra lock screen be made available for India?

Did you really have to be that guy❓

Windows Vista is the best looking Windows so far no doubt why cant they do such a nice looking 10? I miss it so bad so installed it again and throw 8.1. Out From my desktop.

I would say Windows 7 is and will remain the best Windows for many years to come.

Please contact wordfeud and ask them when they will update the app for WP!