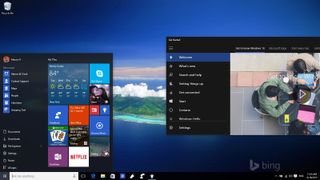 A lot can happen in a week. Seven days might not seem like much, but it can be an eternity in the tech news cycle.
Between Windows news, hardware and software developments and Microsoft's fast-paced movements throughout the technology landscape, it's never easy to keep your hand on the pulse of technology. Not to mention everything that's going on right here at Windows Central!
Every week we're going to compile the biggest stories into one post, so you never fall behind – In Case You Missed It (ICYMI).
Windows
Early in the week, word started spreading that Microsoft could disable pirated games on Windows 10 . The theory stemmed from an excerpt from Microsoft's Services EULA that stated they may automatically install updates or make configuration changes to prevent users from "playing counterfeit games."
But what looked like a huge story turned out to be a false alarm. The Microsoft Services EULA is different than the Microsoft Software License Terms that governs Windows, and refers to counterfeiting Xbox Live and Windows Store content, rather than software installed on Windows devices.
However, Windows 10 users will have trouble playing some games, though. Microsoft said that the new OS won't run games with SafeDisc or Securom DRM, due to security concerns. The technology is outdated and no longer supported by the companies that made them.
The real news this week came with Windows 10 preview build 10525, the first since the operating system's official launch.
We've put together a rundown of what's new in the build, and what the known issues are.
We also gave you an in-depth look at the most prominent new feature, the updated color option. There are lots of good reasons to upgrade to Windows 10, but some people aren't ready for the change.
For those of you who want to go back to your old version of Windows, here's how to go back to Windows 8.1 and/or Windows 7.
Other notable items:
Windows 10 has reportedly exceeded 53 million PC installs
Microsoft issues IE security update for Windows 10 and all other versions of the OS
Microsoft will list Windows 10 update details just for 'significant' improvements
Microsoft
On the Microsoft front, the company confirmed the closing of its phone manufacturing plant in Salo, Finland, along with the layoffs of 2,300 employees.
Although the loss of jobs is never a good thing overall, for Microsoft, it isn't the doom and gloom that many people interpret it to be. Our own Jason Ward thinks that the writing was on the wall all along, and that this is all part of [CEO Satya Nadella's master plan.
The Surface Pro 2 and 3 both received firmware updates. The patch is aimed at improving graphics performance on Windows 10.
The Microsoft Band and Health app will also be getting updated to help golf players. Microsoft's partnership with TaylorMade is bringing their myRoundPro feature to the Band and app, which will allow golf players to track a number of different statistics.
Microsoft opened up their Bing knowledge and action graph API to third-party developers. The API allows developers to leverage Bing's knowledge base from within the apps that they create.
And get ready for big announcements. Unconfirmed rumors are circulating that Microsoft has a big launch event planned for October. The event, which will take place in New York City, could very well be when Redmond announces its two new Lumia flagship phones with Windows 10 Mobile, along with the Surface Pro 4 tablet, the Microsoft Band 2 fitness device.
You know if it happens, Windows Central will bring you all the news from it.
Other notable items:
Microsoft Edge team celebrates the 20th anniversary of Internet Explorer 1.0
OneNote, PowerPoint and Excel Previews score updates on Windows 10
Miscellaneous
The new strategy title "Ashes of Singularity" released new graphics benchmarking software that tested the effects of DirectX (DX) 11 and 12 on both AMD and Nvidia hardware. The results of tests run by PC Perspective using the tool show AMD graphics cards seeing huge gains with DX12, while Nvidia's appeared to be slightly hampered by it. Nvidia has since dismissed the tests as inaccurate.
Intel detailed some of the new features in its Skylake processors, including better performance and their new Speed Shift technology, which allows the CPU to change its power state. Their new "Wake-on-voice" technology that was demoed at the company's annual Intel Developer Forum could let Windows 10 owners use their voice to wake up a PC simply by saying "Hey, Cortana."
VAIO, the personal computer company that was once a division of Sony, will be bringing PCs back to the US later this year. VAIO Z Canvas PC, their 12.2-inch VAIO Z Canvas PC is due to hit the States this fall, with others to follow.
Samsung is also rumored to be planning to launch a 12-inch Windows 10 tablet sometime soon.
Parallels 11 is out and fully supports Windows 10. The new version brings Microsoft's Cortana to the Mac.
And finally, after a bug was found that crashes Google Chrome's 64-bit version on Windows 10 build 10525, Google took measures to fix the issue.
Other notable items:
Razer's Intel RealSense 3D camera could track player motion in games
Share your thoughts on this past week of news! And we'll be back again next week to do it all over again.
Get the Windows Central Newsletter
All the latest news, reviews, and guides for Windows and Xbox diehards.