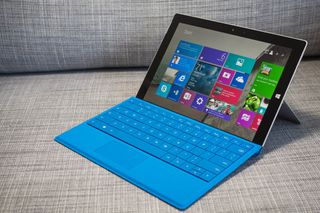 A lot can happen in a week. Seven days might not seem like much, but it can be an eternity in the tech news cycle.
Between Windows news, hardware and software developments and Microsoft's fast-paced movements throughout the technology landscape, it's never easy to keep your hand on the pulse of technology. Not to mention everything that's going on right here at Windows Central!
Every week we're going to compile the biggest stories into one post, so you never fall behind – In Case You Missed It (ICYMI).
Windows
This week was chock full of updates for Windows 10. Windows 10 PC preview build 10586 was pushed out to Windows Insider Slow ring members.
There was also a cumulative security patch for Windows 10 that went out. It appears to have caused Outlook to crash for some users.
But the most significant rollout of the week was the highly-anticipated Windows 10 November Update. The November Update, also known by its codename, "Threshold 2," is jam-packed with fixes, improvements, and new features.
Users will enjoy some cosmetic tweaks to the user interface, like more tiles options in the Start menu, a task view in tablet mode, and revamped context menus. Cortana picked up some cool new functionality, including handwriting recognition and the ability to show missed calls from your phone.
And that's just the tip of the iceberg. There's also great new multitasking, settings changes, and personalization options.
Some people ran into issues, namely the update getting stuck during installation. Don't let it happen to you.
Other notable items:
The preview of Skype integration in Windows 10 is part of its November update
Microsoft will double the amount of prices that developers can set for Windows Store paid apps
The Fall Update for Windows 10 brings Cortana to Windows PCs in India
Microsoft
Microsoft not only updated Windows 10 this week but also the Xbox One. The New Xbox One Experience (NXOE) made its way out across the world on Thursday, completely revamping the game console's user interface.
Just hours later, another feature, backwards compatibility for Xbox 360 games, also began rolling out.
The initial list of supported games consists of 104 titles. There's tons of games not on the list that people are hoping will make the transition, including our own picks, but keep in mind that this is just the first batch.
The Surface 3 and Surface 3 LTE tablets both received firmware updates this week as well.
And following the success of the Windows Insider and Xbox Preview programs, Microsoft introduced the Office Insider program. Like in its sibling initiatives, the Office Insider's will get access to pre-release builds of Microsoft Office 2016, so they can test new features and offer feedback.
Other notable items:
Apple CEO Tim Cook slams Microsoft's Surface Book [Update]
Microsoft rolls out updates for its suite of Office Mobile apps
Here's a look at the Microsoft flagship store in Sydney, Australia
Microsoft's Display Dock for its Windows 10 Mobile phones will get software updates
Microsoft and Bing want to make websites mobile friendly with new testing tool
Miscellaneous
If there weren't enough reasons for Windows XP and Vista users to upgrade, Google has added one more to the list. The tech giant announced their plans to end Chrome support for Windows XP and Vista come April 2016.
The browser will continue to work, but no new updates or security patches will be made available. Support will also end for Apple's OSX versions 10.8 and earlier.
In business news, watchmaker Fossil agreed to acquire Misfit, the company behind wearable fitness-tracking devices, for $260 million. Fossil recently announced a new smartwatch, dubbed the Founder, and the acquisition of Misfit should only help bring more functionality to future devices.
Other notable items:
Share your thoughts on this past week of news! And we'll be back again next week to do it all over again.
Windows Central Newsletter
Get the best of Windows Central in your inbox, every day!
It has been a busy week for Windows 10

Just not for Mobile yet, next week hopefully. They did say RTM build for Mobile will be upon us. So im pretty excited :) Haven't run a mobile build onto my phone since 10081.

I just hope that since its supposed to be the same Windows 10, MS adapts the app jumplists to Mobile. It would be great for the new apps that are UWP. That could also give another feature that at least android does not have (IIRC).

I am most pleased with the updates to find my band,band sensor monitor and most of all clear my band

Am I crazy or did wi-fi just get thrown in out of no where. I'm waiting for a liver transplant Im on disability I can barely afford a phone let alone afford wi- fi. If windows was going to put me in a place where I can't even update my phone . Time to change services, I knew I should have really became worried when they were hard up enough to allow at& become partners with Cricket phone co. I had no problems until they showed up that's freakin sad

Can you guys please stop re-using the same opening sentences? We all know exactly what you're going to say in the intro, cause you say it over and over again on these type of posts... You should just save the space in the article

It wouldn't affect you at all if they did remove it and it doesn't really affect you now since you just jump it. So why ask this?

And it wouldn't affect you if I didn't ask this and you could just jump my request now so why ask that?

I sent a comment where did it go?? Does anyone from windows phone give a darn? I think not we haven't any names we're all just dollar bill signs. When they say they care ....not and if you want to know if they're telling lies their lips are moving ,I found that out the hard way. A cell phone is my life link to my liver transplant group , and to at least 6 other docs I have to see. I'm alone I use my phone to let friends know what is going on and family. I can't leave my home very much because a cold anyone has can land me in the hospital with pneumonia, I've almost died from it. People wear mask surgical type and I do too to keep me from becoming sick. So why in my booklet for this phone nothings said about wi-fi?? No I can't use a friends I live a long ways out in the country but you guys know by my GPS. So please explain why you screwed us so bad by throwing out you can't update ,download or get games which entertain me without wi- fi ? At&t are greedy people and as I've already said I didn't have problems until they joined my provider. They had a program for people with sever disabilities that's gone as well thanks at&t. My phone service is high my income low unlimited my butt and can't afford wi-fi. Again thanks for nothing at all. Changing phone companies but who has service with no wi-fi needed?. II was never told nor read anywhere that it was needed. It's bs ,how convenient for at&t they have a cable internet phone bundle service. Maybe they're the antichrist of phone services. You'll feel it when they are part of your phone service you get screwed over and never get kissed.

Hello, if I want to download installation media like ISO files using MCT today, will I get the latest update 10586 included? or it must download again via Windows update? Thank you

Sorry to hear about your condition, I hope you receive treatment soon.
I'm from the UK so I dont know anything about AT&T. I do know about Windows Phones though. You should be able to download updates and apps for your phone via your cellular data connection, this is turned off by default, as WiFi is generally considered the fast/cheaper option over using your data connection. This is of course assuming your contract with AT&T has a data allowance (most services do have that bundled in these days - in the UK at least), but there may be a limit on how much you can download.
Even without the updates though, your phone will still function as a phone. You'll be able to make/receive calls and text messages.
Hope this info was helpful, if you've an issue with your service, you might try the AT&T site.

Unfortunately Windows 10 Mobile continues on its decline, with still no sight of a convincing Build being released.
Paul T has stated that Project Astoria has been killed off.
That means we will not get Android run time Compatibility, that means we are left with a horrendous "Apps Gap", that means no consumer interest, that means Satya and Microsoft board will have little option but to kill off Windows Phone/ Mobile next year.
We are approaching the end game (:

Ok..where is #AskDanWindows ??

Kill off mobile.., LMAO x 10!!! They haven't even launched it yet... Microsoft will never leave mobile... There's to much to gain with their win 10 initiative and the enterprise corporate world... If you actually think about it, they're in a great position to build their ecosystem. It won't be easy but they have nowhere to go but up... We will all see new hardware next year and probably see a surface mini phone capable tablets by the mid or end of next year.