Windows Phone Summary of the Week: April 2 - April 8 2012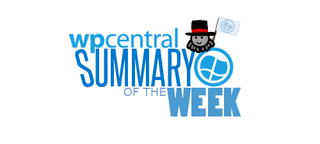 It's time for another weekly recap of all the Windows Phone news we've covered on-site for the last 6 days. Before we get into the summary itself we've got a few WPCentral related updates to publish. First up, we have announced the winners of our MetroTwit Plus license competition. The WPCentral Store has a massive sale going on with a whopping 15% off all Windows Phone accessories until Monday.
This week we had the pleasure of interviewing Saleh Esmaeili and Nadeem Mardini from dots and lines, the developers behind the Carbon Twitter client. Should you be making the purchase of a brand new Windows Phone, whether it be the sturdy HTC Trophy, or the Nokia Lumia 900, the WPCentral forum is a superb resource to get started with the new platform. Be sure to head on past the break for the summary.
Microsoft has set up a contest that enables users of the Bing Rewards programme to win one of five Lumia 900s. The software giant has also teamed up with AnythingbutiPhone to host "Behind the Tiles" Windows Phone events across the U.S., and attendees will have the chance of pocketing their own Lumia 900.
With technology blogs and news websites publishing their reviews of the AT&T Nokia Lumia 900, we take a look at the general reception of the new 4G Windows Phone. Our findings show a mostly positive view from the average reviewer, with only a few annoyances. As well as the New York Nokia Lumia Live event to celebrate the launch of the Lumia 900, featuring Nicki Minaj, the manufacturer is set to hold a "Free time machine in your pocket" contest with Microsoft on April 9th.
There have been a number of hackathons across South Africa, and we were present at the student event in Durban. Both Nokia and Microsoft pitched in to provide 24/7 music, Xboxs for breaks and even a snoozing room for developers who require a quick sleep fix. Microsoft has extended the Smoked by Windows Phone challenge to April 12th with $1,000 Microsoft Store gift cards for those who can best Windows Phone. Finally, Nokia's "Smartphone Beta Test" marketing campaign has gone live, so expect to see more promotion material in the media.
We caught wind of an Xbox Live Easter Sale for seven titles on the Marketplace, which have all dropped to just $0.99. Sally's Salon and Tiki Towers sequels are on the way to the mobile platform. If you're into Xbox Live Arcade gaming while on the go, you'll be pleased to hear of some footage of upcoming titles that will all be available on Windows Phone. Speaking of upcoming titles, Civilization Revolution has landed onto the Marketplace, as well as MiniSquadron.
While we're all still waiting for the Sonic CD for Windows Phone release date to be announced, Sega has revealed when we can expect to see Sonic 4: Episode II. SpaceShooterz, an indie game that was developed in just 30 hours at a hackathon, has been released on the Marketplace. To wrap up the gaming coverage, Ms. Sposion Man is on it's way to blow your handset out of your hands.
A custom Windows Phone Tango ROM for the Samsung Omnia 7 has been released. Should you reside in Australia, WPDownUnder has teamed up with a developer to release an Aussie app targeting both consumers and developers where local apps will be featured for more convenient access. Speaking of Australia, Qantas has released an official app for customers to take advantage of.
Nokia has confirmed that Nokia TV will be heading for Finland, which will enable Lumia handset owners to catch up TV programmes while on the go. MLB at Bat 2012 hits the Marketplace with a swing to bring the latest stats, scores and action of the 2012 Major League Baseball. The unofficial Pandora app MetroRadio now sports a Pro version that ditches the annoying advertising, perfect for those who desire a top notch experience.
The Windows Phone 7 Connector for Mac has been updated to version 2.02, bringing with it minor fixes and improvements. Rowi has received a major overhaul with Mango features. If you're interested in this Twitter app, you can pick up a copy from the Marketplace for just $0.99. Nokia Music has also received the minor improvement treatment with a version increase to 2.1, while SkyScanner now sports more functionality.
It has been a relatively busy week with hardware, the biggest headline being our review of the AT&T Lumia 900. Should you have made the purchase, be sure to check out our top picks of apps you must take a look at and provide Nokia some feedback on your experience. We've seen an astonishing 41MP Pure View smartphone running Symbian, but what about Windows Phone? According to alleged leaked Nokia slides, a Pure View Windows Phone is on the way.
If you so happen to drop your Lumia handset into water, fear not as Nokia has you covered with a step-by-step guide how to dry the device and hopefully prevent damage. As well as being released in the states on AT&T, the Lumia 900 is heading to Italy and Brazil, Canada, Switzerland, and the UK. If you're interested to see what makes the 900 "tick", be sure to check out the insides.
It's not all about the Lumia 900, however, as the HTC TITAN II is also hitting AT&T and the Windows Phone has left us impressed with first impressions. Moving onto the mid-range Lumia 800 and 710, both handsets are launching in South Africa on Virgin Mobile as well as Singapore. Closing off the hardware section is the possible new LG Windows Phone heading to Sprint and the LG Miracle featuring TELUS branding.
An alleged poster template for Nokia Windows Phone 8 devices surfaces, is it too early for rumoured handsets with the Lumia 900 only just coming out the doors? The Smoked by Windows Phone campaign has certainly travelled around the world with an event in Stockholm being the most recent target. The Lumia Live event in Melbourne was covered by Techin5, which sported an augmented reality experience for attending members of public.
AT&T has published a "24 hours with the Lumia 900" advert on their Youtube account showcasing features of both the handset and operating system. As well as this insightful video, the carrier has also released a commercial that shows off a single feature of Windows Phone, think of Apple's iPhone advertising. Clean, simple and precise. We expect to see a number of these created and aired.
The co-founder of Plex, a service for streaming media files, has published an insightful article on the company blog detailing their experience with developing an app for Windows Phone. Nokia is handing out Lumia 800s to UK student developers who publish apps on the Marketplace. Speaking of submissions, there may be some delay for apps to become available on the Marketplace with a high volume of submissions being made. Closing up the developer coverage and this week's summary, Microsoft has reaffirmed app compatibility with Windows Phone 8.
Highlights
Gaming
Software
Hardware
Media
Developers
Rich Edmonds is a word conjurer at Windows Central, covering everything related to Windows, gaming, and hardware. He's been involved in technology for more than a decade and knows a thing or two about the magic inside a device chassis. You can follow him over on Twitter at @RichEdmonds.
Windows Central Newsletter
Get the best of Windows Central in in your inbox, every day!
Thank you for signing up to Windows Central. You will receive a verification email shortly.
There was a problem. Please refresh the page and try again.