Windows Phone Weekly Digest: September 27, 2015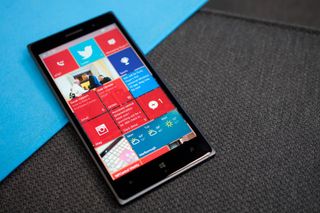 There's a lot going on in the world of Windows Phone. So much, in fact, that it is sometimes tough to catch every important story.
Device rumors come and go. New apps join the Windows Phone Store, and your favorite app can get a big update with a new look or new features.
Therefore, every week we will compile a list of the Windows Phone news that you just shouldn't miss. Welcome to the "Windows Phone Weekly Digest."
Windows Phone
There was some encouraging news this week regarding Windows 10 Mobile. The latest numbers from AdDuplex shows that the fledgling OS is now on 4.7 percent of all Windows Phones. The number is up almost one and a half percent from last month, which likely means that more and more people are reaping the benefits of the Insider Preview Program.
Phone manufacturer Yezz now says its Billy 4 Windows Phone won't get the Windows 10 Mobile upgrade. The company cited the 4GB of memory as the reason for the decision. However, being that Microsoft's official requirement for Windows 10 Mobile is just 4GB, the reasoning seems strange. Yezz does plan on releasing other Windows 10 Mobile phones in the future though details are scarce.
BLU, on the other hand, confirmed that their Win HD will be updated to Windows 10 Mobile. There's still no word on their smaller budget phone, the Win JR, will get it.
Some alleged leaked internal slides made their way out revealing more about Lumia 550. If accurate, the budget Lumia 550 will look close to what we expected:
HD 5-inch screen with Corning Gorilla Glass 3
Qualcomm 1Ghz Snapdragon Quad-Core (presumably would be 210).
Rear 5-megapixel camera with autofocus and LED Flash Geotagging +.
Front 2-megapixel camera (no mention of an LED flash)
8GB internal storage + 1 GB of RAM 128Gb + Micro-SD
1905 mAh battery with rapid charger
The two significant bits are the lack of the front-facing flash, which was shown on early prototypes, and the inclusion of Qualcomm's new rapid charging.
Similar internal slides also seemed to confirm everything we thought we knew about the flagship Lumia 950 and Lumia 950 XL.
We'll find out for sure on October 6.
Other notable items:
Windows 10 Mobile nabs 'Insider Fast configuration update'
Mysterious Windows 10 Mobile Lumia with 720p display spotted by AdDuplex
Apps
In app news, VLC media player for Windows Phone has reached 3 million downloads. That is an astounding number, so congratulations to them.
Windows Phone super-dev, Rudy Huyn, said that 6tin is slated to become his first universal Windows 10 app. Next in line looks to be his Instagram client 6tag.
We also took a look at Brilli Wallpaper Changer, a universal Windows 10 app that automatically changes your desktop, Start screen, and lockscreen pictures.
As for updates, Microsoft appeared to be busy tightening up a bunch of their apps. Extras + Info was updated with compatibility for Windows 10 Mobile.
The entire Office mobile suite of apps was also updated for Windows 10 Mobile, though it appears to be minor. Outlook Email and Calendar for Windows 10 Mobile and Insidersalso picked up an inconsequential update.
Likewise, the Microsoft Photos app for Windows 10 and Windows 10 Mobile saw a minor bump, while OneDrive on Windows 10 Mobile picked up a new sort function.
Other notable items:
Rudy Huyn pulls TVShow app temporarily from Windows Phone Store
Insteon still working on a Hub for Windows update, but no ETA just yet
Fly Delta app for Windows Phone gets a surprise update
Facebook Beta for Windows Phone snags a minor update
Latest Swarm update brings back leaderboards so you can compete against friends
Snapdeal speeds up checkout time with latest Windows Phone update
Slack (Beta) update brings support for file uploads, bug fixes
Plex updated for Windows and Windows Phone with bug fixes -Fhotoroom for Windows Phone updated - new community tags, search feature and more in tow
Games
The ever-busy team at Game Troopers released The Last Door for Windows Phone and Windows. It's an 8-bit horror story, originally developed by The GameKitchen. The Last Door was also released on PC, Mac, Linux, iOS and Android.
Top Gear: Extreme Parking sped its way onto Windows Phone.
EA Sports updated their FIFA Companion for Windows Phone with FIFA 16 support.
And we save the weirdest for last. Sheep Dreams Are Made of This is a nightmarish platformer, where you play a stuck in somebody's crazy dream. Sheep Dreams Are Made of This is an impressive mix of great design and originality.
Other notable items:
Imperia Online for Windows Phone update adds battle simulator and improved tutorial
Be sure to weigh in on this week's news in the comments section. See you next week!
Windows Central Newsletter
Get the best of Windows Central in your inbox, every day!
Can y'all ask about FIFA 16 game not companion app because I believe it's on the other platforms

http://www.windowsphone.com/s?appid=9aca530b-b29c-4f53-a89b-10f4e830ef93

That's the companion app. I'm talking about the game

Do not keep on the design for soft keys menu, it tooks places on my 5" screen 540.

Hope that Windows 10 mibile will support otg than it will be perfect

If all they did was fix bugs and add USB OTG, I'd be perfectly fine with windows 10 mobile

Where was that power bank comparison/list of good power banks windows central reviewed?

Guys I noticed that the photos app on w10M is damn slow....why is a software giant like Microsoft struggling to make a simple photos app??

I guess they have a very small team who work on windows phone and windows 10 mobile. Ppl still want features which aren't yet been opened implemented by them like gapless playback and interactive tiles on windows and win10 mobile devices.

There is more to do but since joining the Insider programme and giving feedback they have added some of those things to date. It's an all new OS, the last I hope, so from here onwards they will be adding to the OS, which I'm holding onto for phone and tablet, as it can only get better.

Depends on your device, your apps installed, lots of factors. Plus it's alpha software. Your lack of understanding is worrying.

I am not blaming windows mobile (infact i love it) But now in public and in my friends i am tired to defend windows mobile........

Will there will be performance hike on RTM build compared to the recent glitchy builds??

I would guess the answer would be yes. It's beta for now and RTM would not be the same as now!

Amid the talk of apps available for Windows 10, did anyone notice the quiet withdrawal of Mint from the Windows 10 Store. It's gone for both PCs and phones. Is this temporary or has another major player abandoned the platform?

It's back. It just got updated at least on phone.

Can anyone tell me when windows 10 is releasing for phones???

It's on release as a Beta through the Insider app for those who joined earlier. I believe it's closed now until RTM which may release next month. At that point you can wait for your carrier to update your phone to W10 or join the Insider programme and get the RTM release, then leave the programme or stay on. I believe those are the options you have.

When fifa 16 for Windows phone relese

Sorry to be a grammar nazi, but it's not correct to say "being that" (first main article); the correct form is "seeing as"... "Seeing as Microsoft's requirements for Windows Phone are just 4GB..."

Route Z doesn't work on my Icon with 10.

Still like windows phone. A friend was showing his 6s and commending Live image but I told him wp has had it for a while ....showed my Lumia 640 has double tap and glance but your crazy expensive doesn't have it ! Then he said man it looks like marketing, live image becomes a huge deal now but people even don't know wp offers ! SN shows what iPhone can do, but he could compare what 80 $ wp can do what 600 bucks things cannot

Wher is universal share it application for windows 10 ?

Please adds Nokia x series features like most used option like fast lane on windows 10 mobile platform.

Does windows 10 mobile supports OTG ..??