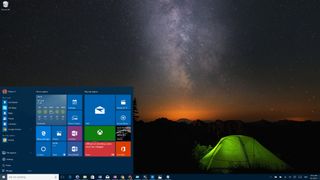 A lot can happen in a week. Seven days might not seem like much, but it can be an eternity in the tech news cycle.
Between Windows news, hardware and software developments and Microsoft's fast-paced movements throughout the technology landscape, it's never easy to keep your hand on the pulse of technology. Not to mention everything that's going on right here at Windows Central!
Every week we're going to compile the biggest stories into one post, so you never fall behind – In Case You Missed It (ICYMI).
Windows 10
Windows 10 is here at last! All around the globe, PCs everywhere started getting the upgrade as soon as it struck midnight on July 29. Additionally, Microsoft released the official Windows 10 ISO files so people could begin installing Windows 10 on their own.
Microsoft even managed to finalize a 1GB day one patch for Windows 10.
Within 24 hours of its launch, more than 14 million devices were running the new operating system. That number has since climbed to over 67 million PCs.
Despite projections and fears that the Windows 10 rollout would break the internet, it turns out that Microsoft's plan to release it in waves eased the burden on ISPs and CDNs, preventing the tubes from clogging.
There are some people who have run into trouble reserving their free upgrade. If you are one of those unfortunate souls, you should check this out.
Others who were able to reserve their copy still haven't received their upgrade. Fortunately, there is a way to manually trigger the update.
Windows Central is here to help with our guides on how to prepare your PC for the upgrade and how to make the move from Windows 7 to Windows 10.
We are your one-stop shop for all the Windows 10 help, tips and tricks you need.
Still skittish about upgrading? Check out our mammoth Windows 10 Review to see what's in store. And make sure you know what issues other users are experiencing on Windows 10.
Other notable items:
Don't want mandatory Windows 10 updates? Microsoft has a tool to block some
Microsoft reveals website dedicated to Windows 10 launch
Microsoft shows off Windows 10 features with new series of in-depth videos
Cortana shows tips on how to use it in Windows 10 and Windows Phone
How to make a full backup of a Windows 10 or Windows 8.1 PC
The Windows Store to start carrier billing for Windows 10 PCs and tablets later in 2015
Windows Insiders in India will get Cortana for Windows 10 'in the coming weeks'
The Windows 10 SDK tools are now available for developers
The creator of the first Start menu thinks it's 'a little disappointing' it's still used in Windows 10
Microsoft
While the world was busy installing Windows 10, it was business as usual this week for Microsoft. They continued the changing of the musical guard, with the launch of the Groove music service in place of Microsoft's Xbox Music website. The rebranding effort also extended to Xbox One with Groove Music replacing Xbox Music.
Speaking of Xbox, Xbox chief Phil Spencer revealed in an interview that Microsoft is working on a feature that will let users stream PC games from Windows 10 to the their consoles. No timetable was given for a release, but it's exciting to know that it's in the pipeline.
There was also news on the Microsoft Office front. Tablet users can now get the official version of the Office Mobile apps for Windows 10. It was also confirmed that Office 2016 will be heading to Windows desktops in September.
Microsoft scored a win against Google in the courts when an appeals judge sided with them in a patent dispute. The decision lowers the licensing fees associated with manufacturing certain devices and could lead to better pricing for consumers.
And finally, Windows Insider head Gabe Aul, looks to have been rewarded for his phenomenal work he did with the Windows 10 preview program. Aul has been named Vice President of Engineering Systems for the Windows and Devices group at Microsoft. Congrats, Gabe!
Other notable items:
Skype for Outlook.com updated to allow audio and video calls in Microsoft Edge
Microsoft CEO Satya Nadella celebrates Windows 10 launch by helping schools in Kenya
There are now over 100,000 Xbox Live Achievements to unlock
Miscellaneous
In other news, Samsung introduced their latest monitor. The SE370 is a full-HD monitor that is certified for Windows 10 and sports a built-in Qi wireless charging area in the stand. The monitor is due out by the end of the year in 23.6-inch and 27-inch sizes.
Qualcomm says that they have perfected the art of wireless charging on smartphones with metal exteriors. The method leverages Qualcomm's WiPower technology and hopes to open up the world of wireless charging to more devices.
Is it a soccer ball or a Star Wars droid? It turns out it's neither. Nokia's OZO is a virtual reality camera that "captures stereoscopic 3D video through eight (8) synchronized global shutter sensors and spatial audio through eight (8) integrated microphones." The camera is currently being marketed to professional content creators, rather than everyday consumers.
With the new Windows 10-geared version of their Firefox browser in beta-testing, Mozilla accused Microsoft of making it harder to change the default web browser in their new OS. They claim that "it now requires more than twice the number of mouse clicks, more scrolling through content and a more focused effort to reassert a choice they had previously made in earlier versions of Windows," going so far as to posting a video of the process.
Windows Central teamed up with browser developer Opera in a new giveaway. Be sure to enter for your chance to win a Lumia 1520 or Surface 3!
Other notable items:
Adobe Creative Cloud updated with support for Windows 10, bug fixes
Dell decides to start shipping its first Windows 10 PCs today after all, matching HP
Intel and Micron's 3D XPoint memory tech is up to 1,000 times faster than NAND
Razer is now shipping its Blade and Blade Pro laptops with Windows 10 installed
Sonos connected speakers can now access Groove Music in beta form
Share your thoughts on this past week of news! And we'll be back again next week to do it all over again.
Get the Windows Central Newsletter
All the latest news, reviews, and guides for Windows and Xbox diehards.