ICYMI: Edge extensions for Insiders, Cross-platform gaming, and VR rigs galore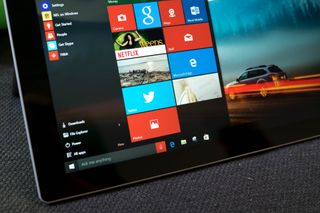 A lot can happen in a week. Seven days might not seem like much, but it can be an eternity in the tech news cycle.
Between Windows news, hardware and software developments and Microsoft's fast-paced movements throughout the technology landscape, it's never easy to keep your hand on the pulse of technology. Not to mention everything that's going on right here at Windows Central!
Every week we're going to compile the biggest stories into one post, so you never fall behind – In Case You Missed It (ICYMI).
Windows
Windows
A minor uproar occurred this week when a Microsoft support site stated that Bitcoin would no longer be accepted as payment by Windows 10 PC and Mobile accounts. When asked about it, the company responded that was not in fact true and that "inaccurate information" had mistakenly been posted on the site.
Affinity announced that their popular photo and design apps for Mac will be heading to Windows. Sign-ups have been opened for beta testing the applications, which should arrive in the next 2-3 months.
Microsoft said that Windows 10 UWP apps will be available for Xbox One this summer, when the Xbox and Windows stores get merged into one. More information is expected in a couple of weeks during the Build 2016 conference on March 30.
Fast ring Insiders were able to upgrade to Windows 10 build 14291 on both their computers and phones. The PC version of 14921 picked up support for Microsoft Edge extensions, amongst other things.
Third-party Twitter app Tweeten has already released an extension for Microsoft Edge, while other extensions, like AdBlock, Amazon and others are due out later this year. Microsoft said that they intend to offer a tool for porting Chrome extensions over to Edge.
As for other changes, here's what's fixed and broken in build 14921 and everything else you need to know.
Other notable items:
How to use the SFC command utility to fix system files on Windows 10
Windows 7 and 8.1 Intel Skylake support extended until July 2018
Microsoft
The week was riddled with lots of cool Xbox news as well. Microsoft is reportedly testing an Xbox One DVR](/microsoft-reportedly-testing-xbox-one-over-air-tv-dvr-feature) for over-the-air channels. Originally announced in August 2015, the DVR will work whether you are watching TV, playing a game, or even when the console is in sleep mode. It is expected to officially launch in the U.S., U.K., and Canada later this year.
The overall number of hours spent gaming on Xbox One worldwide nearly doubled in February, increasing by 93 percent. Also, sales of Xbox-exclusive games in the U.S. also rose 49 percent.
Microsoft plans to offer developers the ability to add cross-platform and cross-network gameplay to their Xbox One games, meaning that players could interact with users on computers, as well as other gaming consoles. The creators of the hit game Rocket League have announced that they will be one of the first to support the venture, and even rival console maker Sony has expressed interest in the idea.
And on a scientific note, Microsoft Research's "Project AIX" is using Minecraft to develop artificial intelligence by creating AI characters that can interact with the huge, ever-changing environment.
Other notable items:
Microsoft discounts the Intel i5-powered Surface Pro 4 by $100
Surface 3 approved for use by ExpressJet pilots as their Electronic Flight Bag
Skype on the web adds support for calling mobile phones and landlines
Microsoft adds interactive math features to Bing for Pi Day
Microsoft: Cortana for Xbox One is 'coming along great' but no word on release
The Microsoft Band 2 will get dirty thanks to new Tough Mudder partnership
Microsoft HoloLens will help some Lowe's customers improve their kitchen
Miscellaneous
Instagram is working on a new feature that will "optimize" your photo feed. According to the social media giant:
After leaving Microsoft as the head of the hardware division, Stephen Elop has been hired by Telstra, the Australian telecom, in the role of Group Executive Technology, Innovation and Strategy.
But, virtual and altered reality are all really where it's at. Sulon offered a peek at their Q headset, a self-contained system that is capable of both immersive VR and interactive altered-reality, all without an external PC.
HTC teamed up with special effects pioneers Industrial Light and Magic to create Star Wars: Trials on Tatooine, an incredible cinematic experience that takes users inside the Star Wars universe.
The Oculus Rift is set to go on sale for $599 on March 28 and the company announced that gamers will have 30 titles to choose from at launch time, with over 100 more by the end of the year.
Sony said that their PlayStation VR will be launching in October for $399.
Not sure which one might be right for you? Check out our comparison of some of the top contenders.
Other notable items:
The AMD Radeon Pro Duo is an insane dual-GPU graphics card, yours for $1,500
MSI begins taking orders for the Vortex, its tiny Windows 10 gaming desktop
The Samsung Galaxy TabPro S with Windows 10 goes on sale on March 18 for $900
Share your thoughts on this past week of news! And we'll be back again next week to do it all over again.
Not much into gaming but I think PlayStation VR is very beautiful.
Windows Central Newsletter
Get the best of Windows Central in in your inbox, every day!
Thank you for signing up to Windows Central. You will receive a verification email shortly.
There was a problem. Please refresh the page and try again.