If you're ready to switch up the lighting around your home, you won't want to miss this discount at Amazon. Right now you can save 30% on a 4-pack of BR30 dimmable LED multi-color smart bulbs and pick them up for just $37.79. The discount is added automatically once you reach checkout, saving you $16 off the set's full cost.
Have It Your Way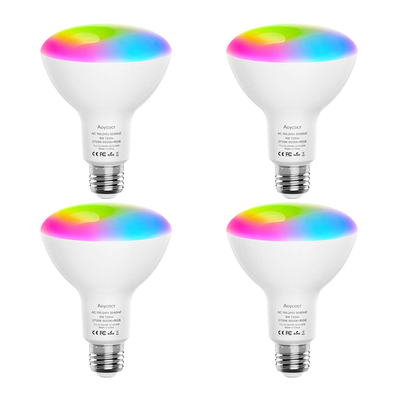 Control these BR30 bulbs with an app on your phone or tablet, or even with your voice and Amazon Alexa or Google Assistant. They can switch between 16 million colors, and there's no hub required. This discount is added to your cart automatically.
$37.79 $53.99 $16 off
The Aoyococr bulbs don't require a lot of setup. Just install them like any other light by screwing them in. Then download the Smart Life app and pair your bulb. Follow the instructions, connect to your Wi-Fi, connect to your smart home, and get to customizing. The app gives you the ability to create scenes, set routines, change the colors, set a schedule, and even more. You can even voice control them using Amazon Alexa or Google Assistant; you'll just need a compatible device like the Echo Dot.
These are BR30 bulbs, which means they aren't designed like regular A19 bulbs that fit in standard lamps. The BR30 are directional flood lights that work best when placed in ceiling fixtures or used for recessed lighting. However, Aoyococr also has multi-color A19 bulbs on sale if that's what you need. Prime members can snag them for as low as $5 each, but even without Prime you'll save 40%.
Choose from over 16 million colors when deciding just what color you want your new smart bulbs to be. You can even tune the color temperature from 2700K warm light to 9000K daylight. Match with any other bulbs you have around the room. They are also dimmable from 10% to 100%, which you can adjust without connecting them to a dimmer.
The bulbs should last as long as 22 years with a lifespan of 25,000 hours. Over 230 customers have left reviews for this 4-pack at Amazon resulting in a rating of 4.3 stars out of 5.
More Cyber Monday deals:
We may earn a commission for purchases using our links. Learn more.