Windows Phone Weekly Digest: May 31, 2015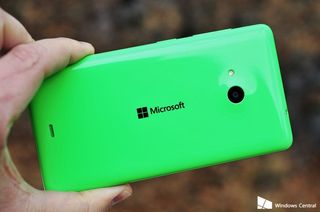 There's a lot going on in the world of Windows Phone. So much, in fact, that it is sometimes tough to catch every important story. Device rumors come and go. New apps join the Windows Phone Store, and your favorite app can get a big update with a new look or new features.
Therefore, every week we will compile a list of the Windows Phone news that you just shouldn't miss. Welcome to the "Windows Phone Weekly Digest."
Windows Phone
This week we saw a lot of possible info come out about upcoming Windows phones. An Indian import site reported that a new 5.7-inch Windows Phone was shipped from Finland to India for internal testing. The new device, which some have already dubbed the Lumia 840 XL, comes in both single and dual-SIM flavors.
While that phone appears to be a mid-range device, benchmarking site GFXBench gave us some specs on what seems to be a flagship Windows 10 phone. The "Nokia RM-1106" sports a 5.2-inch screen with a possible 2560×1440 resolution and what Nokia Power User says is 3GB RAM, 32GB storage, 20-megapixel rear camera, and likely a Qualcomm Snapdragon 808 processor.
An alleged photo of a curved Lumia display surfaced on Twitter. If the picture is indeed legit, it hints that one or both of the new upcoming flagship Lumias, only referred to so far as the "Cityman" and "Talkman," could sport a curved screen, much like Samsung's Galaxy S6 Edge.
Other rumors surrounding the "Cityman" and "Talkman" cropped up on a few other sites. Most notably, the two hero devices are likely to be the first Windows phones to have USB Type-C support. The new connector is said to be necessary for Continuum for Phones feature.
Other notable items:
The Lumia 930 and Lumia 735 are on sale for £40 off via O2 UK until May 27
The Lumia 920 is a hero, helps save a man's life
Xiaomi is taking sign-ups for Windows 10 Mobile ROM beta program, but just for Beijing residents
Apps
In the world of apps, two of Microsoft's internally-tested beta apps were leaked ahead of release. InstaNote, an app for taking voice memos, and the self-explanatory Dialer for Lync Meetings were both previously unannounced.
Windows Phone super-dev, Rudy Huyn, was his usual prolific self. His 6tin Tinder clients for Windows Phone got a new user interface and login screen. Additionally, his Instagram app, 6tag, was updated twice. One update fixed video upload and collage filter issues, while the other contained some minor bug fixes.
Meanwhile, Fantasia Painter, an app that hadn't seen any attention from its developer in two years, finally got updated.. It isn't clear what the update brought with it, but the loyal followers of the photo-editing app were happy to see that it is still alive and well.
OneDrive for Windows Phone paired up with Cortana for some added search capabilities. The online storage app now allows you to ask Cortana to find photos and documents based on phrases describing or contained in them.
WhatsApp beta testers got a big treat this week when the wildly popular messaging app picked up its highly-anticipated calling feature. Only a relative handful of users have it now, but it's a hopeful sign that the feature's wide release isn't too far away.
And lastly, another cross-platform app made its way to our phones. Zapya, a file-sharing app that lets you transfer data between devices, brought an official app to Windows Phone.
Other notable items:
Microsoft now has a Certificates viewing app for Windows Phone
Surfy browser for Windows Phone gets an overhaul in design and better downloading
Flipkart for Windows Phone lets you sign in with your phone number
Xbox Music picks up bug fixes and minor improvements in latest update
Tubecast gets a minor bug-fixing update
Lumia Camera Beta get a minor update for some Lumia Windows Phones
Tesco Calling brings cheap international calls and SMS to Windows Phone Zomato update brings new design, Uber integration and Urbanspoon listings
Microsoft Hyperlapse Mobile updated with Lumia Icon support
Games
It was another good week for gaming on Windows Phone. Game Troopers' latest title, Monster GO! landed on Windows phone slightly ahead of schedule as an Xbox title.
Another new Xbox title hit the Windows Phone Store as well. The action-packed endless runner Lara Croft: Relic Run is now available.
The popular tower defense game Bloons TD 5 hopped over from iOS and Android to Windows and Windows Phone as a universal app.
And perhaps even more encouraging was the launch of Astro Bouncer, which happened simultaneously on Windows, Windows Phone, and Android. The cross-platform release hopefully means that the perceived "app gap" is closing.
The kids' favorite Cloud Raiders got revamped in its latest update. Along with the improved graphics, it also gained some new characters, major technical improvements, and some new features.
Other notable items:
Save magical beasts in the latest open world adventure Beast Quest
Overkill 3 for Windows Phone will never support 512MB devices
Windows Central Newsletter
Get the best of Windows Central in your inbox, every day!
Can't wait to see what the future holds for WP.

You forgot to mention the fail of Hyperlapse!!! Supposedly it is available for the Icon but still will not download from the store

Omg! I thought I was the only one!!! :P

Hope next Windowsphone weekly comes with "WhatsApp has been updated with latest voice calling support and performance is 5x enhanced and removed LOADING BUG"

I want zombie highway in wp.

A lot can happen in a week ;)

Still can't save maps to SD card, bring back Nokia Storage Check Beta! Or turn the bit on in the registry to enable this.