All the important Microsoft news stories for July 2, 2016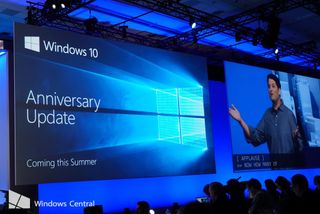 Microsoft gets sued, there are now 350 million users of Windows 10, and we get a date for the Anniversary Update. In addition, it looks like a Surface all-in-one could happen sometime later this year or, more likely, early 2017.
If you missed the week in Microsoft news here is our roundup of all the major stories.
Windows
After a rash of complaints, and at least one lawsuit, over Microsoft approach to getting customers to upgrade to Windows 10, the company has decided to change their tactics. Customers on older versions of Windows will now be given three options: upgrade now, schedule an upgrade, or decline the free upgrade altogether.
In this final month of the free offer, Microsoft will use a full-screen prompt to drive the point home.
Insiders in the Release Preview ring were able to upgrade to Windows 10 Mobile build 10586.456, delivering a handful of fixes and improvements.
Meanwhile, build 14372 went out to the Slow ring and the Fast ring got preview build 14376.
Microsoft announced that they will no longer be including the previously-announced "Messaging Everywhere feature" in this summer's Anniversary Update, choosing instead to scrap the Messaging app and work on incorporating it into Skype at a later time.
And speaking of the Anniversary Update, it's official; the big day is August 2nd. A Microsoft blog post accidentally spilled the beans, but a day later, Redmond confirmed.
With Anniversary builds already available via the Windows Insider Program, the question is should you upgrade now or wait until August?
Other notable items:
Windows 10 PC Insider preview build 14366 ISO files now available for download
VLC for Windows 10 is now available for everyone to enjoy
Windows 10 now running on over 350 million devices worldwide
Microsoft launches Office Delve PC preview app for Windows 10
Skype Preview updated for Windows 10 Anniversary Preview with minor fixes
Microsoft shows how developers can add HDR image features in Windows 10 camera apps
Windows 10's PC worldwide market share exceeded 19% in June
Microsoft
The Microsoft Band 2 picked up a firmware update, although no details were given on exactly what it included.
Microsoft has decided to discontinue Xbox Fitness feature over the next year. Current users can no longer purchase new content, but they will still be able to use what they have until June 30, 2017.
The company is doing a little bit of backpedaling on another feature that they said they were discontinuing. When asked about the recently-cancelled TV DVR in an interview with GameSpot, Xbox general manager Dave McCarthy said he "wouldn't rule it out entirely." McCarthy stated that they are constantly evaluating customer feedback and that if enough people requested it, we could see and Xbox One TV DVR in the future.
Details on the Xbox Anniversary Update were confirmed ahead of the August 2 rollout. Some of the marquee features to expect are Language Region Independence, support for background music, Cortana, and the new Xbox Play Anywhere program, which will allow you to play some of your games on both your game console and your Windows 10 PC.
The Xbox Play Anywhere program will officially launch on September 13 with the release of ReCore.
And it looks like Microsoft may be bringing back an iteration of the PixelSense table-PC as an all-in-one Surface for your living room. However, French company Kineti beat them to the punch, unveiling their own 42-inch touchscreen PC built in a coffee table.
Other notable items:
The Surface Pro 4 is now even more affordable at Staples
Former Microsoft Press Play team members get together to form Lightbulb Games
There are now 1 million Xbox One Elite Controllers in the wild
Merging the Microsoft HoloLens and Kinect could get us one step closer to the holodeck
Students in the U.S. and Canada can save at least $300 off a Surface-Xbox One bundle
Satya Nadella to write non-fiction book "Hit Refresh", coming Fall 2017
Microsoft's latest Groove Music Pass promo offers 4 months for the price of 1 (US only)
Microsoft's 1TB Surface Book and Surface Pro 4 are available in 10 more markets
Microsoft confirms launch of Windows Insider MVP Program
Miscellaneous
SanDisk announced two new 256GB microSD cards, including the Extreme microSDXC UHS-I card, which promises transfer speeds as fast as 100MB/s. The regular chip will hit shelves in August for $150, and the Extreme is due out later this year for $200.
Dell unveiled a new 70-inch touchscreen monitor intended to replace the whiteboards in schools and businesses. The 1920x1080 is designed to work with Windows 10 PCs and will run you about $5000.
Facebook will be implementing changes to the News Feed that are designed to prioritize posts by the people you hold most dear. The idea is to raise photos, videos, status updates by close friends to the top of the feed so you don't miss those moments.
And finally, please join us in welcoming MrMobile! Michael Fisher will be giving you his take on everything mobile, so be sure to check it out.
Other notable items:
Share your thoughts on this past week of news! And we'll be back again next week to do it all over again.
Get the Windows Central Newsletter
All the latest news, reviews, and guides for Windows and Xbox diehards.
All we want is a SURFACE PHONE ... Posted via the Windows Central App for Android

I think they dropped It's plan

Hey..I got an update for my lumia 540.. Now. Waiting for download. 10586.420. Anyone else got it???

I have already downloaded two weeks back

I have just downloaded the anniversary update on my Lumia 930 and I don't see anything to be excited about. Like many others I was waiting for the Messaging Everywhere feature but that too has been removed.

Your Groove, PC notification syncing, Microsoft Authenticator, Tap to Pay, here notifications, better-looking Settings, sideloaded Skype experience, better Windows Hello support, Live Tiles work more consistently, etc. are my favorite things.

Microsoft Authenticator is something I'm looking forward to. Notification syncing requires Cortana turned on which I don't like to do. Not interested in the other things you mentioned.

Any comments on app scaling issues ? Apps looks ugly e.g WhatsApp, a black space is remaining bottom of the app....

I lost all my Edge favorites because of the upgrade (history and reading list items are intact though). Beware.

I too last my favourites when upgraded from non-insider to slow ring.

Seems lighter than 10586 with kids corner removed.
I don't know if iconizing every setting makes it better looking. Swipe delete sms, swipe forward and back Edge, black outline Emojis are a welcome for me.

Ohh.. I see.. I am non insider. I got it todsy only.. Anyone using lumia 540.? And hows the experience after this update?

Please use our forums for the Lumia 540. Comments are not a general hangout area, nor random questions/answers/support. Thank you.

It's there any way we can file law suite on MS for not providing proper bug fixes for non insiders ? I know trolls waiting.....

Iam using slow ring build 14327, do i get anniversary build if i signup for production build now ? B/w slow ring 14372 build is more stable than 10586.456 in my L730 dual sim......