Best 3D printers for families 2022
We spend hundreds of hours trying many different printers and filaments to bring you the very best reviews and opinions. We aim to help you make good decisions when it comes to your 3D printing needs.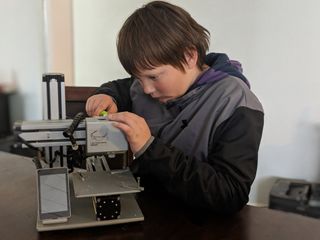 (Image credit: Windows Central)
The Snapmaker 3-in-1 fabricator is a fantastic machine for a family to start their 3D printing adventure. Because of its modular design and the availability of other fabrication systems at purchase, your family can learn 3D printing, laser etching, and CNC milling all from one machine!
Snapmaker 3-in-1 3D printer
A printer with a lot of variety
Who should buy this 3D printer?
Why you can trust Windows Central Our expert reviewers spend hours testing and comparing products and services so you can choose the best for you. Find out more about how we test.
When you have adults and kids who are interested in the same things, it pays to encourage those interests. If you have a family that wants to try out 3D printing, as well as other fabrication mediums, then this is for you. The 3-in-1 system gives you scope for a wide range of projects to share with your family.
Is it a good time to buy the Snapmaker 3-in-1?
The price of the Snapmaker doesn't vary much, so it's a great time to buy it any time of the year. If there are any deals, I will update this post below with links, but the standard price for three exciting tools built into one is probably worth it. If you are looking to increase your print volume, the Snapmaker 2 is now available and comes in three sizes, but it is more expensive.
Playing and learning is key
What makes a 3D printer good for a family? It needs to be easy to use by a vast range of ages, as well as hold the interest of any person long enough for them to want to continue the hobby. It also needs to have a learning curve, so as the children and adults continue to learn the tasks you can do with it, their skill increases.
The Snapmaker 3-in-1 ticks all these boxes and more. The design of the machine is modular so putting it together was simple enough for my 12-year-old to do on his own. It even has standard RJ45 plugs to connect everything into the main computer board. He made light work of screwing everything in, also checking with a spirit level to make sure everything was straight (he didn't really need to of course, but I wasn't going to stop his fun), then attaching all the cables in the right order. The look on his face when the printer started up the first time was worth the price of admission.
The greatest gift that the Snapmaker gives you is variety. When you buy the Snapmaker, it comes with three tool heads, called modules, that allow you to use different fabrication techniques. While the main module you'll want to use is the 3D printing one — it works amazingly well and every print I tried came out almost perfectly — there are also two others: a laser etching tool and a CNC milling tool. While the CNC milling can probably wait until your kids are slightly older, the laser etching is perhaps one of the most fun tools we own as a family.
With the ability to burn a 2D picture onto a vast variety of materials — we've burnt onto plastic, wood, leather, and even denim so far — the laser etching tool allows children to explore other ways to be creative and opens up your Snapmaker to more uses than just the 3D printing. Keeping kids interested is a massive part of family time, and the Snapmaker will help you do that, especially with its different modules for different kids.
Alternatives to the Snapmaker
While the Snapmaker is an excellent choice for a first-time family, there are alternatives out there. If you are looking for something cheaper to start your family obsession, or you are looking for just a 3D printer, then the Elegoo Neptune 2 is an excellent and affordable machine with some advanced tricks like filament run out sensors. If you have an older family who likes the idea of a larger, more challenging project to start with, the Prusa Mk3 kit would be great, since it's one of the best printers you can buy right now.
Elegoo Neptune 2
A fantastic printer that's like gold dust
Reasons to buy
+
Easy to assemble
+
Quality prints out of the box
+
3-in-1 gives you loads of variety
+
Modular design allows for expansion
Reasons to avoid
-
Price is fairly high
-
Build area is small
For just $170 you simply cannot beat the Elegoo Neptune 2 for value for money. The print quality is as good as printers that cost twice as much, and they are very simple to build and maintain. They are sometimes hard to get hold of though, so keep checking back to get them when they are in stock.
Prusa MK3s Kit
For high school or college-aged families
I love the Prusa MK3. Everyone I know loves the Prusa MK3. Buying them in kit form is one of the best ways to learn about the design and engineering that goes into 3D printing. It also allows you, and your older children, a chance to get your hands dirty in building and running a 3D printing machine. I would recommend this to anyone who is interested in how things work, not just the end result.
Bottom line
With easy-to-learn software, excellent instructions on how to build it, and three separate modules to keep those kids hooked, the Snapmaker is the top pick for you and your family. The 3D printing part of the Snapmaker is up to the challenge of teaching your family about the hobby. But with the extra modules, it expands upon the 3D printing, giving your family more outlets to be creative.
I think that is my favorite thing about this machine. My son and I always have lots of creative ideas, and the Snapmaker lets us bring those ideas to life.
Get the Windows Central Newsletter
All the latest news, reviews, and guides for Windows and Xbox diehards.
James built his first PC when he was 13 and has never looked back. He can be found on Windows Central, usually in the corner where all the 3D printers are, or huddled around the Xbox playing the latest games.