Best gear for watching the 2017 total solar eclipse
On August 21, the moon will completely cover the sun for 2.5 minutes. If you're planning on watching the total solar eclipse, you'll want to bring a couple of things with you.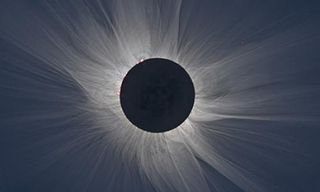 2017 marks the first time in nearly 40 years that North America has seen a total solar eclipse. It's also the first time in nearly 100 years that a total solar eclipse will be seen from the East Coast of the U.S. to the West Coast. It's kind of a big deal. Hopefully, if you're somewhere near the Path of Totality, you've got plans for making a day trip to a wide-open field for the 2 minutes and 40 seconds of total solar eclipse. Here's a list of the gear you'll want for viewing the eclipse, plus essentials to have with you on the trip.
The best gear for viewing the total solar eclipse
Why you can trust Windows Central Our expert reviewers spend hours testing and comparing products and services so you can choose the best for you. Find out more about how we test.
It's very important that you only use ISO-certified 12312-2-compliant gear when looking directly at the sun. This can't be stressed enough. Do not use standard sunglasses and do not purchase cheap eclipse viewing glasses that are not certified. NASA provides a list of certified manufacturers of eclipse viewing gear. Here's the certified gear we think will be the best for viewing the eclipse this year.
American Paper Optics eclipse viewing glasses
My personal favorite eclipse viewing glasses come from American Paper Optics. I've got a five-pack of the astronaut-themed glasses. The company makes dozens of different themes (including Bill Nye), but the most important part is that they are ISO-certified. On Amazon, these glasses range in price from about $4 to about $6 each, but the more you buy, the better the deal is. Remember, only get the ISO-certified glasses.
Celestron ISO-Certified 2X power viewers
If you'd like a slightly closer look at the solar eclipse, these $10 power viewers are perfect. They zoom in by 2x magnification, enough to catch a glimpse at sunspots. They're made from sturdy cardboard and fold up so you can slip them into your pocket. The lens film is made by American Paper Optics, and is certified to protect your eyes from the sun, even when you're looking at it magnified.
Meade EclipseView 60mm f/13 AZ Achro Refractor Telescope
If you're hoping to get a really close look at the sun during the solar eclipse (or any time, really), this refractor telescope is specially designed for viewing the fiery ball of light in the sky. The eyepiece is top-down and features a red dot finder and sun finder scope so you can line up the view without having to look directly at the sun. This particular eclipse viewing telescope is particularly cool because you can remove the white-light solar filter and use it for star-gazing as well. Meade is one of NASA's recommended certified manufacturers of eclipse viewing gear. As far as hobby telescopes go, it's relatively inexpensive at only $106.
DayStar add-on solar filters for camera and telescope lenses
If you've already got a standard astronomy telescope or a DSLR camera, you don't have to spend a lot of extra money on a special eclipse viewing version. Instead, you can get a filter. DayStar is a NASA-recommended company that makes a variety of lens filters for different sizes. If you're only planning on using a sun-viewing filter on August 21, you can get an inexpensive cardboard one for about $25. If you prefer a more sturdy filter for long-term use, grab a polymer one for about $50 or an aluminum one for about $60. No matter which level of use you get, make sure it fits the lens you plan to use.
AmazonBasics 50-Inch Lightweight Tripod
If you're planning on taking pictures or video of the solar eclipse, do yourself a favor and make sure you have a tripod. Whether you're photographing with your phone or getting video with a GoPro, a tripod will guarantee a steady hand so you don't accidentally jitter while capturing the event. It will also make it easier for you to get pictures of things going on around you with one device while keeping another device perfectly lined up for the eclipse shoot.
We've selected this inexpensive lightweight tripod as a recommendation for anyone that isn't heavily invested in photography, but want a tripod for the eclipse event. If you're looking to get into serious photography, you might want something a little sturdier, but for a one-time shot, this is the perfect fit, and only about $14.
If you're planning on using your phone to take pictures, you can grab a universal phone mount adapter to go with it.
Other essential gear for your trip to the total solar eclipse site
Battery charger
Just like you'd bring a portable battery charger with you on a road trip or day out, it's smart to have one on your trip to the eclipse event. You wouldn't want to be without juice just as the total solar eclipse hits, would you? Most location within the Path of Totality are going to be super crowded, so you can't assume you can just run back home for a charge up.
Sunscreen
Don't assume that, because it's not totally bright outside, that you won't get a sunburn while standing around under the sun. The Skin Cancer Foundation recommends a broad spectrum UVA/UVB sunscreen with an SPF of 30 or higher. Make sure you reapply every two hour.
Water
Water is our source of life. We can go weeks without food, but might die from dehydration without water for only three days. Make sure you bring plenty of water on your trip to the total solar eclipse event. I don't mean one bottle of water to last you all day, either. Crowds within the Path of Totality are going to be huge, and a quick trip to the corner store for more water will probably be impossible. Bring a lot of water for you and your family to make sure you're properly hydrated for the day.
Protective sun wear
Sunscreen is great for keeping your skin from burning, but protective sun wear is even better. Grab a hat, a pair of UV-blocking sun glasses, an umbrella, and any other clothing or accessories you can think of to shade you under the hot sun.
Totality: The Great American Eclipses of 2017 and 2024
Brush up on your knowledge of eclipses with this educational book by Mark Littmann and Fred Espenak. It includes diagrams for showing how to view and photograph the eclipse, historical stories about total eclipses and what people thought of them in the ancient past, and information about the next total solar eclipse, coming in 2024. If you grab this book early, you'll be able to show off your smarts at the eclipse after party. It's only about $24 for the hardcover version or $13 on Kindle.
What are you bringing to the total solar eclipse party?
Are you planning on taking a trip to somewhere within the Path of Totality? Where are you headed? Have you viewed a total solar eclipse before? What did you bring with you?
Get the Windows Central Newsletter
All the latest news, reviews, and guides for Windows and Xbox diehards.