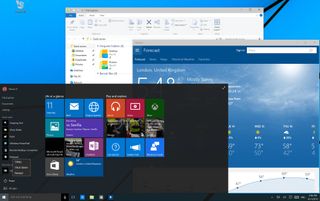 A lot can happen in a week. Seven days might not seem like much, but it can be an eternity in the tech news cycle.
Between Windows news, hardware and software developments and Microsoft's fast-paced movements throughout the technology landscape, it's never easy to keep your hand on the pulse of technology. Not to mention everything that's going on right here at Windows Central!
Every week we're going to compile the biggest stories into one post, so you never fall behind – In Case You Missed It (ICYMI).
Windows
Microsoft will reveal more details on 'Project Spartan' during web summit on May 5-6
Windows 10 gets previewed on small tablets in early leaked screenshots
Microsoft issues cumulative security update to Internet Explorer in Windows 10 build 10049
The leaked Windows 10 10056 build can't update to the new 10061 internal build
Microsoft wants feedback on Windows 10 virtual desktop options
Xbox Video for Windows 8.1 updated with improved battery life
Microsoft changing Windows Phone Recovery Tool after Windows 10 preview issues
Microsoft
Small firmware update starts rolling out to the Microsoft Band
All the Microsoft Band help, tips and tricks you'll ever need
Renewed: Yahoo gets more flexibility in their revised Bing search deal with Microsoft
Microsoft confirms departure of Xbox European leader Phil Harrison
OneNote now lets you clip from Bing Image Search
Extra and Miscellaneous
New Apple MacBook reviewed, is it really the notebook reinvented?
Nokia agrees to acquire Alcatel-Lucent for $16.6 billion
Join the Microsoft Band discussion in the Windows Central forums!
Google to support Chrome on Windows XP until the end of 2015
The Best Laptops
Share your thoughts on this past week of news! And we'll be back again next week to do it all over again.
Get the Windows Central Newsletter
All the latest news, reviews, and guides for Windows and Xbox diehards.