ICYMI: Surface power issues get fixed, MixRadio's demise, and the possible return of Mix View exploding tiles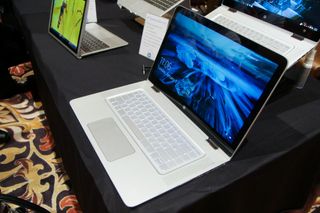 A lot can happen in a week. Seven days might not seem like much, but it can be an eternity in the tech news cycle.
Between Windows news, hardware and software developments and Microsoft's fast movements throughout the technology landscape, it's never easy to keep your hand on the pulse of technology. Not to mention everything that's going on right here at Windows Central!
Every week we're going to compile the biggest stories into one post, so you never fall behind – In Case You Missed It (ICYMI).
Windows
The United States Department of Defense is upping their employees' technology, upgrading over 4 million of their PCs to Windows 10. It may or may not have something to do with the recent announcement that Microsoft's Surface tablets and Surface Book are now D.o.D, but either way, this massive undertaking is expected to be completed in about a year.
Fast Ring Insiders got to download Windows 10 PC preview build 14267 this week. The update includes better music searches with Cortana, various additions, and improvements to the Edge browser, and more.
Build 14267 also fixed the WSClient.dll login error and got front-facing cameras working on PCs with Intel RealSense cameras. We've got the full scoop on the new build here.
Despite being filed back in 2014, Microsoft's patent request for "Mix View" exploding Live Tiles was just published by the United States Patent and Trademark Office this week. Originally developed by for the since-canceled McLaren smartphone, the exploding tile idea could be getting a second chance down the road with Windows 10.
Other notable items:
The best Windows 10 tablets
Microsoft
Although there hasn't been any official word of it shipping, Microsoft's Surface Hub is starting to make some public appearances. The giant touchscreen device cropped up on a local news broadcast in Seattle and showed off its horsepower during Ferrari's 2016 Formula 1 press conference.
A new and improved version of Outlook.com started making its way out into the world this week. The revamped site, now based on Microsoft's Office 365 service, offers some new features, like improved calendar and address book, better Skype integration, and the ability to edit documents and reply to email at the same time.
Microsoft is also testing a premium version of Outlook.com. Details are scarce at the moment, but one thing we do know is that a premium plan would let users create email addresses using custom domain names.
Surface Book and Surface Pro 4 users have reason to rejoice. Microsoft finally provided a fix for the power issues that have plagued the devices since their release.
The Microsoft Band 2 got an update as well. The patch adds a new Tournament Mode for golf, guided workout improvements, and the ability to share a snapshot of your workout with friends.
And everything is awesome about this homebrew mod that Lego-ized a Surface Pro 3, complete with attachable accessories and brick-built Windows logo.
Other notable items:
Xbox One Preview Program still 'TBD' on accepting more testers
You'll be able to stream the 2016 MLB season at 60FPS on the Xbox One and Xbox 360
Xbox Live Arcade's creator wants Microsoft to bring it back for the Xbox One
Microsoft will end support for Skype Managed Accounts on March 29
Microsoft's updated Wireless Display Adapter is faster, smaller, and just $50
Microsoft uses TED conference to show off new HoloLens demos, including real-time chat
Miscellaneous
These days, mobile carriers are doing just about anything to get you to stay on or switch to their networks. AT&T announced that for a limited time, they will pay up to $650 per line for customers who switch.
Verizon, in the meantime, is offering 2GB of free data if you upgrade on their XL or XXL data plans.
Along with releasing their 2015 results, PC maker ASUS also revealed some of their upcoming plans for 2016, which include a Surface-inspired 2-in-1. The device looks eerily similar, right down to the fold-out kickstand and magnetic keyboard.
For the time being, rumors of Toshiba discontinuing its PC production appear to be inaccurate. The company has decided not to sell their manufacturing plant in Hangzhou, China and will continue to make their own hardware. However, Toshiba is still open to the proposed idea of joining forces with Fujitsu and VAIO in the future.
After being passed around from owner to owner, MixRadio is officially dead. LINE, current owner, and maker of the messenger service of the same name, quietly announced the decision in a late-night press release. The company "has determined that future growth would be difficult to ensure and decided to discontinue the MixRadio music streaming service."
And finally, Mobile World Congress 2016 is right about to begin. The Windows Central team, along with friends from our sister sites will be there to cover the action. Until then, here's a little preview and thoughts on what to expect.
Other notable items:
Oculus Rift-ready PC bundles now available for pre-order, shipping April 23
The team behind the Eve T1 tablet is 'crowd-developing' their new Windows 10 device
Sega is giving away a bundle of games for free on Steam
U.S. Minecraft fans can get a monthly Mine Chest worth of goodies for $30 a month
Share your thoughts on this past week of news! And we'll be back again next week to do it all over again.
Get the Windows Central Newsletter
All the latest news, reviews, and guides for Windows and Xbox diehards.