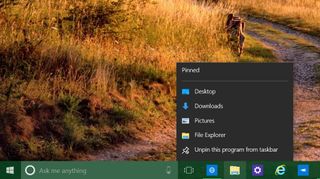 A lot can happen in a week. Seven days might not seem like much, but it can be an eternity in the tech news cycle. Between Windows news, hardware and software developments and Microsoft's fast-paced movements throughout the technology landscape, it's never easy to keep your hand on the pulse of technology. Not to mention everything that's going on right here at Windows Central!
Every week we're going to compile the biggest stories into one post, so you never fall behind – In Case You Missed It (ICYMI).
Windows
We might as well start with the newest stuff first. A new build of Windows 10 Insider Preview just dropped unexpectedly for Fast ring members. Build 10130 brings with it changes to the Start menu, Desktop, Cortana, and general aesthetics, as well as some changes to Microsoft Edge.
Like all of the Preview builds, 10130 comes with its share of fixes and bugs. However, we expect to see more and more stable builds leading up to the Windows 10 official launch, which will reportedly come as soon as July. We put together a list of everything you need to know.
As Microsoft aims to bring many of their services to other platforms, we got a detailed look at how Windows 10 will work with Android and iPhones.
They have also promised to crack down on phony apps in the Windows and Windows Phone stores.
In preparation of its launch, Microsoft has announced an official anime mascot to represent Windows 10 in Japan. In June, the company will hold a campaign to give the yet unnamed teen from the future a proper moniker.
Other notable items:
Microsoft
Another week, another rumor of Microsoft trying to buy another company. This time, the company in question was BlackBerry. However, thanks to our good friends over at Crackberry, we learned that these rumblings were nothing more than "market gossip."
Redmond did, however, team up with Duke University. The Microsoft Research division is working with the Duke to see if they can lower the bandwidth requirements of cloud-based gaming. It's certainly not the world's most pressing problem, but an interesting topic nonetheless.
A sparsely-detailed report seemed to confirmed the obvious, that Microsoft is planning a follow-up to their Microsoft Band. The Microsoft Band 2 is allegedly in the pipeline for later this year.
And in a new video, Microsoft's Joe Belfiore confirmed that Cortana is indeed destined for iPhone, iPad and Android. Our favorite assistant looks like she will appear as an app on the other platforms, but offer up much of the same functionality that she does on Windows Phone. Our own Daniel Rubino gave us some food for thought on Why putting Cortana everywhere is good thing for Microsoft and Windows Phone.
Other notable items:
Volvo will add Cortana voice control support to its Windows Phone app in June
Miscellaneous
Lenovo had a big news week thanks to their inaugural Tech World conference. There we saw some of their new laptops, including the entry-level Ideapad 100 and the media lovers' Z41 and Z51 Windows laptops.
We also got a first look at Lenovo's new ThinkPad 10 tablet and the Lenovo Cast, a new streaming gadget that comes in at under fifty bucks.
But Samsung may have had the most original idea for a device. They filed a patent for for a dual-OS device that starts as an Android smartphone, but quickly converts into a Windows PC when connected to a dock.
Life may have gotten slightly easier for China-bound travelers from the UK. EE became the first British cellular carrier to offer 4G LTE roaming in mainland China.
Jawbone filed suit against fitness firm Fitbit for allegedly poaching employees who had access to confidential information.
And lastly, for all of you who be in the bay area, getgeeked is coming to San Francisco on June 11, and Windows Central is a partner!
Other notable items:
Share your thoughts on this past week of news! And we'll be back again next week to do it all over again.
Get the Windows Central Newsletter
All the latest news, reviews, and guides for Windows and Xbox diehards.
I'm on 10122 but the update is stuck at 0% for an hour!

That first para of this article :(

First iteration of cortana is born.... In anime for JDM nonetheless!