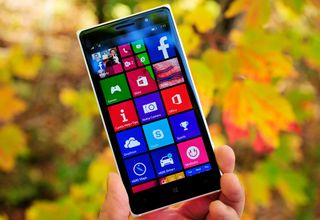 A lot can happen in a week. New apps join the Windows Phone Store or Windows Store. Your favorite apps can get a big update with a new look or new features. Device rumors come and go. Seven days might not seem like much, but it can be an eternity in the tech news cycle. Every week we're going to compile the biggest stories into one post, so you never fall behind – In Case You Missed It (ICYMI).
Windows Phone
Microsoft + Windows
Microsoft announces BUILD 2015 for April 29-May 1, kicks off new Ignite enterprise conference [Read]
Satya Nadella pledges to make Microsoft a better and more diverse place to work [Read]
Joe Belfiore: Over one million Windows Insiders have signed up to test Windows 10 [Read]
Microsoft launches Bing Elections for predicting results of US mid-term vote [Read]
New update to Windows App Studio introduces sideloading, new languages and more! [Read]
Apps
Games
Halo: Spartan Strike coming December 2014 to Windows, Windows Phone, and Steam [Read]
Here is your first look at Halo: Spartan Strike [Watch]
Xbox
October Xbox One system update rolling out: features improved Snap mode, MKV support and more! [Read]
Microsoft shows off new leaderboard features for Halo: The Master Chief Collection [Watch]
Xbox One Preview participants can now earn points for completing quests with My Stats [Read]
Halo: The Master Chief Collection now available for pre-purchase on Xbox One [Read]
Xbox One is the first non-smartphone device to get an official Vine app [Read]
Plants vs. Zombies: Garden Warfare joins the EA Access vault on Xbox One [Read]
HBO Go app for Xbox One nearing completion, currently in testing [Read]
Misc.
Weekly photo contest: Textures [Enter]
Review: Microsoft Screen Sharing for Lumia Phones HD-10 [Watch]
Take the State of the Mobile Nations phones survey for a chance at $600 for a new phone! [Survey]
Switching? Here is how to transfer your Gmail Contacts to Outlook.com [Switch]
Mobile Nations Community Update [Read]
ICYMI Mailing list
Subscribe to my newsletter to get the above content and more delivered to your inbox. I'll share the above content with you, plus share a few extra links to cool stories and products from around the web. You can even submit links to your blog post or apps that you'd like to be shared with the community. Just send me a tweet (@samsabri) with the URL to your story or app and include the hashtag #ICYMI.
Share your thoughts on this past week of Windows Phone, Windows, Xbox and Microsoft news!
Windows Central Newsletter
Get the best of Windows Central in in your inbox, every day!
"a lot can happen in a week"
What a joke. Nothing happens on this platform.
No phones from major OEMs.
Nothing.... Nothing...

keep calm and wait for Halo and Ages of empire

I thought the wait was over...

Still waiting for Lumia 1525 .....

Microsoft is taking the stratergy of one windows next year. i dont think we will get to see a phablet soon. wait for windows 10.

Also, it won't be named 1525. I see a lot of people saying that they're waiting for a '1525', that's never coming. The 20 series phones are finished. The next phablet may be called 1530, 1540 or something completely different, but certainly not 1525. Sorry about the mini rant, but the 1525 myth annoys me a little. :D

I think you are right that the 20 series is done. If the 830 and the 930 came out, they might call it the 1530!! :D

This whole year has been yawn-worthy.

Waiting for Microsoft to get rid of Nokia brand on their phones.

Why?
They're the first reason for me to go for WP, not MS or Windows.

Skype Qik doesn't work for me. Tried to send a message to my girlfriend but she never receives anythink. Thats a shame for this beautiful app.

Go back to snapchat. This app is crude but packs a lot of potential.

I just found out that it only works between Windows Phone and iPhone via Wi-Fi. Thats a bummer. Waiting for a update.

Love these articles. Provides a nice weekly recap

Also, ICYMI, Microsoft passes Google's market cap and is now the world's 3rd biggest company on the stock market.

this was all due to windows 8 failure. windows 10 will bring them up forever.

Do we have to purchase #7 workout to unlock all the exercises?

No. You have to exercise more to unlock all exercises. No really. It works on achievements I think. So basically you have to exercise to exercise.
Try unlocking it by tapping on a workout then tap continue. The number of coins you have is on the top right corner.

Thanks, downloaded the app and tried the full body circuit today. Took the hell outta me. Great. App.

I'm thinking about switching to Android.. Sorry guys...I love Windows phone though...

We know...
I take it that the app gap pushed you, or the shortage of Google apps? Either way WP doors are always open to come back...

No, I can live without the Google apps and the app gap doesn't affect me.. It's just that I want to try out Android on the nexus 5 and if things don't turn out right I will switch back.

I think you'll switch back soon enough, you'll miss how lovely it is. We'll see you soon!

Don't worry I will still have a Windows phone because I love it :)

Meanwhile, at Dallas Fort Worth international airport....
http://tinypic.com/m/iekm55/1

Damn they always have stupid marketing strategies which actually work...
And MS on the other hand...

How are they stupid marketing strategies? This is terrific advertising!! This is how you get peoples attention... Can you believe that that advertising space has had nothing but Note ads since the first note? And these are all around the airport.. The Note, GS, and Gear ads are everywhere, and they are permanent....
...............
MS hasn't yet done this level of marketing for WP... Marketing is WP's biggest issue and the reason why WP is at 5% market share.

I will install Lumia 730's front facing camera to my 920

For people in Europe, the new Lumia 830 is available sim unlocked for 317 Euros. https://m.bol.com/nl/p/nokia-lumia-830-zwart/9200000032547003/?tpsQuery=...

Im waiting for denim all other things aint that interesting......

Well a lot happening yes, wait for windows 10 I think, new phones should be held off till then as I read the 735 & 830 are the last of 8.1

Wanted to change my phone from nokia 920 to lumia 930 as i am windows phone user for a long time, but changed my mind and will go for Samsung Alpha, main reason is VoIP dialer is not working in windows phones therefore i have to carry one android phone along with me to make VoIP calls, as in android and iOS so many good voice VoIP dialers are available (macdailer, iphonedailer, etc), in windows phone only one working dialer (itel) is available and quality is shit. In middle east (gulf) no phone will move(sell) if cannot make VoIP calls

The first thing people in UAE, ask can i make net to phone calls with this mobile before buying a phone answer Android, Blackberry and ioS = YES, WP 8.1 = NO
Windows Central Newsletter
Thank you for signing up to Windows Central. You will receive a verification email shortly.
There was a problem. Please refresh the page and try again.