ICYMI: September 20, 2014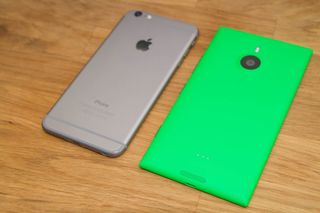 A lot can happen in a week. New apps join the Windows Phone Store or Windows Store. Your favorite apps can get a big update with a new look or new features. Device rumors come and go. Seven days might not seem like much, but it can be an eternity in the tech news cycle. Every week we're going to compile the biggest stories into one post, so you never fall behind – In Case You Missed It (ICYMI).
Windows Phone
Microsoft + Windows
Apps
Games
Xbox
Misc.
ICYMI Mailing list
Subscribe to my newsletter to get the above content and more delivered to your inbox. I'll share the above content with you, plus share a few extra links to cool stories and products from around the web. You can even submit links to your blog post or apps that you'd like to be shared with the community. Just send me a tweet (@samsabri) with the URL to your story or app and include the hashtag #ICYMI.
Share your thoughts on this past week of Windows Phone, Windows, Xbox and Microsoft news!
Windows Central Newsletter
Get the best of Windows Central in in your inbox, every day!
Didn't we do this already?

No. So your question looks weird.

> Ask Cortana. > Put it on Bing. > Be creative. ICYMI: In case you missed it!

Or just read the article.

I've seen this ICYMI threads alot, yet this one is the first I ever opened. What ICYMI stand for? :)

I hate Apple but the iPhone crushes the 1520 and I own a 1520 as my only driver. I'm leaving for Android today because I can't deal with not even having a half decent facebook app let alone the other million missing apps in the store. I still can't believe Microsoft can't even fix the most downloaded app of all time yet they expect this platform to succeed. Oh and I snoozed 5 reminders while writing this because Microsoft doesn't want to give me a 30 minute snooze option because they only want to offer a 5 minute, 10 minute, or 1 hour snooze options SMH. I really wanted this to work but it's not you its......wait it's you! Edit: And while listening to my music just now a recorded voicemail was played in the mix as a random song lol. This OS is a joke lol

Well, I guess the platform isn't for you :(. Farewell, and do enjoy your new journey into android. *waves*

Make sure you go for good Android devices or you'll end up again like this :) just an advice.

How exactly does the iPhone crush the 1520?
You're leaving WP because... there's no 30 minute snooze option, and facebook isnt perfect (works fine for me).
I have a feeling you won't be perfectly happy with any OS.

In the words of Private Eye: Exclusive to all publications...

Lol, leave WP BC of a glitchy fb app for Android-a glitchy OS. BRILLIANT!

Btw, FB beta is 5 stars for me

You are probably a troll but just in case let me entertain your complains for a second. Iphone crushes the lumia 1520 ... dumbest thing I have heard in a while. The 1520 rapes the iphone in pretty much every conceivable way : Camera wise, screen wise, battery wise, looks wise, it has glance screen, double tap to wake, micro sd card slot, etc etc. I could go on for a while. There is a 30 min snooze option you noob, it came with gdr 2. You can choose between 5, 10, 20 30 and one hour snooze times. If you are too much of an idiot to install the developer preview its your own fault. That recorded voicemail playing as a song can only mean that you put it in the wrong place, namely the music folder, so again you are to blame. So yeah, nice try but go troll somewhere else.

Lol it is almost as if he insulted you personally

He insulted my 1520, close enough lol

How come if someone has an opinion different than yours he's a troll? I DON'T agree with the guy but WTF?!, everyone is entitled to their opinions. I love my 1020 but for me, for example, the syncing music experience in WP is lame...and i also have voice notes in my WP library and i didn't "put them in the wrong place", they just synced that way when i decided to use my iTunes library. I have a lot of problems with my Lumia but even with that i'm still keeping it 'cause i like it way better than i liked my iPhone, but i'm not even close to be completely satisfied with the experience, and Microsoft and the OEMs need us to give them our feedback in order to improve! not just being sheeps and say is perfect because we says so and has to be perfect for everyone else...

There is nothing wrong with having a different opinion, and I know what wp is far from perfect. However some of the things that he said are either blatant lies or ignorance about current updates. That is why I said that he was probably (emphasis on the probably) a troll. I had never heard of voice notes syncing to the wrong place when using itunes, guess you learn something new everyday.

Lols. There's another guy who said he's leaving WP because the Instagram is still in Beta. I think you are the same guy who says he's leaving WP because of blah blah blah. And I have seen this story so many times. Could you please use another reason that won't make you look like stupid?

I left my 920 and I got the iPhone 6. I love it! :D

Just wait for a 64-bit Windows Phone :]

I hope win9 will be free for win8 users

I almost bought the HTC One out right today... I was actually putting in my debit card info before changing my mind... I just couldn't do it.
It's just so big, I can't trust HTC's support and the camera is less than impressive (which was the killer).
I want a WP with it all!!! Is that too much to ask?

No its not, too bad you dont like big phone because the 1520 is pretty much perfect. I also never imagined myself with such a big device since I have small hands, but its actually very, very worth it.

I loved it at first but the big size and sharp corners are starting to get irritating after about 6 months with it.

I think you should go with the Lumia 930. Nokia Care is very good, at least in my place. The camera is awesome and yeah, the size, you'll get used to it. I thought I wouldn't be able to handle 5" phone. But it feels comfortable now in my hand.

Off-topic: Why am I getting those "better than Facebook... -CENSORED-" ads? Anyone who has them will know what I mean

http://www.wpcentral.com/commenting-guidelines

That's a bit harsh, but I'll delete this comment for you...

Clash of clans pleaaaaase! :)

https://www.change.org/p/making-supercell-clash-of-clans-for-wp8-make-th... http://forum.supercell.net/showthread.php/16693-Clash-of-Clans-for-Windo...

Your turn... I've hit many more...

When will NFC pay come to windows phone?

apple is slowly dying.. Windows phone will finally get the recognition it needs...

4 mil pre orders for iPhone6 in 24 hrs...
You might wanna rethink that

Did they announce the winner for the previous WPC with black n white?

ICYMI somehow Cyan is still not available for DP. Just wanted to make sure that wasn't glossed over.

The OP is absolutely correct. The Facebook app on WP is horrendous. The most popular app in the world and doesn't even get kept up to speed on WP. It's years behind iOS and Android. Posted via the Windows Phone Central App for Android

@TJWINS HOPE YA HAVE FUN WITH ANDROID

I sold my 1520 for a 6+ without seeing this comparison at first. I'm happy to see the 6+ is pretty close in size as I got very accustomed to the size of the 1520 and all smaller phones feel like keychains. I really liked WP. I started out with the 920 after having owned all the iPhones up 'til the 5 (The lengthening of the 4S to create the 5 made me laugh and leave lol). IThere are many things I like about Windows Phone and I will switch back in a heart beat if I ever become disenchanted with iOS and iPhone again. The deciding factor really though was Apple Watch. I really, really want a smart watch and Apple Watch so far seems to be the most cohesive. I'd love to see Microsoft make a Lumia Watch in the not too distant future.

Thank You Sam. You and WPC are the reason that I decided today to buy my mom a windowsphone to get in touch with me over hundred of kilometers...

Bought my mum a windows phone today, couldn't have been happier... She liked it too :)

The major drawbacks for me in WP are unreliable communications apps. Viber,Skype,myChat etc are totally unreliable. Viber does not ring most of time. Skype shows online status but does not ring and messages are to much delayed
Windows Central Newsletter
Thank you for signing up to Windows Central. You will receive a verification email shortly.
There was a problem. Please refresh the page and try again.