Windows Mobile Weekly Digest: The challenges of Continuum, Facebook's makeover, and a Game Troopers twofer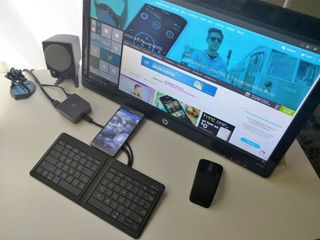 There's a lot going on in the world of Windows Phone. So much, in fact, that it is sometimes tough to catch every important story.
Device rumors come and go. New apps join the Windows Phone Store, and your favorite app can get a big update with a new look or new features.
Therefore, every week we will compile a list of the Windows Phone news that you just shouldn't miss. Welcome to the "Windows Phone Weekly Digest."
Windows Mobile
The Windows Insider app for Windows 10 Mobile received a mandatory update this week. The patch now lets you opt of receiving Insider builds and get back into production mode without having to hard reset your phone. That also opens the door for Lumia 950 and 950 XL users who are in the Insider Program to receive firmware updates, even when they've had trouble in the past.
Many Windows 10 Mobile users reported issues with app updating. The problem was intermittent and manifested itself by not reporting that some app updates were available.
Though the Continuum feature in Windows 10 Mobile may appear smooth and seamless to the average user now, but Keri Moran, the Principal Program Manager Lead for Continuum said that the team behind Continuum had to work through some serious challenges. Moran shed some light on the history and process behind Continuum on Microsoft's Windows blog.
On February 1, Microsoft will officially announce the Lumia 650. But don't expect a huge party for the low-end phone. Multiple sources have confirmed that the Lumia 650, along with its specs and pricing, will be unveiled on Microsoft's blog.
Until then, if you want to learn more about their economy line of Lumias, you should check out our full review of the Lumia 550.
Other notable items:
The upcoming Pipo U8T Windows 10 Mobile tablet uses ARM-based Rockchip chip
Phone modder adds big Wi-Fi antenna and CPU fan inside Lumia 520, because why not?
Lumia 640 getting Windows 10 Mobile update on T-Mobile Poland
Lumia 630 removed from Vodafone Australia's Windows 10 Mobile update list
Bouygues Telecom and T-Mobile Netherlands reveal their Windows 10 Mobile update plans
Apps
inKin, the online social fitness-tracking service, announced this week that they are working on a Windows app. The service already supports many different fitness trackers, including the Microsoft Band so that app will be a welcome companion.
The Microsoft Call + SMS app for Windows 10 Mobile has been shut down. The newer Block and Filter app picks up the baton from there as its heir apparent.
Sendtiment will be retiring their Windows app at the end of the month. In a heartfelt statement, the company said that while the the app was well-received by the Windows community, they do not have the financial means to make the app as good as they want it to be.
ABC killed off their Watch ABC app for PC and smartphone as well. Neither an explanation, nor any word on the possibility of a Windows 10 app were given.
In positive app news, Facebook for Windows 10 Mobile received a hefty update that brings with it a new design and Continuum support.
6tin, the third-party Tinder app was completely rewritten to support Windows 10 PC and Mobile.
And with another year under our belts, our very own George Ponder looked back at his Best Windows Phone Apps and Games of 2015.
Other notable items:
Facebook Beta scores minor update
Skype for Windows 10 Mobile to add group video calling support soon
Remote Desktop Preview now supports Continuum on Windows 10 Mobile
Mail and Calendar gains archive reading mails, find text button and more for Insiders
Deezer begins closed testing of its upcoming Windows 10 music streaming app
Torrent downloader Torrex Pro on sale for just $0.10 for Windows 10 users
VLC developers are going to finish the Windows Phone app before starting on Windows 10
Games
Game Troopers is at it again with their latest title, Panzer Geekz for Windows Phone and Windows 10. The new Xbox Live title has you racing toy tanks downhill on a tabletop battlefield, crashing through obstacles and dodging pitfalls.
But Game Troopers is not taking a break just yet. They have already announced Tiki Taka Soccer for Windows 10 Mobile. The upcoming touchscreen soccer game will not only let you build a dream team of the world's best footballers, but it will also have you managing the organization by hiring trainers, accountants, and coaches as well.
Clash of Clans fans who are waiting for a Windows version shouldn't get their hopes up just yet. According to Ilkka Paananen, the CEO of Finnish development firm Supercell, there are still no plans to make that happen.
When asked, via Twitter, about the prospect of bringing the hugely popular game to Windows, Paananen simply replied, "no plans at the moment, unfortunately."
Other notable items:
Be sure to weigh in on this week's news in the comments section. See you next week!
Windows Central Newsletter
Get the best of Windows Central in your inbox, every day!
Im done with Microsoft phone. In my country (medan, indonesia) there isn't official service center here Since microsoft bought nokia manufacture. No Microsoft store, no nokia care center, no microsoft service center. What happen when i bought lumia 950xl if it's broken. Where i can fix it. ?

By the store you bought it from? Like in every other country where there isn't a Microsoft Store or Service Center.

Too expensive and take much time.

Thanks for your advice, but it make no sense. You say " by the store you bought it from ?" How they can fixing it, how they can replace the hardware components while there is no original spare parts seller here. Im very pain with broken lumia 520. This phone only belong to European country :'(

The repair center doesn't have to be located in your country. I live in Germany and when I wanted to get my Xbox fixed, I had to send it to Microsoft's repair center in the Czech Republic.

How long its take time ? Two weeks or 1 month ? Sorry if my English is bad.

At least Germany is on the mainland and the Czech Republic near. The Philippines are an island nation. Posted via the Windows Central App for Android on my Lumia 950 XL

Posted via the Windows Central App for Android on your Lumia 950 XL??

The Watch ABC app is a blow. How hard could I have been to just stream content? Hope it doesn't signal an end to Disney's other "Watch..." apps.

Whn Win10 phn update ll come

The new Facebook is very slow on W10M...

my Aunty Brianna just got a great Lexus IS F Sedan just by some parttime working online with a macbook…
►►►►►www.JobReview10.com

we don't care about your aunty and her lexus mexus

I can't find the inKin app in my store?????