Windows Phone Summary of the Week: April 9 - April 15 2012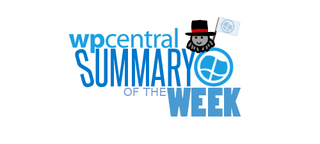 It has been an extremely busy week with Windows Phone so let's jump straight into it with episode 140 of the WPCentral Podcast. Dan and Jay are joined by George Ponder for an in-depth discussion about photography the Lumia 900 and TITAN II. We've kicked off our set of handy tutorials for new Windows Phone owners. You can find articles including a walkthrough of the Pictures Hub over at our tips section. Also, our forum also sports insightful discussions for new owners.
Should you have a few minutes of your time to spare, there are a number of developers who are in need of beta testers for their apps. The WPCentral forum is a perfect place for developers to recruit Windows Phone users who are up for becoming beta testers, so be sure to head on over and sign up to help the community and platform grow.
Facebook has purchased Instagram for $1 billion, which we're hoping will increase the likelihood of an official app being made available for Windows Phone since Microsoft owns some shares of the social giant. Speaking of big spenders, AT&T is reported to be looking to utilise $150 million in advertising the recently launched Lumia 900. Should you be caught in the confusion whether you should upgrade from Windows Mobile, do note that the Marketplace will be closing down on May 9th.
There has been a slight issue with the Lumia 900s that have launched in the U.S., specifically a bug is present that can shut off data connections on the handsets and render the device useless. Nokia quickly confirmed the issue and stated a fix was in development. The manufacturer is offering customers on both AT&T and Rogers $100 credit on their bill as an apology, and has subsequently released the fix days early.
AT&T has caught flak recently for announcing no plans to update handsets to 8107, which fixes the disappearing keyboard among other improvements. The carrier has since reaffirmed commitment to update Windows Phones by planning to bundle them together in batches. A pink AT&T Lumia 900 has been spotted in promotion material, possible release for Mother's Day? Nokia has released data which shows a slight loss made despite relatively strong sales for the Lumia 900. But a slight dip is a massive achievement for the company that switched OS focus a year ago.
China welcomed the Lumia 800c with open arms as illustrated in some shots taken of a launch queue. It's good to see strong support for the manufacturer still present in countries around the world, especially in such a massive market like China. In a sad downturn of events, the highly popular Chevron Labs, which enabled Windows Phone owners to unlock their handsets for a minimal fee, has closed permanently with a joint decision by the team and Microsoft. Those who have already purchased tokens receive a complimentary AppHub membership for one year.
Should you require proof of the buzz that Nokia is creating with their Lumia family of Windows Phones then how about the news of co-founder of Apple, Steve, Wozniak, waiting for his local AT&T store to open up to be able to purchase his own? Finally, we'll close with Samsung Taiwan stating they are waiting for Windows Phone 8 to pump out more advanced handsets.
We take a look at the must-have games you should download onto your newly purchased Windows Phone, which will keep you occupied on those long haul journeys. 3D Brick Breaker Revolution is this week's Xbox Live Deal of the Week and can be picked up for a steal. If you're a fan of the classics then you might want to keep your eye out for Sid Meier's Pirates that's currently plundering the Marketplace. Looking forward to next week we'll have Monster Island from Miniclip which will be a fully featured Live title.
Wordament is already set to become a Live title on Windows Phone, but it has now been listed prematurely as such on the web version of the Windows Phone Marketplace - take this as a sign of an imminent update. Chillingo has shown Windows Phone support with their first title set to be released - Feed Me Oil. Here's hoping we'll also get Cut The Rope at some point. Closing up our gaming coverage is the news of Trine's Hangman receiving an update and is now slightly cheaper than previously priced.
We've covered the must-have games for Windows Phone by our Paul Acevedo, but what about the top apps for your needs and requirements? George Ponder has you covered with his take on what everyone should install on their new Windows Phone. To spin off our ongoing tutorials is our helpful walkthrough on how to set up Facebook Chat on Windows Phone, which can leave many dumbfounded by what to do. And if you're a massive noob, you might want to check out Nokia's Highlights app should you own a Lumia.
Should you be experiencing issues with setting up your Twitter account on a Windows Phone client, it's because the social micro-blogging site has altered it's OAuth decompression method, which means if developers haven't updated their apps you could run into problems when attempting to sign in and connect. A Windows Phone 8 build has shown up in the social networking app "I'm a WP7!".
7digital, the popular music store, has released an official app to the Marketplace that enables those with accounts and purchased media to download and enjoy while on the go. Windows Phone Hacker, the brains behind Lock Screen Widgets, has released a Tweaks app that allows users to alter settings such as clock visibility and even to emulate Xbox Live Gold membership. Developers over at XDA have released a screenshot app for Windows Phone (requires the handset to be developer unlocked) which can beam the captures straight to a Windows machine.
We could possibly be seeing exclusive Executive Caddie apps in the Nokia Collection of OEM apps for Lumia handsets soon with a leaked photo of Lumia 900s running the app but sporting unique themes. We previously looked at BBC Podcast Lounge by Igneous Software, which is a suite that allows access to the corporation's catalogue of podcasts. The app has since been released to the Marketplace.
Our own RogueCode has released Pocket Meme onto the Marketplace, which is surely set to make those who enjoy such content happy bunnies indeed. The official eBay app for Windows Phone has been updated to now feature the ability for auctions to be created within the app. Users can now take photos with the phone, edit descriptions, choose payment options, and more. The popular Twitter client Carbon has been updated to sport landscape tweet composition and filters. Lastly Netflix, Torchbear and WhatsApp were all bumped to higher versions.
It has been a particularly busy week with hardware news. Kicking us off in this section is our review of the HTC TITAN, we also played around with the camera in low-light instances and captured some good quality shots. The Nokia Lumia 900 is still selling strongly on both AT&T (out of stock) and Rogers, and you can pick one up from Amazon for just $19.99 (cyan sold out). Here in the UK the device is available for pre-order at Carphone Warehouse, Phones 4U and Clove.
Unfortunately for the Lumia 900 the issues aren't simply just connectivity problems but battery life too, something its older brother the Lumia 800 has had to deal with. If you've purchased a 900, how's your battery holding up? Speaking of the Lumia 800, the device along with the 710 have a custom ROM available with interop unlock. The Finnish manufacturer has announced the Lumia 610 will be launching in Q3 this year with NFC support.
AT&T has a deal currently active for the Samsung Focus Flash. Should you purchase a new line on your account you will be eligible for a free Focus Flash Windows Phone. As a humorous twist, did you know the Focus S was originally called Haden? Lastly, Acer has been reported to be working on a Windows Phone 8 device with a full QWERTY slide-out keyboard.
Samsung has publicly announced they believe Nokia's "Blown away by Lumia" marketing campaign in India is 'unethical'. The campaign is a series of challenges, much like Smoked by Windows Phone, but instead uses Lumia handsets only. There have been some interesting results to say the least, with one challenger's girlfriend flipping out and bashing his losing Android device. What do you get when you hand a marketing budget to Russians working for Nokia? The Amazing Nokia Lift - the name says it all, you have to watch the videos.
With AT&T and Nokia pushing the Lumia 900 hard in the U.S. we take a quick look at in-store promotions for the device. To celebrate the release of both the Lumia 900 and TITAN II from HTC, Microsoft ran a number of 'Free-Time Machines' across the country with celebrities on hand to walk through passers by as to how Windows Phone is more efficient than the competition. Speaking of celebrities and promotion, Kourtney Kardashian took one on Fox & Friends and promoted it which was awfully kind of her.
A Spanish AT&T advertisement for the Lumia 900 features singer Ricardo Arjona, while the Finnish manufacturer focuses on customers with releasing surveys for feedback. Within the forms was a question specifically targeting the folders on the home screen idea / issue that has seen a number of mockups made by the community. Baris Eris has created his own dock for the Lumia 900 - out of Lego pieces. The Smoked by Windows Phone campaign has hit Malaysia and shows yet more folk being smoked by the big WP.
Moving quickly onto news for our trusty platform developers. Microsoft is running a promotion for U.S students and is offering a free Windows Phone should they develop just two apps and publish them to the Marketplace. As well as the U.S., the UK is also seeing a promotion offer from both the software giant and Nokia for developers who have unique and highly functional apps to be featured in campaigns. Wrapping our summary up is the news from Microsoft that they're working hard to rectify the issue with high volume of submissions causing delays to the process of approval.
Highlights
Gaming
Software
Hardware
Media
Developers
Rich Edmonds is Senior Editor of PC hardware at Windows Central, covering everything related to PC components and NAS. He's been involved in technology for more than a decade and knows a thing or two about the magic inside a PC chassis. You can follow him over on Twitter at @RichEdmonds.
My 900 battery is the best of any smartphone I've owned

I second that. My battery is still kickin, after a full day of pretty heavy use. Lots of texting and browsing the internet and market place. I even used Nokia drive a good amount today. This phone is amazing.
Windows Central Newsletter
Get the best of Windows Central in in your inbox, every day!
Thank you for signing up to Windows Central. You will receive a verification email shortly.
There was a problem. Please refresh the page and try again.