Windows Phone Summary of the Week: July 18-24, 2011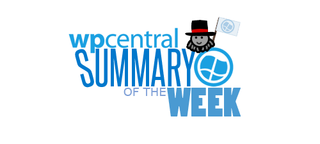 Welcome to your weekly round-up. The pre-Mobile Nations bulletin that's posted every Sunday by yours truly. Let's kick off with yet another WPCentral Podcast (episode 118), not to mention last week's Mobile Nations Monday brief accompanied by this week's episode. This week's interviewee was James Mundy (opens in new tab), developer of Travelnapp. Head on past the short break for the lowdown and gossip.
We broke light on the video of a Nokia "Sea Ray" prototype (opens in new tab) running Mango, which turned out to be pretty massive (we've accumulated over 500K views on the video). ChangeWave are back in the spotlight with another survey, this one shows that customers are more satisfied with Windows Phone (opens in new tab) than Android. Tired of searching through the Marketplace for that one app? Well, your annoyances will be long gone with upcoming AppTastic.
Folk in Australia have finally had the conversions of the prices in the Marketplace accurately altered to better reflect current rates (opens in new tab) while Microsoft Japan is busy launching a Windows Mango site (opens in new tab). Microsoft is also backing out of a Hulu purchase.
In-app purchases (IAP) have been said to not be making the release (opens in new tab) of Mango for developers to use in their apps. If you remember not-so-long-ago, we covered Beards & Beaks featuring DLC. Hopefully IAP will come sooner rather than later. While on a slight down note, we move to Nokia and their Q2 report which is negative as expected. On-the-other-hand Microsoft has reported a record level of full-year revenue (opens in new tab), and people say Steve Balmer is bad for the company?
Our gaming guru, Paul Acevedo, has posted a WPCentral contest (opens in new tab) where the prizes is a non-purchasable avatar prop - very nice! Squishing the bugs as always with titles, geoDefense save data bug fix is on the way. Sims 3 is the Xbox Live Deal of the Week, while Tentacles surfaces on the Marketplace searching for eyeballs. A new chapter has been added to Pandas vs. Ninjas.
Sally's Salon is headed for Xbox Live and is set to arrive next week with scissors and mousse in hand. The pandas aren't the only animals seeing updates, Infinite Flight now sports a Space Shuttle! An exclusive for Xbox Live and Windows Phone is Fight Game: Rivals (opens in new tab), due this fall. Words by Post now supports cross-platform multiplayer gameplay.
We unfortunately mistook sources for the release to manufacturers (RTM) status of Mango. On a brighter note, our George Ponder takes out his weather hat and brolly as he takes us all through the top weather apps on the platform. If you thought the news surrounding Australia halts with the conversion changes, think again as Microsoft has secretly started testing Zune support (opens in new tab) in the country.
Remember Swype? The software that enables the user to "swipe" instead of "tap" on keyboards could be heading to WP7 via Nokia (opens in new tab). for now, we have the Sliding Keyboard app, which was recently update to version 1.8. Weather Live was pulled from the Marketplace and we received word from the developer as to the reason. IM+ now sports a free version, further enraging those who spent the $9.99 when it was released.
Microsoft has been showing off Twitter integration in Mango as well as contact history and live notifications. A free version of Phonealytics (the highly rated Google analytics client) is now available, fully featured excluding live tile support. To fire through some more app updates; Official Foursquare app hits v2.3, Groupon reaches v1.3 and features live tile, Facebook is updated to v2.1 and finally Lazyworm Youtube is now v2.4, also bringing with it live tile goodness.
The U.S Army is testing WP7 (opens in new tab), Android and iOS handsets. They will end up with one solution, hopefully the Xbox Live integration wont distract them too much from the tasks at hand. Apple's patent war against Android OEMs (opens in new tab) (mainly poor HTC) could possibly make Windows Phone look like a more viable option? KDDI, Fujitsu-Toshiba and Microsoft Japan set July 27th for Mango event (opens in new tab)?
If you would have predicted this a while ago, we would have laughed. Nokia and Qualcomm have put aside differences and now the chipset manufacturer is powering "Sea Ray" (opens in new tab). Samsung Focus 1.4 update is finally here! George is back again with one of our newly acquired Venue Pro handsets to give his first impressions (opens in new tab). The Venue Pro is also subject to price reductions and shipping delays from Dell, could this mean Mango?
A number of device updates have been rolling out, unfortunately for some: T-Mobile's Venue Pro is delayed the due update until next week. We take a look at a Fujitsu handset (opens in new tab) running what looks to be Symbian and an OS X'd version of Windows 7 and a secret HTC Ruby handset, which looks to be an Android design. Finally, the LG Fantasy has been leaked (opens in new tab).
Some awesome Fruit Ninja transparent wallpapers (opens in new tab) have made an appearance to Windows Phone. Our Daniel Rubino takes a look at two fan concepts; what if WP7 had smaller tiles? and what if WP7 had folders? Porsche has implemented Microsoft Tag (opens in new tab) into their products, just a shame the prices are still a little out of our wage affordability. Microsoft's search engine, Bing, has received some tile treatment (opens in new tab), while IQ Agency celebrate twenty years of the world wide web with a quiz and some WP7 handset prizes (opens in new tab).
Developers! Yalla, who offer submission services to developers, is now featuring paid app support. Microsoft has reported that their advertising service beats Google's AdMob on WP7 with a 71% higher yeild (opens in new tab). ChevronWP7 Labs, which is set to continue home brew development, is looking to cost only $9 according to Chris Walsh on Twitter. A WP7 for Silverlight developers ebook has been crafted by András Velvárt, and is available to download for a mere $4.99.
How fast can you develop, submit and download your own WP7 app? How about 5 days? Jarno Peschier, .NET and general programming enthusiast, achieved this with his 3D Masters app (opens in new tab). The AppHub has been updated (opens in new tab) with Mango submissions looking to be just a month away. Finally, Ricky Tan has published an insightful article in adding multiplayer support using sockets (opens in new tab) in Mango.
Highlights
Gaming
Software
"Mango" Released to Manufacturers and in carrier testing? [Updated: Not yet]
Windows Phone Weather App Roundup
Microsoft testing Zune in Australia

(opens in new tab)

Swype coming to WP7 via Nokia?

(opens in new tab)

'Weather Live' has now been pulled from the Marketplace [Updated]
IM+ now sports a free version
Microsoft shows off Twitter integration in Mango
Mango Contact history and live notifications
Sliding Keyboard updated to v1.8
Free version of Phonealytics now available
Official Foursquare app hits v2.3, gets faster
Groupon v1.3 adds live tile
Facebook updated to 2.1
Lazyworm YouTube app updated 2.4, sports live tile
Hardware
Fun
Developers
Windows Central Newsletter
Get the best of Windows Central in your inbox, every day!
Rich Edmonds was formerly a Senior Editor of PC hardware at Windows Central, covering everything related to PC components and NAS. He's been involved in technology for more than a decade and knows a thing or two about the magic inside a PC chassis. You can follow him on Twitter at @RichEdmonds.