Windows Phone Summary of the Week: October 17 - 23, 2011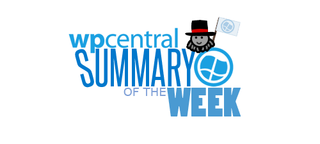 Another week, another summary. We've got episode 127 (opens in new tab) of the WPCentral podcast to begin with as well as Dave's Windows Phone forum highlights. Nokia World is in a couple of days and we'll be sure to attend. Hopefully Nokia reveals some exciting handsets. This is also the summary that covers Windows Phone turning one (opens in new tab) year old! For the summary and links, head on past the break.
Kicking off our summary of highlights is Microsoft and Brightpoint joining forces to push Windows Phone to Africa and the Middle East. HTC has displayed efforts in improving promotion and advertising for their Radar and Titan handsets, and the new Radar advert on British TV (opens in new tab) looks good. With Nokia World coming up, the company is heading through the tunnel of uncertainty (opens in new tab). It now has plans to alter the marketing strategy (opens in new tab) and bring the brand back to the youth of today. They're rumoured to be showing a "bunch" of handsets (opens in new tab) in the next few days, so fingers crossed one will suit your needs.
While we've continuously pointed at Android for copying aspects of the Metro UI, version 4.0 (Ice Cream Sandwich) raises the bar with a People App (opens in new tab). Yep, sounds familiar right? But that doesn't stop Google's User Experience Director for Android, Matias Duarte, from having a dig at Microsoft's OS (opens in new tab). Wired has published a great read of the "three screen" vision (opens in new tab) that the software giant has with Windows 8, Windows Phone and the Xbox. This isn't as exciting as the news of the WP team unleashing the Mango update for everyone, ahead of schedule.
Microsoft has teamed up with Klout, social network metric, to give away 500 handsets, while Orange remains skeptical and puts the platform's future in the hands of Nokia. It's not only HTc who has boosted advertising, we have witnessed the retailer Phones4U improving Windows Phone promotion materia (opens in new tab)l in stores. File this under a massive rumour that should be kept as a rumour due to being a huge rumour - MS Nerd has published a timeline for Microsoft for the next few years. The Marketplace experienced some issues with the review and rating (opens in new tab) system, but it appears to be fixed since posting.
Sprint is looking to kill their unlimited data plans, which is certain to upset a few customers. A screen capture utility has arrived in the homebrew community. Finally, Microsoft has signed a deal with Compal (opens in new tab) for patent licensing fees.
Onto gaming, we have a major Halo Waypoint revamp (opens in new tab) with the new ATLAS feature coming this fall. The recent Xbox Live drought we've been experiencing has ended with the release of Jet Car Stunts. Puzzle Quest 2 has gone on sale again, but is now this week's Xbox Live Deal of the Week. The Windows Phone UK blog recently published an article that detailed some upcoming Xbox Live features.
LazyTube version 3.0 is well under way, which is set to receive a major overhaul to improve performance. BBC News Mobile for Windows Phone has finally been updated to Mango and takes full advantage of live tiles. Rumour has it that the future Tango and Apollo updates are to bring new screen resolutions with the latter to sport 1280x720. Speaking of great apps, Phonealytics has been updated to Mango with flipping tiles and the ability to pin multiple websites to the home screen.
Skype is still on track to release an app later this year (opens in new tab), although we feel that the community is expecting true integration into the OS. Samsung has continuously patched the AllShare app and it's now time for the NoDo workaround that enabled Focus and Omnia 7 users to use DLNA to break. Square off has been updated with new online scores and ladder boards and for those who don't wish to spend money, a free version is now available. Last of the Mango updates for this week: Dictionary.com, ...I'm a WP7 and London Travel.
There's hope for Dell Venue Pro owners as it looks like the handset sports the Broadcom 4329 chipset, which is what's required for WiFi tethering. While Nokia is going all guns blazing at their conference in London this week coming, Italy is looking to receive a handset too (opens in new tab) going in line with Nokia's strategy to release their handsets to European countries to begin with. Onto Samsung, the Focus S, Focus Flash and Omnia W all get priced together (opens in new tab). As for HTC, they're too busy spending money on advertising with the HTC Radar (opens in new tab) and Titan (opens in new tab) getting full page adverts.
AT&T has tagged the Samsung Focus and LG Quantum as EOL (End of Life), which can only mean that the carrier is expecting new hardware. If you're looking for a deal, the Microsoft Store is offering a free Windows Phone with any $499 (opens in new tab) (or higher) purchase. The software giant is also looking at 4G LTE (opens in new tab) and see an opening with what was announced by Apple (iPhone 4S). The Samsung Focus 4G has been detailed with specification readouts (opens in new tab) and more. We take a look at what could well be the Nokia Sabre (opens in new tab).
Microsoft is looking at slashing manufacturing costs for OEMs and is set to work with only Qualcomm for the time being, they've also put the new Mango devices on the official Windows Phone website (opens in new tab). The iPhone 4S has had its camera quality compared to the HTC Titan, the results are interesting to say the least. Some photos have been spotted on Flikr that appear to have been taken by the Nokia Lumia 800 (opens in new tab). The quality looks to be as expected, superb.
Even female fans of the platform wish to show their love (opens in new tab) every now and then. We've got a rap which is worth checking out for the giggles. There is no shortage of awesome looking minimalistic wallpapers (opens in new tab) available for Windows Phone, but here and some more anyway. A Nokia NAVTEQ-Bing mapping car was spotted in Surrey, England. We've had two TV appearances with the HTC HD7S in NCIS: LA (opens in new tab) and the Samsung Focus shows up in Psych (opens in new tab). Microsoft is looking to throw some parties (opens in new tab) in the U.S. to show the new Windows Phones, who said the company didn't know how to boogie? Finally for the fun section, Microsoft Research has turned sci-fi into reality with HoloDesk (opens in new tab).
Bonjour developers, we have some news for you. Microsoft is offering developers the opportunity to receive free promotion and advertising (opens in new tab) for their apps. A Windows Phone camp has been announced for November 9th in Birmingham, Alabama, that will cover Silverlight, XNA and much more. China has received the ability to register with App Hub (opens in new tab), while India finally has access to the Marketplace. Microsoft is allowing developers to update pre-Mango apps (opens in new tab). Lastly, Ignition Studios has started a series of articles that will help indie developers promote apps through social media (opens in new tab).
Highlights
Gaming
Software
Hardware
Fun
Developers
Rich Edmonds is Senior Editor of PC hardware at Windows Central, covering everything related to PC components and NAS. He's been involved in technology for more than a decade and knows a thing or two about the magic inside a PC chassis. You can follow him over on Twitter at @RichEdmonds.
Windows Central Newsletter
Thank you for signing up to Windows Central. You will receive a verification email shortly.
There was a problem. Please refresh the page and try again.