Best 3D-printed models of November 2019
We showcase the fantastic models you make each month.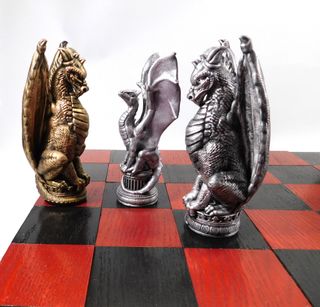 The 3D printing community is terrific. Not only are there people from every walk of life ready to help anyone get better at the hobby, but there are also talented designers churning out inspired models for us to print. One of my favorite things to do in my spare time is to look around the web and find some of the best models that people have printed and ask them how they managed such beautiful work.
I think this kind of talent needs showcasing, so each month I will be showing off some of the best prints I've seen from around the 'net. Each entry will have a link to the person who printed the model, and, where possible, the person who designed it and the printer they printed it on. Hopefully, these designs will inspire you to push yourself, and maybe seek these community members out.
Model of the month
Why you can trust Windows Central Our expert reviewers spend hours testing and comparing products and services so you can choose the best for you. Find out more about how we test.
This section is dedicated to the very best model that I have seen in the community for this month. The winner can revel in the knowledge that they are Windows Central's Model of the month!
Model by Louise Driggers
Dragon Chess printed by Louise Driggers
I have been following along with the progress of Louise's dragon chess board for a while now, and the whole set is finally ready to be showcased. Each different chess piece is a new design from Louise, and each piece is designed as a different type of dragon.
I think my personal favorite is the queen dragon. I have been a massive fan of Anne McCaffrey for years, and Louise designed the queen to look like Ramoth, the majestic golden dragon from the Dragonriders of Pern series, and that just makes me happy. All of the models print without support, too, making them easy to print on any printer, except the knight piece. The knight is a dragon/horse hybrid — much like the Longma of Chinese mythology — and he is shown rearing up on his hind legs. It really is a magnificent model.
Louise printed her models on the Elegoo Mars and the new SL1 from Prusa and painted them using Rub n Buff, one of my favorite model painting materials. You rub the waxy liquid onto the plastic then polished after it dries to give a weathered, almost tarnished, look to the chess pieces.
Reasonable resin
(opens in new tab)
Ubeatable on the value-quality scale.

The Elegoo Mars is a fantastic first 3D printer for anyone looking to get into resin printing. You can search, but you won't find anything that beats the value to quality ratio of this printer.
More fantastic models
There are so many great models out there we couldn't just stop at one. Let's celebrate some of the very best models and printing people around!
Model by Wekster
The child, printed by Tom Jackson
Source: Twitter/@filamentfrenzy
This month Filament Frenzy, a.k.a., Tom Jackson, has made one of the best prints of "The child" I have seen so far. By the way, you are going to be seeing variations of this little guy around a lot in the coming months. He's adorable, so you'll have to deal with it. Tom used his trusty Sidewinder X! to print this model, and the details always show through so well on it.
Using the fantastic Wizards Voodoo PLA from Fillamentum, (opens in new tab) Tom has produced an almost flawless print of Wekster's amazing model. These two guys have me in awe every week at the models they design and the models they print. I'm a big fan!
(opens in new tab)
Tom uses a lot of machines to make his prints, but the Sidewinder is a favorite. It gives amazing quality every time I see him use it.
Model by Fotis Mint
Faerie dragon, printed by Fotis Mint
Source: Twitter/@fotismint
Dragons seem to be a theme this month, with a gorgeous looking faerie dragon from the incredibly talented Fotis Mint. This dragon requires a fair amount of support, but the model itself is insanely detailed. The model lends itself to resin printing; in my opinion, all those little cracks and creases would look fabulous at 0.03mm layer height.
Fotis used the Zmorph3d for his print, though. I've not used the Zmorph before, but if these results are anything to go by, it may be worth taking a closer look. Fotis has done an excellent job designing, printing, and painting this model. Beginning to end, this model is superb.
(opens in new tab)
The ZMorph VX is designed to be "a mini-factory on your desktop" and it shows. The quality of the machine shines through at every angle, and the print quality is impressive
Model by Chris Frieze
The Child (Baby Yoda), printed by ArtMods_
The Mandalorian has become something of a phenomenon recently, and we have been seeing gorgeous models, both of Mando, and the child. This model designed by Inspyre3D and painted by ArtMods_ is one of the best versions of the child I have seen.
I love the video too. It really adds to the impact of the painting, and the drama of the model. This model is split into separate sections to make printing and painting it more manageable, and ArtMods_ used the Peopoly Phenom to print the model as layer free as possible.
(opens in new tab)
The Peopoly Phenom is a large scale SLA 3D printer that can print full-scale helmets at insane layer heights. If you can justify the cost, you want this in your life.
Model by Fernando Jerez
Articulated lifesize robot, printed by Fernando Jerez
Source: Twitter/@ferjerez3d
Where do you even start with this model? Firstly, every single thing in this lifesize model is 3D printed. All of the parts, including the attachments, used to connect it together. It's taken 25kg of filament to print it, and it's fully articulated, posable in loads of different ways.
It's the level of detail that makes this a fantastic print, though. The head is, of course, the size of a human head, but inside, some tiny people are driving the robot! It is so cool. I wouldn't even know where to start making something like this, so I'm always amazed that people can think of them, let alone make a physical copy of their idea.
(opens in new tab)
Creality makes some amazing printers, and the CR10s is one of them. The large build volume is perfect for cosplay and other large scale work.
Creator of the month
Instead of having a manufacturer of the month each month, we will try to highlight creators as a whole. So it may be a company that creates impressive printers or filament, or maybe it's a YouTube creator that inspires us. We will showcase the best right here.
Siraya Tech
Resin printing has become extremely popular in 2019, and with that popularity, manufacturers have come along to supply cheap materials for us to use. Some inexpensive resins are cheap because they are bad quality, but Siraya Tech bucks this trend and offers quality resin and a reasonable cost.
I've enjoyed using Siraya Tech Fast resin. It offers fantastic results at any layer height, and, as the name suggests, it allows you to print with lower exposure times, speeding up your printing process considerable. As you can see from the details on the image above, Siraya Tech resin is excellent at picking up small details.
The company is also an active member of the 3D printing community over on Twitter, so drop them a follow if you can.
Beautiful print quality
(opens in new tab)
Love the quality

Siraya Tech resins are fast becoming the go-to choice for the best results in resin printing. It's also very cheap for a liter.
Be a part of the action
This entire article is to showcase what is great about the 3D printing community, but I can't do it without your help. If you see terrific prints anywhere on the web, or you have made something magical yourself, drop a link in the comments below or tag either @windowscentral or @keridel on Twitter, and we will check them out.
I also think we need a Hashtag. #WCModelOfTheMonth might work, although that's a little wordy. Help me out in the comments.
Related reading
Windows Central Newsletter
Get the best of Windows Central in in your inbox, every day!
James built his first PC when he was 13 and has never looked back. He can be found on Windows Central, usually in the corner where all the 3D printers are, or huddled around the Xbox playing the latest games.
MyCVSHR is the official employee login portal of CVS Pharmacy and Healthcare. Each employee of the company must have to register in this login portal. https://myhr-cvs.website/
Windows Central Newsletter
Thank you for signing up to Windows Central. You will receive a verification email shortly.
There was a problem. Please refresh the page and try again.