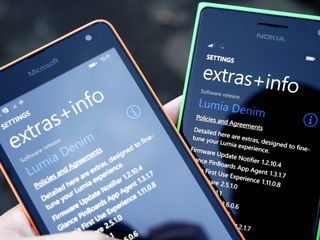 A lot can happen in a week. New apps join the Windows Phone Store or Windows Store. Your favorite apps can get a big update with a new look or new features. Device rumors come and go. Seven days might not seem like much, but it can be an eternity in the tech news cycle. Every week we're going to compile the biggest stories into one post, so you never fall behind – In Case You Missed It.
Windows Phone
Microsoft + Windows
Apps
Games
Xbox
Misc.
12 Days of Hidden Gems
ICYMI Mailing list
Subscribe to my newsletter to get the above content and more delivered to your inbox. I'll share the above content with you, plus share a few extra links to cool stories and products from around the web. You can even submit links to your blog post or apps that you'd like to be shared with the community. Just send me a tweet (@samsabri) with the URL to your story or app and include the hashtag #ICYMI.
Share your thoughts on this past week of Windows Phone, Windows, Xbox and Microsoft news!
What a busy week for Windows Phone, Windows, Xbox and Microsoft! On the Windows Phone front, I'm especially happy about new app/game releases and big updates for popular apps. Good way to end 2014!

Absolutely!! I am very much enjoying all these new apps and games. I feel that Windows Phone has filled its "app gap", what do you think?

Not pretty much,no....
Absolutely not!
I was gonna write down the apps missing but the list is toooo looong!

Lol yeh, there are sometimes I remember some apps I wish were here but I don't remember any at the moment haha

app gap is getting filed but timely updates of apps is a problm

Very small shooter game brothers in arms 3 not support on 512 mb ram devices.
512mb ram windows phone devices not support any shooter game of gameloft. Every time I wait for gameloft shooter game for 512mb ram devices but every time Microsoft only release 1gb ram device supported gameloft games. Only Microsoft release all gamelofts asphalt games for 512mb ram devices. Otherwise no any action and shooter gameloft game for 512mb ram devices. I am very disappointed on the problems.

No helicopter looking for the murder....it was a good week

Please bring 1mobilemarket on WP 8.1, or at least make the quality of apps same as in android and ioS, common apps like whatsapp, FBmessanger, viber etc

Waitimg for Data Transfer apps like "Xender" in android platforms,
Data Transfer category is also to be filled yet... "Easy Transfer" is an app which nobody uses in my circle...

I'm very happy about the WP and W10 stuff.

Im just waiting to hear some WP20 news............

Slow down, some poor people are still waiting for Cyan.

Im glad you guys have these posts cause I missed the post about the Pandora app on Xbox One. Thanks for the update and sorry for my action again my friends. :)

Good but not the required!
We need more this time!
*quoting spider man 2 movie :P
Plz make 2015 the rise of Microsoft!

Hello everyone I really like to have Lumia denim on my 1520. As I know it's available in Finland. I wanted to know that can I have it if I flash the rom?

ves you can. I did exacly that yesterday and it worded beautifully. Just go to this link and follow the steps : http://forum.xda-developers.com/showthread.php?t=2515453 The rom you need to download is the 059V281 RM-937 VAR EURO FI CV WHITE The camera is awesome, not only the speed but also the Rich capture. Hey cortana also rocks

Yes we had a great week. Although NBA 2k15 and the new Halo would actually make my year complete as far as games... But this week was truly exciting!!!

Haha 2K15 is great, but idk how they can make those games any better really.

By giving us the game on windows phone... It would be nice to play NBA 2k15 on my windows phone. iPhone and Android have that game.. I would love to have that game...

Yeh it would!! I heard about the "Arcadia" thing with Xbox, that will be neat my friend. Being able to play Xbox games on the devices :D

Good stuff. I love build 9901.

Windows phone is going in the right direction but still a long way a head of us

Sorry I know its off topic ! But Snapchat is being run by a bunch of retards
There are many apps on android where you can take screenshots without notifying the user.. They've fucking not blocked those applications and they blocked off a totally secure app which a single developer made.. How is that a step towards security?? I don't fucking understand!