ICYMI: CES 2016, interactive cars, and Windows 10 data plans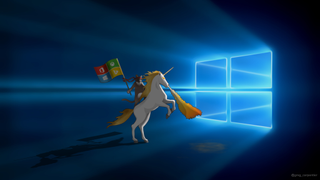 A lot can happen in a week. Seven days might not seem like much, but it can be an eternity in the tech news cycle.
Between Windows news, hardware and software developments and Microsoft's fast-paced movements throughout the technology landscape, it's never easy to keep your hand on the pulse of technology. Not to mention everything that's going on right here at Windows Central!
Every week we're going to compile the biggest stories into one post, so you never fall behind – In Case You Missed It (ICYMI).
Windows
As rumors last week reported, Microsoft confirmed that Windows 10 is indeed officially on more than 200 million devices worldwide. That number does include Xbox One consoles running the "New Xbox One Experience."
It also turns out that 40% of new Windows 10 devices became active around Black Friday, the biggest shopping day of the year in the US, suggesting that a large number of Windows 10 devices are newly-purchased.
Another interesting note is that gamers continue to adopt the new OS at a much faster rate than everyday consumers. Nearly one-third of Steam PC users are running Windows 10, as compared to the 10% that it owns in the overall PC market.
Anyone running older, outdated versions of Internet Explorer should either upgrade soon or prepare to be annoyed. Starting on January 12, Microsoft will begin notifying IE 8, 9 and 10 users to upgrade to IE 11.
Microsoft is going to start offering cellular data plans through the Windows Store. Using a new app called Cellular Data and Microsoft SIM cards, customers will be able to purchase prepaid plans for their Windows 10 devices on "a trusted nationwide network."
The initiative will be available in France, the United Kingdom, and the United States to start. No pricing has been made available as of yet.
Other notable items:
Windows 10 to add carrier billing to Windows Store apps via Bango
Microsoft
Microsoft continues to branch out and partner with other companies across the technology spectrum.
AOL and Microsoft rang in the new year by putting their previously-announced agreement into action. As of January 1, AOL search is now powered by Bing. The deal, coupled with Redmond's partnership with Yahoo, and Bing.com itself, now account for about one-third of web searches in the United States.
Microsoft also teamed up with several companies in the automobile sector. Nissan has decided to go with Azure to power their interactive in-car experience. At CES 2016, Microsoft showed how their partnership with engineering firm IAV has used Azure and Windows 10 to bring Skype for Business, Calendar, and Groove Music and more to the dashboard of your car.
HARMAN and Microsoft are working together to put Office 365 features behind the wheel.
And building on a previous relationship that saw HoloLens being used to improve the car-buying process, Volvo has developed a voice-controlled system that will allow Band 2 users to control their vehicles' locks, lights, horn, and climate control from their wrist.
Samsung and Microsoft on have joined forces to collaborate on the Internet of Things. Microsoft's new star presenter, Bryan Roper, even got to check on his laundry while on stage at CES.
Other notable items:
2015 was the biggest year in Xbox history
Xbox One update with behind-the-scenes bug fixes now rolling out
'Beihai' is the code name for an upcoming and mysterious Windows 10 consumer app
Miscellaneous
This week, photos of the Nokia smartwatch that never was surfaced online, showing off its Metro UI and some of its internal components.
According to the EFF, T-Mobile is throttling HTTP data that is not part of their BingeON service. In a blog post, John Legere, T-Mobile's CEO, defended his company against those claims.
Fitbit unveiled their latest device. The Fitbit Blaze is a $200 smartwatch with a focus on fitness. But the real focus this week was on CES 2016 in Las Vegas, Nevada.
Windows Central, along with the rest of the Mobile Nations family, was there for days 1, 2, and 3 and topped it all off with a Podcast Spectacular!.
Lenovo had a big presence at the event. They showed off their ThinkPad X1, in three different flavors, along with their latest line of other ThinkPads and accessories and the ultra-slim the Yoga 900S.
Their desktop offerings included the ThinkCentre X1 all-in-one PC ADD: the bezel-free ThinkVision X1 monitor.
Acer's Aspire V Nitro Black Edition was there, sporting Windows Hello and Intel RealSense. Acer also introduced the Switch 12 S 2-in-1 laptop, the TravelMate laptop, and a some flashy new monitors.
HP was in on the action with the lightweight EliteBook Folio notebook and a 15.6-inch 4K version of its Spectre x360, set to launch in February.
Not to be outdone, Samsung wowed with a three-pound 15-inch ultrabook and the 13-inch Notebook 9, coming in at under two pounds.
Samsung also announced the Windows 10-powered Galaxy TabPro S and some curvy gaming monitors.
Dell's new PCs included the new Latitude 13 and Inspiron 11 3000 ultraportable notebook.
Dell's lineup of monitors really had jaws dropping. There was the 24-inch and 27-inch InfinityEdge line, which bring the bezel-less design of the Dell XPS laptops to the desktop, and a couple of wireless monitors that support Miracast for mobile devices.
But the cream of the crop was the stunning UltraSharp 30-inch OLED monitor. It can be yours for a measly $5,000. Be sure to check out our full coverage of CES 2016
Other notable items:
ORIGIN PC reveals a 34-inch all-in-one Windows 10 PC that's for hardcore gamers
Oculus Rift pre-orders to begin at 11 a.m. ET on Wednesday, Jan. 6
The thin and light Toshiba dynaPad tablet is available for pre-order at $570
Haier launches budget Windows 8.1 tablets
Oculus Rift VR headset pre-orders begin, for the price of $599
Share your thoughts on this past week of news! And we'll be back again next week to do it all over again.
Get the Windows Central Newsletter
All the latest news, reviews, and guides for Windows and Xbox diehards.