fYou can never have enough space for data these days! Whether you're building your own media server, need a microSD card for a security camera, or want something for transferring files from one machine to another, today's Best Buy daily deal featuring sales from SanDisk and WD has got you covered. In this sale you will find thumb drives, portable hard drives, solid state drives, microSD cards, and more all ranging from a few gigabytes to multiple terabytes. And all going for super low prices.
Stock up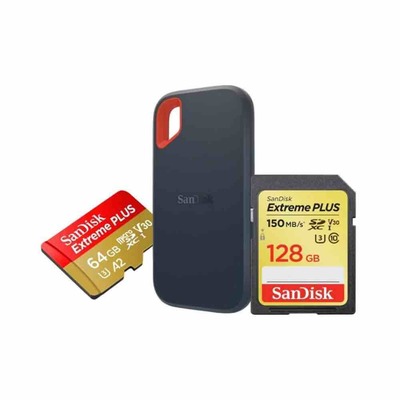 SanDisk storage sale
This sale includes extra storage space for all your devices. You can get low-capacity flash drives from $10, roomy microSD cards for your phone, or huge hard drives up to 14TB in size, all down to super low prices covered by full warranties.
Up to 50% off
The deal given is no longer valid and we do not have a better one. However, we have found some similar deals
Prices for microSD cards have been continually dropping over the past several months meaning they are never that expensive these days, but with this sale you make the most of excellent deals on microSD cards from 32GB to 128GB in size. Smaller capacity options like this 32GB SanDisk Ultra Plus microSD card for only $9.99 would make a great choice for a secuirty cam while the larger version would be well-suite for use in your phone, tablet, or Nintendo Switch.
Grabbing some portable storage for your PC is super affordable with this sale, too, with high-capacity portable hard drives from $100 to discounts on portable SSDs and huge desktop hard drives. There are also internal SSDs and SATA hard drives to choose from.
Some of the products in the sale are exclusive to Best Buy, like the WD Easystore line, so you won't find these discounts aywhere else. Other products, like the SanDisk Exteme portable SSD and WD My Cloud Home, are having their discounts matched by Amazon so you have a couple of places to shop. Chacnes are the discounts will only be until the end of the day at Amazon, too.
These types of sales don't come around all that often, but when they do you should absolutely take full advantage of them and load up on everything you need. There are a bunch of options available right now, though the selection will dwindle as the day rolls on and things start to sell out so be sure to order anything you want before it's too late.
We may earn a commission for purchases using our links. Learn more.