Windows Phone Weekly Digest: November 29, 2015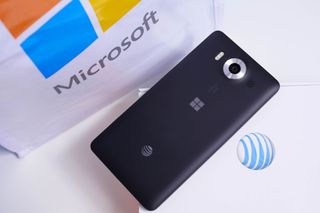 There's a lot going on in the world of Windows Phone. So much, in fact, that it is sometimes tough to catch every important story.
Device rumors come and go. New apps join the Windows Phone Store, and your favorite app can get a big update with a new look or new features.
Therefore, every week we will compile a list of the Windows Phone news that you just shouldn't miss. Welcome to the "Windows Phone Weekly Digest."
Windows Phone
Microsoft's new high-end phone on AT&T, the Lumia 950, is officially on the shelves. We picked one up and unboxed it for you all to see.
We also headed to the Microsoft Store to get the Lumia 950's larger counterpart, the Lumia 950 XL. Check out our unboxing video and first impressions.
And if you are looking for a case for either phone, you can't do much better than Mozo's leather covers.
If you were one of the many Windows 10 Mobile users who had app updates stuck in the queue, only to fail with error code 0x803F8006, rejoice. It seems that Microsoft pushed out updates this week to fix the issue.
Having once been the mobile OS for hackers and enthusiasts alike, Windows Phone evolved into a closed operating system, offering little in the way of tinkering. Now, XDA user Heathcliff had announced the availability of Windows Phone Internals, and new software suite that opens the door for custom Lumia ROMs.
And following the success of the Windows Insider Program, Microsoft has begun their 'Create Together' initiative, which will take testing to a whole new level. Select Windows Insiders have started receiving invitations to join the new program that asks for their input on hardware color and design ideas.
Other notable items:
Windows 10 Mobile's Touch menu settings now have the new user interface
Glance menu in Windows 10 Mobile updated with new UI [Update: Motion Data as well]
Best Buy is now selling the black AT&T Lumia 950
Unlocked Lumia 950 XL in US confirmed to be dual-SIM phone
Freetel's Katana 01 with Windows 10 Mobile will launch in Japan on Nov. 30
Apps
Third-party camera app ProShot not only got updated this week, but the developers also announced that a Windows 10 version is in the works. Due in the next few coming weeks, ProShot will be designed from the ground up for Windows 10 and "is truly going to be something special." We can't wait!
SHAREit launched an all-new "official" Windows Phone app. This was somewhat confusing, as there was already a Windows Phone app. However, that version was dubbed "unofficial," though it remained in the Store.
MyTube got a significant update this week. The third-party YouTube client now supports Windows 10 PC and Mobile.
Fanband, which helps you personalize your Microsoft Band with various themes, was updated, adding Newest Themes list. Now you can see the latest additions in one place without sifting through them all.
Microsoft finally made good on its announcement from earlier this year to retire Lumia Beamer. Formally a Nokia app that let you show your phone content on other screens, Lumia Beamer hangs up its hat after two years of service.
And now that the Lumia 950 and 950 XL are officially here, we put together a list of 23 must-have apps for Windows 10 Mobile.
Other notable items:
OneDrive and Camera apps for Windows 10 Mobile get minor updates
Latest MixRadio update no longer sees the app published under Microsoft
WHMCS for Windows Phone lets businesses manage their company on the go
Games
TIME has named the minimalist gardening game Prune the best video game of 2015. That is quite an achievement, considering it was up against the likes of hugely popular console titles like Fallout 4 and Halo 5.
Ariel's World, which is an indie game available solely on WindowsPhone, went on sale for free until November 30. It is a retro platformer with 20 levels of gameplay in 5 different worlds, each guarded by a big, bad, boss.
Game Troopers pushed out a big update for their strategy MMO, Imperia Online for Windows Phone. Not only does the update add a new mode of play called The Game of Luck, but it also gives gamers ten new achievements that they can strive to unlock.
Other notable items:
Be sure to weigh in on this week's news in the comments section. See you next week!
Windows Central Newsletter
Get the best of Windows Central in your inbox, every day!
Hardware colors, hmmm can we start requesting a cyan back cover for 950/XL meow. I want one with the Microsoft logo. Lol

I think you should co operate with the developers to update most popular social apps,video player apps and more high quality games to bring in windows phone store with fluent performances ...then the store will be much more popular.....

The app gap is offically the "Snap Gap". Anyone who references the app gap at this point is talking about social media apps. I don't need them so it doesn;t bother me.

Banking apps are the ONLY thing keeping me from coming back to Windows.

Good to know you speak for everyone.....

What about maps gap?
Waze is awesome on Android...

And yeah btw. Outlook mail is broken. No images no matter what settings you enable

Makes sense. I can't even any extra accounts, hope it gets fixed.

I heard a rumor that we will be getting either on the first week or latest second week of December win10 updates for win 8.1 phones.... December might be the big and good month after all as well... Not to mention another major update win10 as well comin before x-mad...

Microsoft 12 Days of Deals starts December 1st!! :) surprised you guys haven't announced this

The Aussie deal with Optus is awesome but limited quantities. Free 1Tb Xbox One https://offer.optus.com.au/microsoft/

The men things is when did wp 10 rels fr phone in official...?? I know its in December bt tell me the date ...

I am one of the people sitting on the fence about Windows Phone; my old Samsung is not fairing well and I need a new phone. I really want to like Windows Phone, but I don't want to invest my time and money if Microsoft isn't going to fulfil their potential in the mobile marketplace. Of course, Google not playing-ball and denying the use of their services on the platform is a major crux for the operating system. As I see it, the "app-gap" will hopefully improve, but when? Project Astoria seems to be a no-go from what I understand, or at the very least in a bit of a pickle in terms of direction. Islandwood, has more hope/potential from what I can gather regarding the discourse surrounding it. The main areas stopping me from jumping the Android fun-bus and joining Microsoft are: Google negating use of their services. This is a big one for me.. not knowing Microsoft's direction or commitment to mobile. There just seems to be a lot of uncertainty. Apps! Whether it be social-media, banking or random apps specific to my personal interests. I also hear people complaining about stability issues. This post may come of as slightly negative (I hope it's not taken in that context), I really think there is massive potential here and lots of positives to choosing Windows as a mobile of choice. I think the Surface Pro is excellent, an area where Apple and Google's iterations seem weak in comparison. This matters because it's all about the ecosystem. Also I built my own PC and like the freedom the OS allows. So, maybe it makes sense to go all-in. I think the market needs a third player because I don't believe any one company should hold a monopoly; total dominace and control of the market by one entity, is not good for the consumer, of course. Sorry if this post was long and off-tangent in places, but I think it's fun to discuss these opinions about Windows Phone. What are your thoughts? Posted via the Windows Central App for Android

Please updates windows 8.1 Facebook app its working very slow.

When will be the release of windows 10 mobile? Coming soon?

If MS wants to get traction to WP they should invest some money in social apps, pay the developers to make a WP apps .. it might seem low from their side but bringing to WP all the social app this way in my oppinion it`s monney well invested than paying adds. PS: i hate the circle thing when pinning a contact to the screen .. it makes no sense ..:(