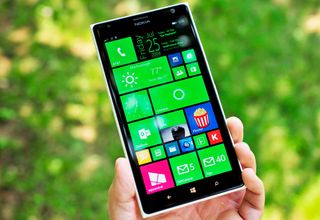 A lot can happen in a week. New apps join the Windows Phone Store or Windows Store. Your favorite apps can get a big update with a new look or new features. Device rumors come and go. Seven days might not seem like much, but it can be an eternity in the tech news cycle. Every week we're going to compile the biggest stories into one post, so you never fall behind – In Case You Missed It.
Windows Phone
Microsoft + Windows
Apps
Games
Xbox
Misc.
ICYMI Mailing list
Subscribe to my newsletter to get the above content and more delivered to your inbox. I'll share the above content with you, plus share a few extra links to cool stories and products from around the web. You can even submit links to your blog post or apps that you'd like to be shared with the community. Just send me a tweet (@samsabri) with the URL to your story or app and include the hashtag #ICYMI.
What was your favorite story or app this week? Share it below.
Windows Central Newsletter
Get the best of Windows Central in your inbox, every day!
The 635 is out at AT&T and selling well, lots of features for a great price, and you can do NEXT which makes it really affordable, our customers have said great things about it in just two days. Now just send a high end device our way to appeal to our other customers (and me) and the fall will definitely be a good time for Microsoft Mobile! Posted via the WPC App for Android!

My Lumia family is growing on Monday. I ordered a 635 for the AT&T network from Microsoft. The AT&T store nearby told me that they aren't getting any 635's until they sell all of thier 520's. I asked who was nuts with that decision. They salesman fed me some other line. Meanwhile we went to a tmobile store that had 20+ in the store and they said that they have been selling very well. I just wanted to go get my hands on one while waiting for Monday to get here.

How do we know its selling well❓

Ha, I'm speaking on behalf on my own store. We've have plenty of people (from what i've seen, 5-10 people a week) pick up the 520, and more and more people getting the 1520. There has been a lot of interest being shown towards the phone (635), and we're doing what we can to push it to the people.

Really? Awesome❕❕❕.... Where's your store located?????????????

Hey... Before you update your 1020 let me tell you that the official update isn't without flaws...
First there's the audio mute bug where when you get a message the phone mutes your music, but won't return it back to normal volume when everything is done... This is when using the headphones jack only, from what I've seen so far, and the only fix I can find is to unplug then replug, the cable back into the jack... Pretty annoying!!
.... Then there's WiFi Connectivity issues.. Basically Wi-Fi was good with my 1520's original software.. Then it got worse with the DP... Now it sucks harder than DJCBS's lips on Balmer's bald head... Let me know if you have the same issues with your 1020.

There are some current issues I hope get resolved. I would say a lot of my usage is around in car Bluetooth. Cutting from Bluetooth music to Here+ nav audio seems to have some sort of delay where you miss the first part of her nav directions. Phone calls, music and navigation voice are all different volumes and not independently adjustable through Bluetooth. And sometimes it won't pair at all for days then viola! It works! Plus Xbox music resume is a blank screen sometimes. Crazy stuff. Or the delay with Cortana accepting voice input when over Bluetooth, or her not hearing you at all.

Ok... Are these all issues after 8.1 DP, or just Cortana???

Something changed. I'm going to say after 8.1DP was installed.

Well, my device is worlds better after the official update... Let me tell you what happened............... A few weeks ago my device started acting weird, and got worse, and worse, with each day... It got to the point to where it was barely usable, and my camera totally cut out on me... So, Thursday I ordered a new 1520 from att... Now, I still had my old 1520, so I installed the official update on it before I went to work on Friday... The device still was fucked, but it worked worlds better... Now, today I have my new 1520, and it's great,, much better than the DP... One thing I noticed is that I'm getting WAY LESS rights issues with XBM on the official update... The camera is noticeably better, especially video..
........
My point is that the DP is not the same as the official update, even taking firmware into account.. I found a new option in settings also... This is why MS wanted us to revert back to 8.0.. The DP is bad, bad news, and I blame it for screwing up my original 1520.... So, you should look forward to a way better experience because I'm have a really good time with the official update.... Much more stable, way more fluent, more polish,,, just more compatible with my hardware... I hope you have similar results next week..
Well, the mute, and Wi-Fi issues, but no OS is perfect...... Oh, and I think its having the problem that the 930 had because it's always running a lot more hotter than usual with the official update..

Good to hear. The camera on the 1020 is bitch ass slow after the DP update. Looking forward to the official update

Well, my camera is a LOT faster now, is more crisp, and the colors pop without having to post add to much color saturation... I can't imagine how good the 1020 will be!!!

Good thing I downloaded WP 8.0 + Lumia black via navifirm. This is exactly what I feared would happen, we would just get the firmware update for 8.1 dp and the o/s bugs will still remain.

I seriously, like seriously, know this is not literally the same OS version as the DP... It had the same designation, but its revised.. You'll see...

All kinds of things going on in the Windows Phone world lately, but strangely it still doesn't seem to be enough to justify discussion in oh, say, a podcast? *cough-cough* ;-)

A lot of things going on except devices flying off shelves........
..........
A lot of things going on except proper- fill in the blanks (M--------)......

Nice recap sam! Well done!

Much better than last week! :D

Last week was really depressing... I needed this week.... Yeah, I'm a nerd.

FYI: Just sent out the first newsletter for those subscribed to the ICYMI newsletter. I'll adjust it and improve it according to your feedback. Now go play Destiny before the beta ends.

930 getting some good ad time in the UK now too. Selling it as "it's Windows, so all my stuff's in one place." Good to see. No potatoes though.

Yes it is, but that phrase also potentially opens up a whole new can of worms :P, since it doesn't run legacy (x86 / x64) apps. Guess for us Techies, we can bypass this by simply saying it runs off the same core found in Windows 8 RT to the not-so technically proficient people.

I don't think the apps are showcased in the ad. But it's a good enough layman's phrase to potentially lure people into the ecosystem by demonstrating that their pics, files etc are synced to their home PC.

Just keep posting here Samuel

I'm just curious why there was never an article about Microsoft releasing one note for the fire phone.

There was on Android Central since the Fire phone runs Android.

Yes but this affects windows phone. What you don't think Microsoft giving fire phone a fledgling phone an windows app that it's not going to dip in to that whole whopping 4% market share!?

Fire phone runs Android, they already have OneNote for Android. It took like a days worth of work to put OneNote on the Fire phone. A service like OneNote is only useful it is available for every device - even the Fire phone.

Lol!!!!!!... Well, we're not OBSESSED with EVERYTHING that MS does............ ;-)

Theres not any ad of 930 in UAE. In eñectronic stored, youll find the 930 displayed in the corner as if it was an old model of mobile. No special display ad or exposure unlike other brands.

I feel my Xbox 360 is being left in the cold. I don't want to upgrade though. $399 ain't a purchase I can commit to for a new Xbox when my 360 still looks new and performs just fine.

Just a general question, should the Skype button in the dialer be usable at tho point?

What calendar app is that on the top right corner ?

Loving this quick overview of the week's content, a concise way to let me know about everything that's happened over the last 7 days. Thanks!

This icymi is a great idea: I only need to visit this site once a week because everything is nicely organized in here.
(I'm just kidding: It's a shit idea and takes away pageclicks, someone it's bound the fired this of this idea.

Liking ICYMI, just in case I missed something

Just one thing that didn't happen and matters to me the most. Cyan update.

Wow, not yet... Probably next week..

Hey what's that calendar app in the pic??

Simple Calendar. Free in the store

Hopefully MS has QHD devices coming up.

No Cyan update until now. Now, it's month of August...