Windows Mobile Weekly Digest: HP's amazing Elite X3, Project Astoria gets scrapped, and two new from Game Troopers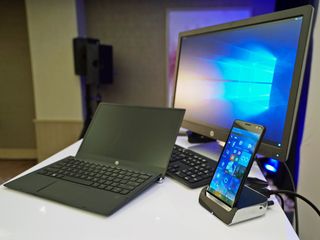 A lot is going on in the world of Windows Phone. So much, in fact, that it is sometimes tough to catch every important story.
Device rumors come and go. New apps join the Windows Phone Store, and your favorite app can get a big update with a new look or new features.
Therefore, every week we will compile a list of the Windows Phone news that you just shouldn't miss. Welcome to the "Windows Mobile Weekly Digest."
Windows Mobile
Windows 10 Mobile build 10586.107 officially began rolling out to AT&T Lumia 950s that are not enrolled in the Insider program. The Alcatel Fierce XL also received the same OS update.
Microsoft released a statement to Lumia 550 owners in the Windows Insider program, asking not to update to Windows 10 Mobile preview build 14267. There have been reports that the new build can cause USB charging to stop functioning on the phone. If you have already updated to 14267 and are experiencing issues, Microsoft recommends reverting your Lumia 550 to an earlier build using the Windows Device Recovery Tool.
This week at Mobile World Congress 2016, Windows Central went hands-on with the Vaio Phone Biz. It turns out that this phone is every bit as good as we thought it would be, which makes its lack of availability outside of Japan that much more lamentable.
Panasonic announced a new Windows 10 Mobile smartphone, the Toughpad FZ-F1, built to withstand whatever you can throw at it. Powered by Windows 10 IoT Mobile Enterprise, the Toughpad FZ-F1 meets IP65 and IP67 certification requirements, can survive a 6-foot drop, and can be submerged in over three feet of water for 30 minutes. Panasonic is clearly targeting the rough and tumble business and government sectors with the FZ-F1's $1600 price tag.
Acer is harnessing the power of Continuum with their Jade Primo Premium Pack. Their smartphone bundle comes with the Jade Primo Windows phone, the Continuum dock, case, keyboard, mouse and a PC monitor all for €800 in France. Although the package may be available elsewhere, no other pricing info was given.
But the cream of the smartphone crop was the announcement of the HP Elite x3, a Windows 10 Mobile device built for business. The Elite x3's specs are something out of a fanboy's dreams and its accessories and app virtualization extend beyond them.
Windows Central got an in-depth look at the Elite X3, along with its accessories. And be sure to check out our HP Elite x3 FAQ to learn more about this game-changing Windows phone.
Other notable items:
HP's official Elite X3 promo shows off what the beautiful smartphone can do
Lumia 650 available for pre-order at Microsoft Store in Ireland
Verizon updates its Lumia 735 with Advanced Calling toggle
Some Windows Phone 8.1 devices will get firmware updates before official Windows 10 Mobile release
Acer showcases the power of the Liquid Jade Primo
Apps
NASCAR'S Windows 10 app was updated this week, adding Mobile support. The makers of the popular Twitter client Tweetium lowered the price of their 12-month Tweetium Pro subscription. Previously priced at $7.99 per year, a year-long subscription will now only run you $4.99.
Tumblr's official Windows Phone app has been pulled from Windows Store. When asked, the company said that it no longer will support the Windows Phone version. What isn't clear, however, is whether is because they are working on a Windows 10 version, or just scrapping plans to support the Windows platform entirely.
The Windows Central app for Windows 10 saw a whole lot of updates this week. First, it was a fix for scrolling and Live Tile toggle. Then came some minor fixes and improvements,
followed by new Live Tile options. And finally, we capped off the week with recent and participated forums.
On a disappointing note, Microsoft officially canceled "Project Astoria", the tool that would help developers port their Android apps to Windows 10 Mobile. We had reported that the project was not proceeding as planned, only to be put on hold indefinitely.
And although it dashes the hopes of many of us who would have liked to see more apps drop in the Store shortly, it may not be all bad. Microsoft recently purchased Xamarin, a company whose tools help developers build apps with common code for Windows, iOS, and Android.
This acquisition could hint at Microsoft's roadmap for the future, bringing Windows 10 apps to other platforms. We look at the signs and explore the idea Windows 10 virtualization.
Other notable items:
Microsoft is retiring the Skype Qik video messaging app on March 24
Outlook Mail and Calendar gets minor update for Windows 10 PC and Mobile
Weather app Blue Skies gets UI overhaul as part of universal update
Huetro for Hue rewritten for Windows 10 PC and Mobile with Cortana voice commands and more
Facebook Beta, PowerPoint and Excel updated on Windows 10 Mobile
You can now open reports on your phone with the Power BI app
Games
This week in games, we took a look at QONQR Blue, the latest addition to the QONQR series of MMO games that use your location as the battlefield. This Windows Phone beta is part of a cross-platform war including iOS and Android opponents. So if you think you've got what it takes, join your nearest faction and head on to battle.
The tireless crew over at Game Troopers had a couple of additions to the Store. The first was bringing their undersea exploration game Abyss from the phone to PC and tablet.
They also took you to the casino with Free Slots Fun Factory for Windows Phone and Windows 10 Mobile
And the popular board game Patchwork [has been adapted for the digital and released on Windows 10 for PC and Mobile.
Other notable items:
Take a drive with the Stig in Top Gear: Drift Legends for Windows 10 PC and Mobile
Be sure to weigh in on this week's news in the comments section. See you next week!
Get the Windows Central Newsletter
All the latest news, reviews, and guides for Windows and Xbox diehards.