These Govee curtain lights are on my wish list and they're 25% off for Prime Day
Guess I'm adding these to my basket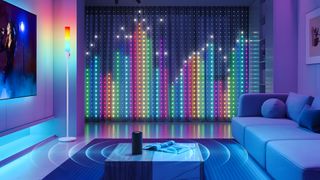 (Image credit: Govee)
Govee's latest lighting accessory is the wildest I have seen. As a lover of all things LED and RGB, these have been sat on my wish list since they were announced, but now at 25% in the Prime Day sales, they are hitting my basket.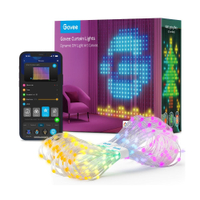 Govee Curtain Lights: was $129.99 now $97 at Amazon

Add some flair to your gaming room with these LED curtain lights that can create stunning effects with 16 colors and 4 modes. They're easy to hang, remote-controlled, and safe to use. Plus, they're on sale right now for 25% off.

✅Pros: Multiple mounting options, endless
customization.
❌Cons: Low resolution, so stick to simple images.
The Govee curtain lights are not just ordinary lights; they're 520 LED lights that can display any image or GIF you want.
Prime Day deals
• Best deals: Our best (so far)
• Windows laptops
• Gaming laptops
• 4K and ultrawide monitor deals
• Gaming monitors
• GPU deals: AMD & NVIDIA
• Motherboard deals: Intel & AMD
• NAS deals: Network-attached storage
• Routers: Wi-Fi home networking
You can use them to create a cool gaming room, a cozy living room, or a festive holiday scene. Frankly, I think they offer a much classier way to decorate the home for the holidays than your average plastic disposable junk. I'm personally excited to get these lights for my new place, where I'll finally have a proper gaming setup.
I can't wait to use them to show off my love for Diablo 4 and scare the bejesus out of my neighbors. Of course, I'll have to tone it down when the kids are around, but that's okay. I can always switch to something more family-friendly, like Pac-Man or Mario. The possibilities are endless, with 520 lights to play with.
One of the coolest features of these lights is that they're IP65 rated, which means they're waterproof and can withstand the elements. That means you can use them outside as well as inside and turn your garden into a magical wonderland. Imagine having a curtain of fireflies, rainbows, or stars in your backyard. How awesome would that be?
Why we like this deal
We're huge fans of Govee products here at Windows Central because they all work seamlessly together with the Govee app. You can control and customize all your Govee devices from your phone and create amazing scenes and effects. Plus, you can also connect them to your smart home devices, like Alexa or Google Home, and use voice commands to change the settings.
I wonder if I can make them work with my Enabot EBO-X and have a robot pet that can interact with the lights? But the TL;DR version is they just work. As someone who owns a lot of devices, I can find it very frustrating when certain brands randomly disconnect from my setup, and this never happens with Govee items.
If you're looking for more Govee products to enhance your home, you're in luck. There are tons of other Govee deals on Prime Day, and we've got you covered with our posts and links to the best ones. Don't miss this chance to get some of the coolest lighting accessories on the market.
Get the Windows Central Newsletter
All the latest news, reviews, and guides for Windows and Xbox diehards.
Jen is a News Writer for Windows Central, focused on all things gaming and Microsoft. Anything slaying monsters with magical weapons will get a thumbs up such as Dark Souls, Dragon Age, Diablo, and Monster Hunter. When not playing games, she'll be watching a horror or trash reality TV show, she hasn't decided which of those categories the Kardashians fit into. You can follow Jen on Twitter @Jenbox360 for more Diablo fangirling and general moaning about British weather.