This week in ID@Xbox: Soccer brawling and bundles galore
By Paul Acevedo last updated
Welcome to our column that looks back at the week's ID@Xbox releases for Xbox One!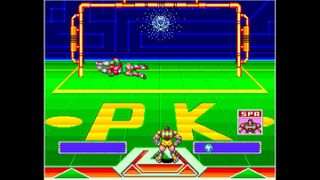 It has been a dry week for ID@Xbox one releases, with indie developers and publishers not wanting their launches to get trampled by Black Friday sales. Still, we did get one new indie Xbox game and three bundles to help tide us over till next week!
ACA NeoGeo Soccer Brawl
Japanese publisher Hamster's ACA series is a collection of emulated NeoGeo arcade classics – we reviewed one-on-one fighter ACA World Heroes 2 and found it pretty solid and well-emulated.
Arcade-style soccer/football games are few and far between. That's what makes Soccer Brawl so memorable. In 1992, SNK released this bizarre/awesome soccer game featuring cybernetic players who like to get rough while playing footie. Being robots, they can fire lasers and perform other dangerous moves.
Most importantly, this is an easy game to play. It only uses two buttons, making it far more approachable than your FIFAs and your Sensible Soccers. The game only features eight teams and two fields, but you can't beat its simplicity and unique cyborg style. Plus, most ACA games have easy Achievements to boost your Gamerscore.
ACA NeoGeo Soccer Brawl costs $7.99 on Xbox One, PlayStation 4, and Switch.
See on the Microsoft Store (opens in new tab)
Betray Your Friends Bundle
If you like card and board games, this is the bundle for you! This bundle contains The Living Dungeon and Dead Exit.
The Living Dungeon is a tabletop-style board game in which up to nine players compete to roll the dice and survive an ever-changing fantasy-themed dungeon. Up to nine players can compete locally or online, which should make for an engrossing competitive experience.
Dead Exit (which we played for this roundup) is a zombie-themed card game with a heavy emphasis on base management. Dead Exit comes from indie developer RadiationBurn, makers of some very indie-looking games. This one's not that bad looking though, as the card art generally has a professional appearance.
In Dead Exit, you'll play solo or online, taking turns playing cards inside or outside your base and manually drawing more cards from the city section of the table. You'll play numerous types of cards, including heroes and vehicles. Most cards have a different effect whether played inside or outside your base, which adds a lot of depth.
On the downside, the card descriptions are confusingly written, and the text is way too small. Don't try playing this one from a couch. But if you're a big card and board game player and have the patience to learn a complex new game, Dead Exit has the potential to provide a rewarding experience.
The Betray Your Friends Bundle sells for $16.99, an $8 savings over buying the two games separately.
See on the Microsoft Store (opens in new tab)
The Jackbox Party QuadPack
Each entry in the Jackbox Party Pack series is a collection of five party games that anyone can play using their phone as a controller, either locally or via livestream. All four of these games are great and guaranteed to liven up your next party or stream.
The latest entry, Jackbox Party Pack 4, includes:
Fibbage 3: The outrageous bluffing game is back with all new question types! (2-8 players), including a new extra game mode - Fibbage: Enough About You –where players guess weird facts about each other! (3-8 players)
Survive the Internet: Twist your friends' "online" comments in ridiculous ways in this web-based frame game. (3-8 players)
Monster Seeking Monster: Message and date your fellow monsters with special powers in a spooky date-a-thon! (3-7 players)
Bracketeering: Place smart bets on dumb arguments in this deranged debate match, as illustrated in the screenshot above. (3-16 players)
Civic Doodle: Spruce up the town's murals to one-up your friends in this irreverent art game. (3-8 players)
Read our detailed review to find out just how much of a party you'll get out of Jackbox Party Pack 4. Again, every one of these games is a winner – be sure to try at least one if you don't grab the bundle!
The Jackbox Party QuadPack costs $74.99, a $25 savings over buying the four games separately.
See on the Microsoft Store (opens in new tab)
TinyBuild Action-Packed Bundle
This three-pack bundles Cluster Truck, Mr. Shifty, and Punch Club, all from TinyBuild.
Cluster Truck is an addictive and fast-paced 3D platformer in which players must jump from one speeding 18-wheeler to another without falling off. It's tough but wild!
Mr. Shifty is a stylish overhead-view action game in which the player must move stealthily (at times), teleport, and kill lots of unsuspecting targets.
Punch Club is a boxing tycoon management game with multiple branching storylines and lots of face-punching!
The TinyBuild Action-Packed Bundle sells for $19.99, a $20 savings over buying the three games separately.
See on the Microsoft Store (opens in new tab)
Over to you…
Which ID@Xbox games or bundles are you getting this week, if any? Or did Black Friday week clean you out? Let us know in the comments!
Paul Acevedo is the Games Editor at Windows Central. A lifelong gamer, he has written about videogames for over 15 years and reviewed over 350 games for our site. Follow him on Twitter @PaulRAcevedo. Don't hate. Appreciate!
The Jackbox Party QuadPack seems to be the best release this week! The TinyBuild bundle also looks decent.

Definitely Jackbox. They're always a lot of fun with friends.

I've been meaning to take a look at Punch Club, it sounds interesting.

Mr. Shifty seems like an interesting game. I'm all for stealth games and an overhead view would be an interesting take. It seems like I've seen more and more overhead view games lately. It looks a bit like Hyper light drifter, which I have yet to pick up.

Can't wait for the Christmas stream of jack box party pack 4

It's going to be a blast! :)

Never played Jackbox, would be interesting to pick it up and play it with some friends.

Wrong link for the soccer brawl. here's the correct one: https://www.microsoft.com/en-us/store/p/aca-neogeo-soccer-brawl/bpv1xv5l...
Windows Central Newsletter
Get the best of Windows Central in in your inbox, every day!
Thank you for signing up to Windows Central. You will receive a verification email shortly.
There was a problem. Please refresh the page and try again.