This Week on Windows Central: Nokia McLaren, UWP on Xbox and more! (July 23rd, 2016)
Welcome to another edition of This Week on Windows Central!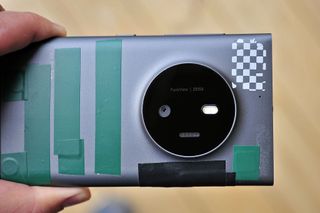 You can rely on this weekly column to keep up to date with all the major happenings across the Microsoft ecosystem. In this article, we'll cover the biggest stories of the week from Windows 10, Windows 10 Mobile, Surface, Xbox, HoloLens, and Microsoft itself.
We've enjoyed a pretty action-packed week. Daniel Rubino and Zac Bowen went hands-on with the near-legendary Nokia McLaren, Xbox began picking up its first Universal Windows Platform apps, and the countdown to the Windows 10 Anniversary Update continues unabated.
Windows 10 Mobile
This week, we went hands on and reviewed a Lumia prototype that never was, Nokia's 'McLaren.' The McLaren was a designed to be a flagship phone with 3D touch technology, but it was abruptly canceled in 2014, four months from launch. The cancellation sharply hindered Windows Phone, leaving the platform without a fresh flagship phone for a large length of time.
Daniel Rubino, Zac Bowden, and Mr. Mobile have all taken a look at the McLaren, and each provided alternative perspectives on this intriguing, but sadly doomed device. Check the further reading section below for more.
We received some new stats from Ad Duplex and Microsoft this week on the current situation as far as Windows Mobile is concerned. Windows Mobile revenue decreased 71% year-on-year, as Microsoft continues its retreat from the consumer mobile hardware market. Microsoft is hoping that OEMs will step in and take charge of Windows 10 Mobile with devices such as the HP Elite x3 and Acer Liquid Jade Primo.
Speaking of the Jade Primo, Daniel Rubino picked up one of Acer's desktop kits this week, which features the Jade Primo phone, Continuum dock, and other desktop accessories.
Both devices represent an OEM-focused future for Windows 10 Mobile, and Ad Duplex stats from Japan potentially offer a glimpse. Daniel Rubino's analysis of Ad Duplex's Japanese stats paints a very different Windows Mobile landscape, where homegrown devices are far more popular. Lumia only accounts for 60% of the market in Japan, as opposed to the global average of 97%. This is an example of where Microsoft would like to take Windows on mobile, similar to its PC line, but it remains to be seen whether they can find success after backtracking so steeply, check out Daniel Rubino's article on the subject for more information.
On the app front, we picked up some updates for Outlook Mail and Calendar, which added in support for Outlook.com email aliases, avatars in notifications, and a new calendar live tile. Viber ditched the beta tag, and MSN News got a vastly improved dark mode. Skype also hit Windows 10 Mobile in preview, while announcing that they would be pulling away from Windows Phone 8 handsets as the company shifts to a new cloud-based messaging solution.
The next few weeks will be all about the Windows 10 Anniversary Update, which will bring tons of enhancements to your Windows 10 Mobile handset. Stay tuned.
Further Reading
Windows 10
Perhaps the biggest news in the Windows 10 camp this week is the reported leap in revenue for the Surface division. Surface devices saw a 9% jump in revenue, hitting $965 million for Q4 of Microsoft's 2016 financial year. Microsoft credited the Surface Pro 4 and Surface Book for the quarterly leap in earnings, which has seen revenue exceed $1 billion in previous quarters.
Not only did Surface consumer devices do well, but Microsoft's enterprise-focused Surface Hub has also been exceeding expectations. Microsoft's 54 and 84-inch all-in-one PCs are selling faster than Microsoft can meet demand, no doubt contributing to the Surface division's increased revenue. The future of Surface is looking very bright indeed.
Things are looking up for Microsoft's third-party PC partners too, as the company reported a 27% rise in OEM non-Pro revenue and 2% rise in OEM Pro revenue. Redmond attributed the growth to an increase in premium devices and a "stabilizing" PC market.
On the Windows 10 side of the fence, Fast Ring insiders received build 14393 this week, which our own Zac Bowden believes could be the launch candidate for August 2nd's Windows 10 Anniversary Update. As usual, this build mostly contains bug fixes and the final bits of polish ahead of the public launch.
The Anniversary Update isn't the only major Windows 10-related event on the horizon. Microsoft's offer of a free upgrade to Windows 10 from older operating systems is nearing expiry, and the company has begun offering a countdown clock to remind users.
One country where Windows 10 adoption is seeing rapid growth is France, where it finally overtook Windows 7 as the most used operating system. Unfortunately, Windows 10 also fell afoul of the French government, who claim that the operating system's telemetry data gathering violates the country's privacy laws. Microsoft said that it would work with France to determine how best to proceed.
On the app front, we got a massive update for Viber, Evernote for Windows 10 broke cover and Deezer ditched its preview label. Also, OneNote added sparkly inking tools for those with Office 365 subscriptions.
Like with Windows 10 Mobile, expect the next couple of weeks to be all about the Windows 10 Anniversary Update as we rapidly head towards the August 2nd launch date.
Further Reading
Xbox One
Xbox One has also enjoyed a round of updates as part of its Preview program. The vast majority of this week's builds have been focused on bug fixes and polish, but we have begun to see Universal Windows Platform apps appearing.
So far, we've got Cast, which is a Windows 10 podcasting app that supports background audio on Xbox One. We've also received MSN Weather, which is useful for checking out what the weather's doing if, like me, you play with the curtains permanently closed. And the UWP apps for Hulu, Netflix, Groove and Pandora also appeared in the store, albeit inaccessible. Daily Motion showed that UWP isn't a silver bullet for Xbox One apps, given its lack of optimization on the console. Cast gave us our first look at how background audio works on Xbox One, pictured in the screenshot above.
On the gaming front, Sega unveiled Sonic Mania, a retro-styled Sonic title destined for Xbox One and PC in 2017. We picked up a couple of new trailers for Halo Wars 2 and Gears of War 4, and Overwatch landed on the top spot for US video game sales in June 2016. Speaking of which, Overwatch also picked up its first DLC this week, adding Ana, a healing and support sniper.
Continuing with the financials theme, Microsoft did reveal that their gaming revenue is down 9% year on year for Q4 FY16. They attribute the decrease to lowered Xbox One sales and pricing. While revenue is down, hours spent on Xbox Live has increased by 13%, and Xbox Live subscribers also increased. The lower volumes of console sales might be attributable to rumors surrounding the Xbox One S and Project Scorpio. Although quarterly revenue was down, Xbox Live revenue increased overall in 2016 versus the previous year, due to increased consumer spending on the network.
It'll be interesting to see how the Xbox One S, slated for an August 2nd launch, bolsters the Xbox One's sales in the future.
Further Reading
Microsoft
Microsoft enjoyed a relatively standard week in the corporate world, but it's stock price grew on the back of its Q4 financial reports. Microsoft reported $22.6 billion in revenue and $5.5 billion in net income for the quarter, beating forecasts. The upswing was credited mostly to cloud solutions, as more and more businesses jump onto Azure to power their services and systems.
Speaking of services, Salesforce reportedly said they would have paid more for LinkedIn than Microsoft did, which is a little astonishing considering Redmond paid over $26 billion for it back in June. According to the same report, both Facebook and Google were bidding for LinkedIn as well, making it all the more impressive that Microsoft emerged victoriously.
Microsoft also landed a big deal with Boeing this past week, as the aviation company opted to move all of its digital services to Azure. Facebook followed suit, moving its 13,000 employees over to Office 365 to take advantage of Microsoft's enterprise cloud solutions.
Speaking of enterprise services, the Windows Server team has been folded into the Windows and Devices group under Terry Myerson, meaning that all Windows versions now come under the same umbrella. Remote Desktop Services team will also join Windows, while its executives will remain under the Cloud and Enterprise arm of the business.
In a final piece of corporate news, former Microsoft UK head Michel van der Bel has shifted to a new role as Corporate Vice-President of Europe, Middle-East, and Africa. In his new role, van der Bel will lead 20,000 Microsoft employees across his designated regions.
Further Reading
And that's a wrap!
Thanks for joining us for another week of Microsoft news here on Windows Central. What was your favorite development from the week? What are you looking forward to in the future? Let us know in the comments!
Get the Windows Central Newsletter
All the latest news, reviews, and guides for Windows and Xbox diehards.
Jez Corden a Managing Editor at Windows Central, focusing primarily on all things Xbox and gaming. Jez is known for breaking exclusive news and analysis as relates to the Microsoft ecosystem while being powered by caffeine. Follow on Twitter @JezCorden and listen to his Xbox Two podcast, all about, you guessed it, Xbox!